Gelson's Staff Nutritionist Visits CA Avocado Grove
June 22, 2018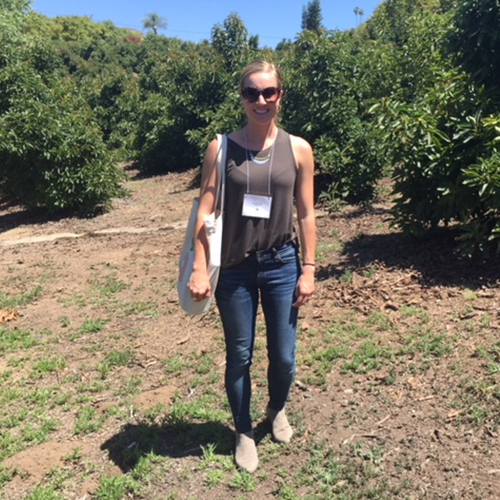 When the CA Avocado Commission invited me to an avocado tour, which included a behind-the-scene visit to the West Pak Avocado sorting & packing facility, I jumped at the chance. Spending a weekend with bloggers, health experts and chefs from the across the nation, all while getting a hands-on learning experience about CA avocados was right up my ally! From the grove, to their packing house, to the dinner table, the whole journey of the 'cado was covered.
We started our day at West Pak, a family owned facility in Temecula CA, that has been a growing legacy for over 35 years.
Once inside the 118,403-square feet facility, we saw just how much work goes into sorting and analyzing avocados, assuring stores get exactly the size and quality of fruit that they ordered. They walked us through every delicate and labor-intensive step of the process. This included the avocados' arrival straight from the farm, through sorting, labeling, packing, cold storage, and shipping.
Next, it was Rancho Santo Tomas where we got a tour of the grove from the growers themselves, Mike Sanders and Chris Ambuul. Mike got involved in the avocado business in the 70's and recently convinced his son-in-law, Chris, to join him at his farm.
We toured the avocado groves and learned how to pick the fruit and just what it takes to grow them. The process consists of skilled workers whom expertly scale the taller trees and carry up to 80 pounds of avocados on their backs. The most difficult, but critical piece of growing is the irrigation. Learning that each crop is different and perfecting the watering technique is really what sets the crops apart.
The trees in this grove are over 30 years old, and this farm is just 1 of over 2,000 growers adding up to 55,000 acres in the golden state.
The tour concluded with an unforgettable outdoor farm-to-table lunch, hosted by chef Jonathan Bautista, of George's At The Cove in La Jolla, CA. The lunch showcased a variety of ways to use this perfect fruit including avocado remoulade, avocado butter and an avocado coconut popsicle. I had an outstanding experience of honoring CA's most beloved and quintessential fruit.
Being the Nutritionist for Gelson's Markets, I am now even more of an advocate for this perfect fruit. Not only do they go with just about anything; sweet, savory, smoothies, by themselves, etc., I would consider them as one of nature's best superfoods.
With June officially being California Avocado month, there is no better time to get into your local Gelson's and grab avocados with the California sticker on them to really taste what this is all about.
Written by Sarah Wright, Gelson's Staff Nutritionist. 

Sarah Wright received a degree in Foods & Nutrition and her area of focus is the Mediterranean diet. She can be reached at (858) 481-9300 or swright@gelsons.com