Pacifico Striped Bass Tiradito Recipe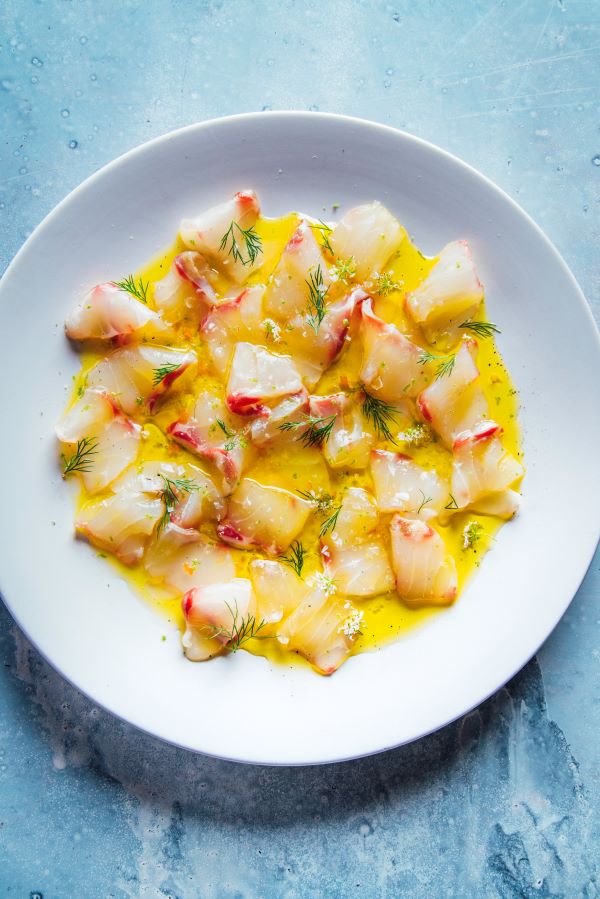 Tiradito is of Peruvian origin and is a way of combining the elements of ceviche and sashimi in a single dish. Ceviche typically is made by covering the raw fish in an acidic marinade. "Cooking" it in the acid. Don't serve this right away, let the fish marinate for about 15 minutes until the fish has turned more opaque, and the exterior of each small piece has taken on a partially cooked consistency.

Serves 4
INGREDIENTS
6 ounces center cut fillet of Pacifico True Striped Bass
1/2 cup aji amarillo paste
3/4 cup fresh lime juice
2 medium cloves garlic, chopped
Kosher salt to taste
1 teaspoon fresh cilantro leaves, finely chopped
DIRECTIONS
Using a sharp slicing knife, slice fish into thin slabs. Arrange slices on a platter and place the platter into the refrigerator.
In a blender, combine lime juice with the garlic and blend on high speed. Transfer to a medium mixing bowl. Stir 1/2 cup aji amarillo paste into the lime juice mixture until thoroughly combined. You can add more or less paste based upon your taste and the heat level you would like. Remember that the thickness also comes from the paste so the sauce may be thin if you use very little paste. Stir in cilantro.
Remove plates from refrigerator and spoon sauce on top of fish, lightly coating it. Allow the fish to rest 15 minutes and serve.