Roasted Pacifico Striped Bass w/ Chimichurri & Blistered Tomatoes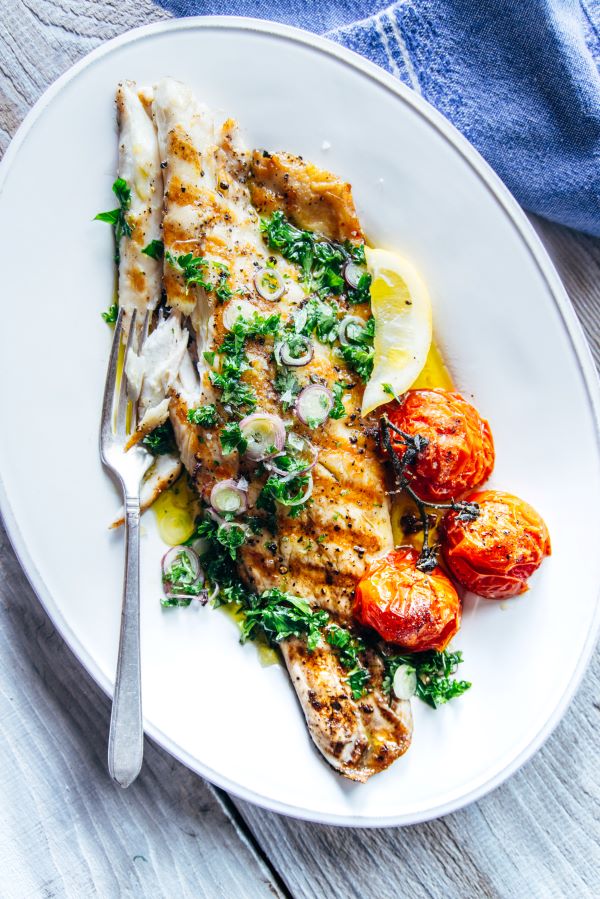 The striped bass has a nice smoky flavor off of the grill that is cut by the freshness and acidity of the chimichurri. For a less smoky flavor, seek out thinner fillets (which will take less time to cook)!
Serves 4
INGREDIENTS
·        4 Six to Eight ounce skin on Pacifico Striped Bass
·        4 bunches of cherry tomatoes, stems on
·        Olive oil
·        Salt and Pepper
For the Chimichurri
·        1 cup flat leaf parsley, chopped
·        3 cloves garlic, minced
·        1 teaspoon salt
·        1/2 teaspoon pepper
·        3/4 cup olive oil
·        2 tablespoons fresh oregano, chopped
·        1/2 teaspoon chili pepper flakes
·        2 tablespoons shallot, minced
·        1 lemon, cut into quarters
DIRECTIONS
For the Chimichurri: Chop lightly by hand, in a blender or food processor.
Preheat the grill to 425°F. Season the Pacifico fillet and cherry tomatoes, stem on with olive oil, salt, pepper. Place the fillet skin side down and cook 4 minutes or until the fillet is cooked to desired doneness, turning once. Add the tomatoes with two minutes to go to lightly char.
To serve, place the fillets on individual plates with the grilled tomato, chimichurri and lemon wedges.