Announcements
Enjoy a Local "Taste of France" for Three Weekends in July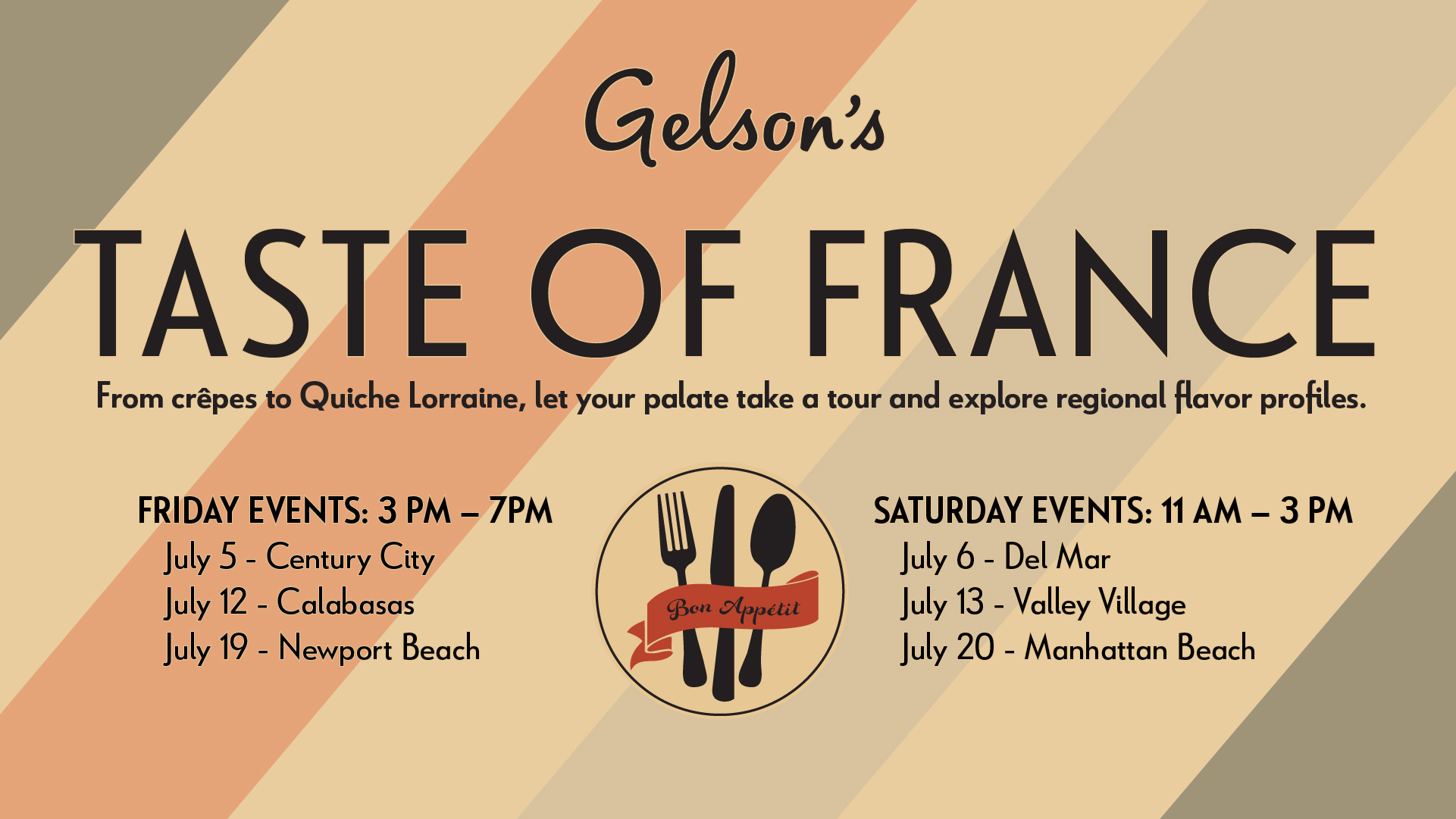 In France, Bastille Day (July 14) marks a turning point in the French Revolution and celebrates national unity for a country that is known for its joie de vivre, most especially a love of delicious food and wine. Here in Southern California, Gelson's is celebrating a "Taste of France" for three weekends in July. Come sample the distinct flavors of La République... with no passport required!
From crepes to quiche Lorraine, let your palate take a tour through the classic dishes and flavors of France. Gelson's customers can enjoy free samples in multiple areas of the store from such brand partners as:

• La Baleine French Sea Salts
• Les Trois Petites Conchons Pâtés
• Melissa's (Crepes, Charentais Melons, Raspberry Dessert Sauce and other products)
• Président Cheese & Butter
• St. Pierre Bakery
• Maire-Morin Desserts
• Savenica Cheese
• Brioche Pasquier Bakery
• Perrier Water
• Couturier Cheese
• La Tourangelle Artisan Oils
• Veuve Clicquot Champagne
• Moet & Chandon Champagne

Fridays from 3-7 p.m., Saturdays from 11 a.m.-3 p.m.
Fri., July 5: Gelson's Century City
Sat., July 6: Gelson's Del Mar
Fri., July 12: Gelson's Calabasas
Sat., July 13: Gelson's Valley Village
Fri., July 19: Gelson's Newport Beach
Sat., July 20: Gelson's Manhattan Beach

ALSO: Save 20% on all French cheeses at all stores between July 5-July 20! Look for the French flag stickers on qualifying cheeses.