Announcements
Gelson's Kosher-Style Hanukkah Dinners
November 21, 2018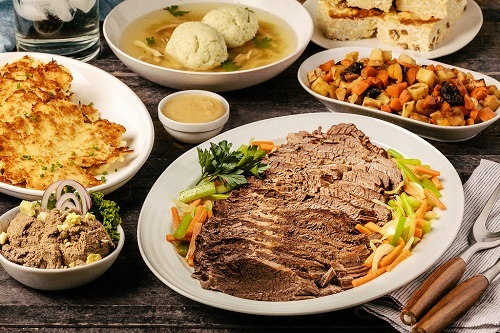 At Gelson's we know that our most special meals are the ones that we share with our friends and families, so we put a lot of love into our Hanukkah dinners. We offer the traditional dishes your family looks forward to all year, prepared in the kosher-style by some of the best chef's in Southern California — so you can celebrate the Festival of Lights with a gourmet meal.

We know how the holidays go: Sometimes you feel like doing some of the cooking, but not all of the cooking. And sometimes, it's pretty wonderful to have someone put together a full spread of beautifully prepared food for you. However you're feeling this Hanukkah, we're here to help!

We offer full Kosher-Style Beef Brisket and Rotisserie Chicken dinners. Both dinners come with a full assortment side dishes — all of which are available à la carte! This year, our side dishes include the following Hanukkah favorites:
Julienned Vegetables (carrots and celery)
Matzo Balls in Chicken Broth
Chopped Beef Liver & Egg
Tzimmes
Potato Pancakes & Apple Sauce
Noodle Kugel
You can order our Hanukkah meals and side dishes online from November 12th to December 9th. We ask that you give us at least 48 hours notice on the meals — so that we can have time to prepare them for you. All the dishes come fully cooked, but you will need to reheat them before serving.