Announcements
Hatch Chile Season 2018 Is Here!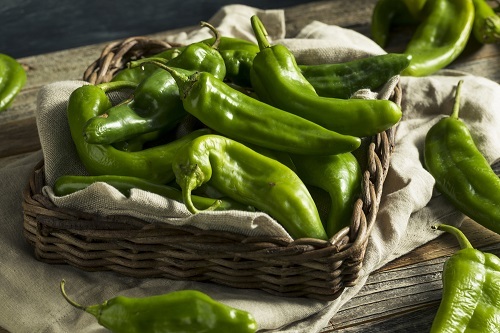 August in Southern California is always reserved for a special treat unique to the area; it's hatch chile season! Each year, our Gelson's locations provide our customers with healthy and delicious dishes that include fresh hatch chile in celebration of our Annual Hatch Chile Roasting event. Visit our service deli and taste some of the masterfully prepared recipes featuring the distinguished taste and spicy flavor.
Where it all Began
Hatch chiles were named after their original growing area in the Hatch Valley, an area that stretches along the Rio Grande in New Mexico. Aside from their excellent taste, hatch chiles have health benefits that make them a perfect addition to your cooking arsenal. Some benefits include:
One medium-sized green chile has the same amount of vitamin C as six fresh oranges
Dried red chile contains Vitamin A, and one teaspoon satisfies your daily requirements
Chile peppers trigger the thermodynamic burn in your cells and speed up your metabolism.
Different parts of chile can be used to treat a sore throat and aching muscles
Hatch Chile Celebration Meals
We are offering a variety of healthy dishes prepared with fresh and delicious hatch chile. These tasty specialties can be found at every Gelson's Market in Southern California for a limited time only.
Hatch Chile Heirloom Tomato Salad
Roasted corn, hatch chile's, and baby heirloom tomatoes are a perfect combo for a light and healthy meal offered by our masterful culinary service deli staff.
Hatch Chile Chicken Sausage
This recipe offers a genuine and distinctive taste and is one of the best limited-season local dishes, offered exclusively at our Gelson's Market locations.
Hatch Chile Mini Crustless Quiche
Even desserts can be made better by adding hatch chile. This delicious recipe perfectly pairs the sharp flavor of the cheddar cheese with the savory bite of the hatch chile.
Below is the complete list of dishes prepared in celebration of hatch chile and offered at grocery store locations:
Hatch Chile Crab Cake
Hatch Chile Macaroni and Cheese
Hatch Chile Stuffed Flank Roll
Hatch Chile Cornbread
Hatch Chile Chicken Sausage
Hatch Chile Heirloom Tomato Salad
Stop By and Celebrate With Us!
Every year we celebrate hatch chile season by hosting events at select local stores. Stop by our roasting events to sample specialty hatch chile items, learn about the growing process, and speak with our experts about how you can use these spicy and sweet chiles in your own recipes. Mark your calendars and come see why the hatch chile harvest season is one of our favorite times of the year!