Announcements
Join Gelson's And Extend The Tradition Of Giving With Annual Holiday Toy Drive Across All 27 Southern California Stores
2018-11-29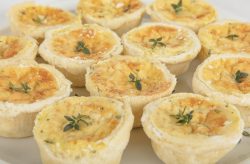 Encino, Calif. (November 29, 2018) — As a Southern California institution, established by brothers Bernie and Eugene Gelson in 1951, Gelson's has a long history of customer service that extends beyond its stores into their local communities. This is most vibrantly seen when Gelson's holds its annual toy drive to benefit disadvantaged children across the region. Taking place at all 27 stores, and internally at its corporate office and warehouse, the annual toy drive launches December 3rd and runs through December 15th.
Returning partner organizations for the toy drive include Barbara Sinatra Center for Abused Children at Eisenhower Medical Center, Children's Hospital Los Angeles, Children's Hospital of Orange County, Rady Children's Hospital-San Diego, Ronald McDonald House/Long Beach, and Toys for Tots. In each store, Gelson's will have a large gift-wrapped open box with lists of suggested toys, some of which will be personally handed out by Gelson's employees visiting local children's hospitals (all donations to Gelson's Manhattan Beach will go exclusively to Children's Hospital Los Angeles).
"For 67 years Gelson's has been a social hub dedicated to giving back to the communities that we serve," said Gelson's President & CEO Rob McDougall. "Our annual toy drive is one of the most visible examples of this important aspect of our mission, and we encourage our customers to join with us, and our nonprofit local partners, to help make the holiday season brighter for children and families across Southern California."
About Gelson's
Founded in 1951, Gelson's currently operates 27 full-service specialty grocery stores in Southern California. Each Gelson's Market features the full amenities of a traditional supermarket, with the local flavor of a neighborhood market. Their high standards – for quality, value and freshness; unsurpassed service; and attention to detail – define the ultimate grocery shopping experience. With over 65 years of experience, Gelson's in-house experts know Southern California's lifestyle and are driven to find only the best foods and exclusive values for their customers. Gelson's is particularly known for flavorful, hand-selected produce, the best and freshest cuts of meat and seafood, and Chef-prepared signature recipes. This experience is rounded out by professionally designed floral arrangements, and a convenient selection of the highest quality grocery items. Find out why Life Tastes Better Here® at Gelson's website, http://www.gelsons.com.