Announcements
Meet Abe van Beek: Our Corporate Executive Chef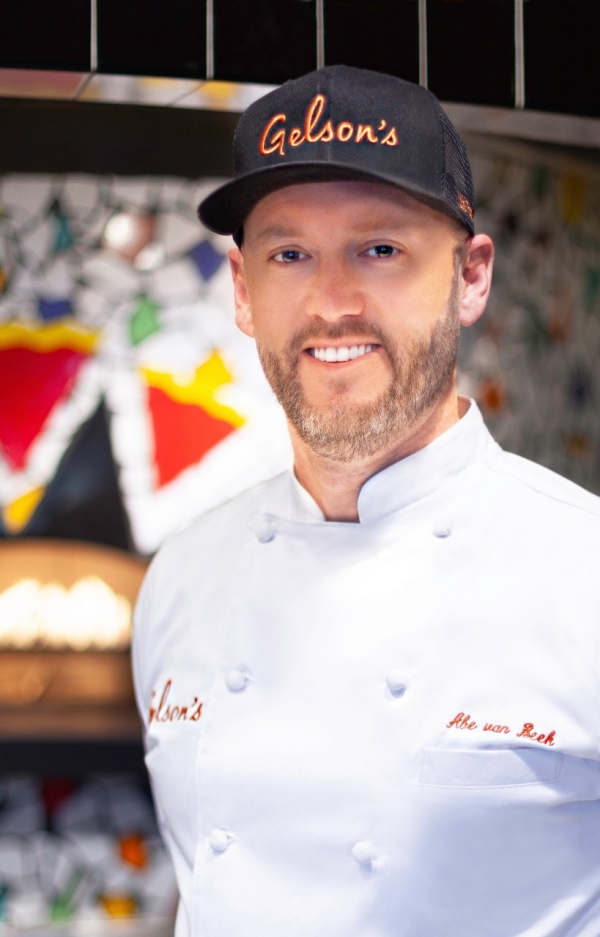 "I'm so new here, but so far, the best part of my day at Gelson's is the people," says Abe van Beek, our Corporate Executive Chef. "We've got so many dedicated people on our team, who love what they're doing, and care deeply about the food they're making."

"One of the kitchen managers, Stephanie, every time I walk into her kitchen, she says, 'Come over here, you've got to taste this!' You can't teach that kind of enthusiasm and passion. It's worth its weight in gold — and it's what makes this place so special."

Abe joined us in January, and he oversees Gelson's Kitchen. He'll be working closely with the kitchen managers in all of our stores, as well as partnering with our produce and meat folks to develop fresh, seasonal menus and recipes. It's a role he's particularly well suited to, not only because of his training, but also because his natural affinity for food runs deep.

Abe says his family inspired his culinary aspirations. He grew up in Arizona, but his parents came from Holland, and family meals are an important part of Dutch culture. "Making food and sitting down together as a family and talking about your day is a fundamental part of life, so we had every meal together," he says. "When I was young, dinner was a two-hour meal with dessert and coffee."

His mother and grandmother were great cooks and avid gardeners, growing much of their food, so his memories of those early meals are good ones. "My grandmother grew cucumbers, and she'd make sweet pickles with them," he says. "They were almost like bread and butter pickles, and we had them at every meal. When you're eating something rich, it's always nice to have something acidic, and they had a great texture — so crisp and refreshing."

Abe's favorite meal was his mother's biscuits and gravy. "They were made from scratch, using bacon fat from the day before," he says. "And, man, with a fried egg over the top, that's still one of my favorite things."

These early meals not only informed how Abe would go on to feed his family — he and his wife, Kelly, and their three kids sit down and eat a home-cooked dinner together every night — but also inspired his culinary aspirations.

During high school, Abe started washing dishes at a local restaurant to earn money for a car, but it wasn't long before he was making salads, cooking on the line — and then off to Le Cordon Bleu College of Culinary Arts in Scottsdale. "I love the order of kitchens, there's a chain of command, and within that a great camaraderie — it can be stressful, but we'll all live or die together," he says, explaining the appeal of being a chef. "And then because food is such a part of who I am, my culture, there's also the instant gratification of seeing someone really enjoy the food you've made for them."

"You know, my sister and mom both draw and paint, and I can barely draw a stick figure," he adds. "But give me a plate and some food, I can make it look beautiful and taste great, and so there's also something artistically compelling about it too."

After culinary school, Abe came to SoCal and honed his cooking chops working at fine dining restaurants, including Aqua in Monarch Beach and Studio at Montage Laguna Beach, which has been a semifinalist for several James Beard awards. And then he decided to have an adventure, and took a job as the executive chef on a private yacht that traveled to Mexico and Alaska. "It was kind of a turning point for me," he says. "I'd had the opportunity to learn from some of the best chefs, but in high stress environments, and suddenly I was floating around in this yacht. I had a lot of time to read and no limitations on food spending, so it was an opportunity to take all the skills I'd learned and establish my food and who I was as a chef."

When Abe left the yacht, he decided to shift his career. He'd always been interested in food science — as he told us, "I'd been reading a lot of Harold McGee" — so he made his focus culinary innovation, research, menu and product development, as well as kitchen and training systems. And in the intervening years, he's worked with major food brands, like IHOP, Buffalo Wild Wings, Applebee's, Chevys, and Acapulco.

Now he's brought all that expertise and his love of food to Gelson's. As a shopper, he's always admired the store's culture and long, local heritage, but the big draw was the quality of the food. "As a chef, you're only as good as the raw materials you've got to work with," he says. "At Gelson's we have the best produce and proteins in Southern California. When nature has done all the work, and all I have to do is focus on technique and temperature — it doesn't get better than that."

We're so excited to see what Chef Abe and his team will cook up in the Gelson's Kitchen. Stay tuned for updates, and in the meantime, if you see him in the stores, be sure to stop and say hello!