Announcements
Meet Kyle Hetman: Our Category Manager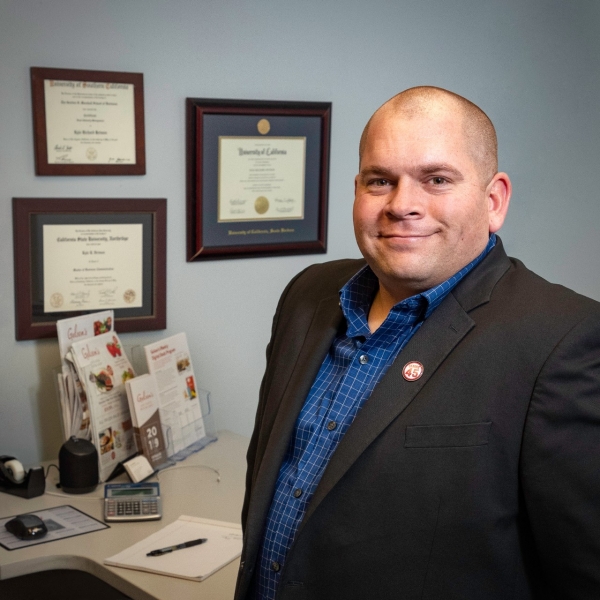 After talking to Kyle Hetman, Category Manager seems like a dull title for an extremely interesting job. He should be called something like, Trend Hunter At-large or Curator of Thrilling New Foods. "My job is to stay on top of food trends, consumer taste, and demand," he explains. "I bring new items into the store that will appeal to our customers, so I'm the one at the Fancy Food Show, looking for the next big artisan cheese, charcuterie, cauliflower pizza crust — it could be anything."
To do such a job, Kyle says, you have to be "into" the food business. He's been into it since he was 16 and took his first job bagging groceries. He joined Gelson's while he was an undergraduate at the University of California Santa Barbara, and he stuck with us all the way through a Masters in Business Administration. Over the years, he's been a dairy order writer, a grocery manager, an assistant store director, and a store director. "Gelson's tries to promote from within at all levels," he says. "So I've been able to move up, continue to grow and learn, and have a career here."

Along the way, he's had a lot of great mentors. He learned "how to do category management right" from Rich Gillmore, our Senior Director of Center Store Category Management. And a great deal about dairy from Specialty Cheese Buyer, Gayle de Caro. "She's a rockstar," Kyle says. "At the Fancy Food Show, everyone wants to talk to her because she's got the best cheese in the country."

"It's cool because I started here when I was 21," he adds, "so I've worked in about half the stores, and I know a lot of people at the store level — a lot of friends — and that's really rewarding too."

As Category Manager, Kyle is in charge of the frozen aisle, everything from pizza to frozen dinners. Did we forget to mention ice cream and frozen desserts? Yes, that's him. In the deli, he looks after charcuterie and plant-based meats. In the dairy, he manages milk, yogurt, eggs, and cheese. And, last but not least, he's also the guy who keeps our refrigerated beverage cases full — think sodas, smoothies, coconut water, cold brew coffee, and the like.

His job is about finding the holes in our offerings, and filling them with great products: classic, artisanal, small batch, and new and cutting edge. "I want someone to come in and have all their needs met," he says. "That comes down to assortment, like having fat-free ice cream, high-fat ice cream, and medium-fat ice cream — something for everyone. If you want kombucha, we've got it; if you want a Diet Coke, we've got that too."

Where do all these new products come from? He finds some of them by talking with our vendor community. He reads a lot of food blogs, industry magazines, and food trend reports — and he's a regular at conferences, like the Fancy Food Show.
Considering his categories, it's no surprise that Kyle is paying a lot of attention to plant-based foods these days. The category has transcended the legacy vegan foods, like shredded dairy-free cheeses, soymilk, and tofu. At Gelson's, you'll find every kind of plant-based dairy, from ice cream to sour cream and yogurt to butter. And the alt-meats have expanded to include plant-based bacon, chicken, sausages, and burgers, among others. "At this moment, it's definitely the most exciting category," he says. "It's been a fun and challenging evolution, and it's amazing that we have plant-based burgers and ice creams that taste just like the real thing, in such a short amount of time."
Speaking of plant-based burgers, in 2019, Gelson's was proud to be first to market with Impossible™ Burger retail packs. "The whole team played a role in bringing Impossible™ Burgers into the store, from our CEO right down to folks at the store level," Kyle says. "It was really cool because, for a while, no one knew about it, and then we announced it to the media — and it got over 2 billion hits."
"That's really, really exciting for us," he adds. "We're a small, local brand, so to get that kind of international press was a really big deal."
This winter, Kyle has been working on a reboot of the Gelson's ice cream aisle, looking at what we have, what we're missing, and what's not selling — and taking the opportunity to bring in fun (and delicious) new products. So what can we look forward to? Green Girl Bakeshop is one of Kyle's favorite brands: He met them when they were still wrapping their plant-based, gluten-free ice cream sandwiches by hand. Now, they're launching a new line of ice cream pints — think coconut milk ice cream laced with superfoods and anti-inflammatory spices, like ginger and cardamom.
We're also going to start carrying Oatly's humorously named oatmilk ice creams, including Pretty Average Vanilla, Quite Ordinary Strawberry, and Totally Basic Chocolate. And, on a hyper-local note, we're adding pints of cashew milk ice cream from Craig's Vegan in West Hollywood to our line-up.
There are treats in store for the dairy eaters, too. Kyle has been working on a Gelson's exclusive flavor with our friends at McConnell's Fine Ice Creams. The flavor is still top secret though, so stay tuned!
It's hard to imagine a more consuming or delightful task than tasting a bunch of ice creams, but when we asked Kyle for a favorite project, it came from the savory side of things. In 2019, Gelson's worked with a local artisanal pasta maker to create Gelson's Artisan Pasta Sauces and Ravioli. Initially, we developed 15 or so flavors. In a series of ravioli dinners at Kyle's house, a team of tasters — everyone from the Gelson's executive team to friends and family — whittled that list down to the five best flavors. This year, we're adding two new flavors: fig and mascarpone and lemon-basil. "It has been so fun to play with all the flavors," Kyle says. "But that's also what makes our private label program so unique. We have an idea, we find someone to work with, and we create something very artisanal, very unique from scratch — this isn't a big national brand ravioli with our label on it."
More than the food itself, Kyle says the best part of his job is working with people, specifically the producers.

"I would say it's the treasure hunt — going to the shows and meeting young entrepreneurs," he says. For example, Gelson's was one of the earliest supermarkets to bring on Keto Pint ice cream, Califia Farms nut milk, and Mush overnight oats. "It's so exciting to bring on a new brand, do everything we can to provide guidance and help promote it, and then watch it grow," he says. "It takes a lot of time, but the most rewarding part of the job is to see an entrepreneur work so hard and do well, and know we were one of the first to carry them. That's the fun part."