Announcements
Top 5 Wines for the Holiday Season in 2019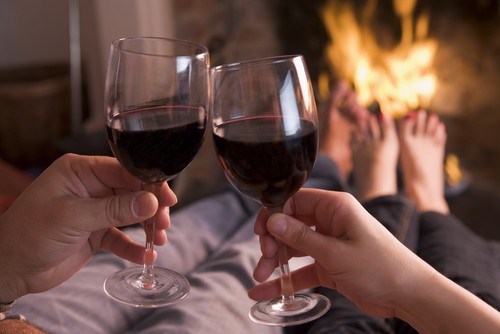 The right wine can make or break any holiday event, whether you're planning a laidback get-together or a full-on family feast. An important part of creating the perfect holiday experience for your family and friends is putting careful consideration into the food and drinks you'll be serving, which includes selecting a well-paired wine. The perfect Christmas wine can set the tone for the celebratory season, making your guests feel warm and welcome despite the chilly weather. To help make your holiday shopping simple and stress-free, the wine experts from Gelson's have put together a list of our favorite holiday wines that will surely make your celebration one to remember.
SIMI Alexander Valley Cabernet Sauvignon Red Wine
Crafted by the SIMI Winery in the stunning Alexander Valley of Sonoma County, this Cabernet Sauvignon is a rich, velvety red wine that perfectly complements a wide range of traditional holiday flavors. A balance of red and black fruits creates a subtle but enjoyably complex taste that will appeal to nearly any guest, while the smooth tannins and gentle hint of spice make this red wine stand out from many others on the shelf.
Justin's 2017 Paso Robles Cabernet Sauvignon Wine
Though you should almost never judge a wine by its bottle, it's impossible not to be intrigued by the sleek, contemporary bottle design of the Justin's 2017 Paso Robles Cabernet Sauvignon Wine. This aromatic wine is among the top-recommended options for dinner parties and special occasions, with a medley of delicious holiday-inspired flavors that includes black and red cherries, blackcurrant, baking spices, and cocoa. Because it is such a versatile pairing wine, this red can work wonderfully with nearly any holiday menu you have planned.
La Marca Sparkling Wine (Prosecco)
If you're searching for a light, delicately sweet prosecco to serve with passed appetizers, the La Marca Prosecco is an excellent choice. With a festive golden hue and plenty of bubbles, this sparkling wine is the ultimate celebratory beverage for the holidays. The refreshing citrus flavor is light but satisfying, with a crisp finish that will surely please your guests. Serve it in a champagne flute or white wine glass for guests to sip while you put the finishing touches on dinner.
Oyster Bay Marlborough Sauvignon Blanc New Zealand
Do you prefer a lively, fruity white wine alongside a heart holiday meal? If so, the Oyster Bay Marlborough Sauvignon Blanc New Zealand may become your newest favorite holiday wine. With a uniquely bright, zesty taste, this white wine has notes of passionfruit and other tropical fruits, offering up a delightful contrast to the rich flavors of traditional holiday dishes.
Sonoma-Cutrer The Cutrer California Chardonnay
With decadent flavors reminiscent of a freshly-baked apple pie, this Chardonnay by Sonoma-Cutrer is a delightful accompaniment to any holiday celebration. A light nuttiness combines with hints of vanilla and spice for a wonderfully creamy white wine and a lovely addition to your holiday table.
Discover Your Favorite Holiday Wines at the Gelson's Wine Bar
Whether you consider yourself more of a sommelier-in-training or a complete wine novice, the Wine Bar at your neighborhood Gelson's Supermarket makes it simple to find the perfect holiday wine for any occasion. Our talented specialists can provide personalized recommendations for wine pairings, taste profiles, and even holiday gift ideas for the wine enthusiasts in your life, and you can even relax with a glass of your newly-discovered favorite wine. With our extensive selection of wine, sangria, Moscato, champagne, the options are virtually endless.
Visit your neighborhood Gelson's Supermarket to find the best wines and other entertaining essentials this holiday season.