Jessica's Recipes Recipes
Gelson's Back to School Lunches with Jessica Siegel - Mac 'n Cheese Muffins
Here's our latest recipe as part of Gelson's Back to School Lunches with Jessica Siegel video series! Today, Jessica will show us how to make these fun Mac 'n Cheese Muffins. Your kids will love them because they are delicious, and they can be eaten out of hand. You will love them because you can store the whole big batch in the freezer and transfer them as needed to the fridge the night before you send them to school.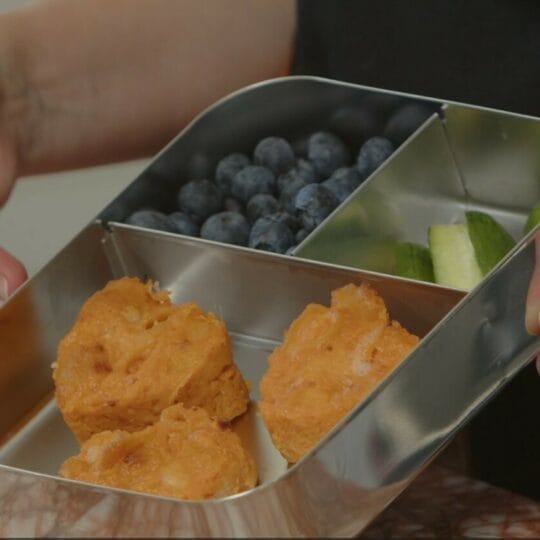 Jessica's Recipes
Gelson's Back to School Lunches with Jessica Siegel - Mac 'n Cheese Muffins
Serves: 16
Ingredients
1 8-ounce box chickpea pasta shells
6 ounces riced cauliflower
1 14-ounce box or can low sodium cannellini beans, rinsed and drained
1 14-ounce can cherry tomatoes
1/2 generous teaspoon onion powder
1/2 generous teaspoon garlic powder
3 tablespoons extra virgin olive oil
9 ounces grass-fed shredded sharp Cheddar cheese
0.35 pound shredded imported Swiss Gruyere cheese
¼ cup grated imported Parmigiano-Reggiano cheese, plus more for topping
1 ½ cups grass-fed whole milk
1-2 tablespoons pasta water
Directions
1. Preheat oven to 350°Fahrenheit. Spray silicone or metal muffin molds with olive oil spray and place on a large, rimmed baking sheet.
2. Cook pasta for just 3 minutes in salted water; reserve 1/4 cup cooking water. Quickly drain and rinse under cold water to stop the cooking process.
3. Meanwhile, transfer riced cauliflower to a microwave-safe dish and microwave about 60 seconds just to soften slightly.
4. Combine cauliflower, beans, cherry tomatoes, salt, pepper, onion powder, garlic powder, and nutmeg in a food processor. With the machine running slowly pour in the olive oil. Run the machine about 2 minutes until the mixture is smooth.
5. In a large mixing bowl combine cheddar, gruyere, and parmesan cheese.
6. Heat milk in 30-second intervals in the microwave until hot and bubbling around the edges, about 2 ½ minutes total. Pour hot milk over cheese and stir to melt cheeses. If the cheese doesn't melt completely, put the cheese with the milk in the microwave and heat briefly to finish the melting.
7. Mix in vegetable puree.
8. Add in pasta water, 1 tablespoon at a time to thin the mixture a bit (I usually use just 1 tablespoon to loosen it).
9. Mix eggs and maple syrup into the slightly cooled cheese mixture. Gently stir in pasta to coat.
10. Divide among 4 8-compartment muffin trays (you'll have to bake these in 2 batches if you only have 2 sets of muffin molds like I do). Do not fill each compartment to the top, just 2/3 of the way full at most is good. Make sure there's plenty of sauce in each compartment so the pasta shells on top don't get too dry (try to submerge the pasta).
11. Sprinkle tops with about 1/8 teaspoon parmesan each. Bake 18-20 minutes until muffins are bubbling and set and edges are lightly browned.
12. Cool before unmolding. Store in airtight containers in the freezer and transfer individual muffins to the refrigerator the night before packing for lunch so they can start to defrost. They should be room temperature by lunchtime.