Dinner Recipes
Chicken with Apples and Brussels Sprouts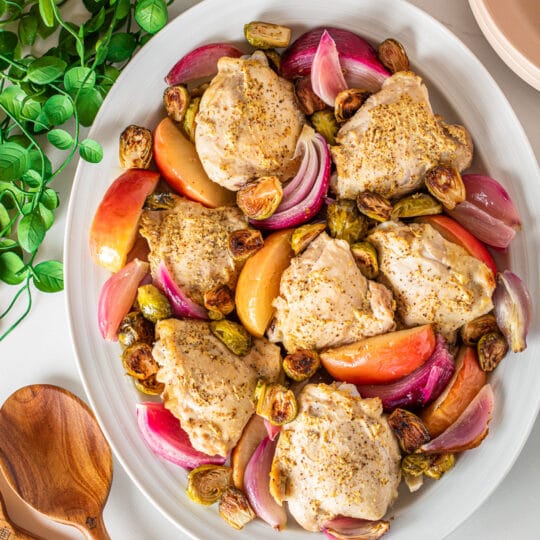 Dinner
Chicken with Apples and Brussels Sprouts
Serves: 4
Ingredients
8 organic chicken thighs with skin and bones excess skin and fat trimmed
3 tablespoons Napa Valley organic olive oil divided
1/2 teaspoon Le Saunier de Camargue fleur de sel sea salt
1/2 teaspoon black pepper
1/4 cup Maille old style whole grain mustard
3 medium firm organic apples such as Envy or Fuji cored and cut into eighths
6 ounces Melissa's organic shallots 2 packages peeled and cut into eighths
1 small red onion peeled and cut into eighths
1 cup dry white wine divided
1/2 cup plus 2 tablespoons Bragg's organic apple cider vinegar divided
1 pound small Brussels sprouts halved
Directions
Arrange rack in upper third or oven. Preheat to 450° Fahrenheit.
Place chicken in a large mixing bowl and toss with one tablespoon olive oil.
Arrange chicken in a single layer around the edges a large glass baking dish. Use your hands to spread mustard under skin and all over exposed meat you'll remove skin after cooking so be sure to concentrate on working the mustard under the skin to maximize flavor. Season chicken with salt and pepper, again, concentrating on seasoning under the skin.
Add apples, shallots, and onions to the bowl and toss with one tablespoon olive oil. Arrange in center of the baking dish and in open spaces around the chicken pieces. Combine wine and vinegar in a measuring cup. Slowly add it to the dish, being careful not to rinse the seasoning off the chicken. Bake for about 25 to 30 minutes, until internal temperature of the chicken reaches 165° Fahrenheit on a meat thermometer.
Meanwhile, heat remaining 1/2 cup wine and two tablespoons vinegar over high heat in a large flat bottom skillet with a lid. Add Brussels sprouts in a single layer and cover, cooking about three minutes. Remove lid and cook, stirring until liquid is almost completely evaporated, about three more minutes. Remove from heat for one minute. Add remaining tablespoon of oil. Return to heat and brown Brussels sprouts, stirring frequently, about two minutes. Transfer to a large serving dish with sides and spread out on the bottom.
When chicken is done, remove skin and transfer to the serving dish, arranging pieces over the Brussels sprouts. Use a spoon to transfer and arrange the apples, shallots, and onions in the serving dish. Spoon some of the pan juices over the chicken and serve.