Dessert Recipes
Fruity Yogurt Pops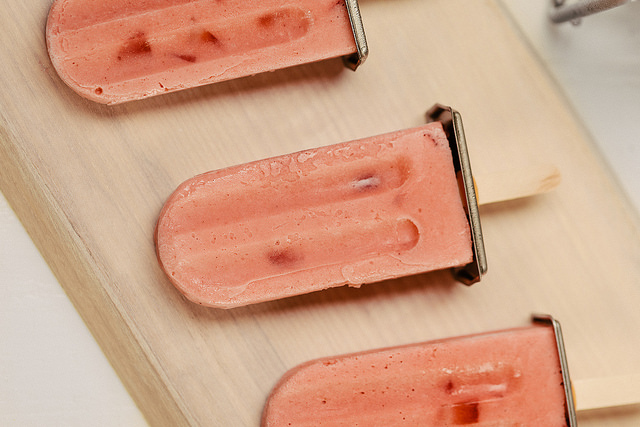 Making your own popsicles is easy and fun! Our kids love to make them, and they can do most of the steps themselves — so they're super proud and excited to eat them at snack time. And as parents, we heartily approve: With both milk and Greek yogurt, these pops are full of protein and fat, which makes them a satisfying and nutritious snack. Plus: No added sugar!

We also give them a thumbs up for flavor: With the slightly tart yogurt and light fruit-and-honey sweetness, they're like a creamy smoothie on a stick.

Our tips: We've used fresh strawberries here, but you can swap in other fresh or frozen fruits — like blueberries, mangoes, or peaches. If you don't have popsicle molds, use 3-ounce Dixie cups and wooden craft sticks. Arrange the filled cups on a small tray to keep them from falling over in the freezer, and then peel off the paper when you're ready to eat the pops.
Servings: 8-10
Ingredients
6 oz Wallaby Organic 2% Greek Yogurt
1 lb fresh, organic strawberries, hulled and cut in half (reserve 4 small berries, chopped)
1 small, organic banana, broken into pieces
1 Tbsp Simply Organic Vanilla Extract
2 Tbsp Busy Bee Organic Honey
½ cup Organic Valley Grassmilk Organic Whole Milk
⅛ tsp Le Saunier de Camargue fleur de sel sea salt

Directions
In a blender, mix all the ingredients (except the reserved strawberries) together until smooth.
Pour the mixture into popsicle molds or paper cups, leaving a little room at the top.
Put the pops in the freezer for 30 minutes, and then drop a few strawberry pieces into each mold or cup and insert the sticks.
Freeze overnight or at least 6 hours before enjoying.
Each pop contains:
Calories 70
Fat 1g
Saturated Fat 0g
Trans Fat 0g
Cholesterol 0mg
Sodium 40mg
Total Carbohydrate 13g
Dietary Fiber 2g
Sugars 10g
Protein 3g
Vitamin A 3% DV
Vitamin C 57% DV
Calcium 5% DV
Iron 2% DV