Jessica Recipes
Gelson's Back to School Lunches with Jessica Siegel - Mini Cauliflower Quinoa Quiches
In today's Gelson's Back to School Lunches with Jessica Siegel video series, Jessica shares her Mini Cauliflower Quinoa Quiches recipe. Freeze the batch and defrost individual quiches in the fridge the night before packing for lunch.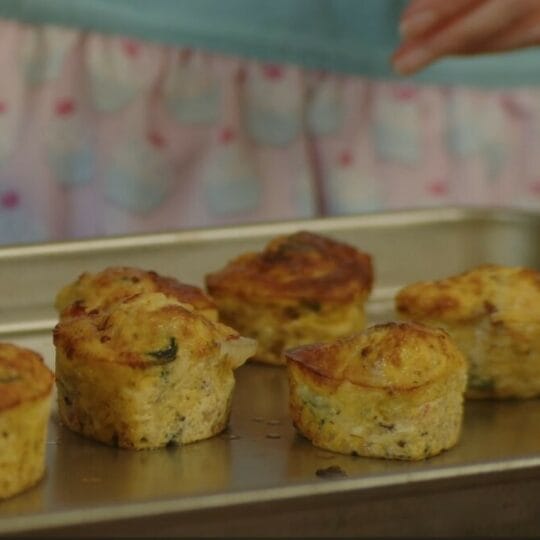 Jessica
Gelson's Back to School Lunches with Jessica Siegel - Mini Cauliflower Quinoa Quiches
Serves: 16
Ingredients
1 tablespoon Napa Valley organic olive oil
1 5.5-ounce container Field Fresh organic diced onion
1 1/2 cups Gelson's riced cauliflower
1 cup Path of Life frozen quinoa and kale, defrosted
10 Vital Farms organic eggs
1 rounded cup Organic Valley shredded sharp cheddar cheese
1 cup cherry tomatoes, quartered
2 teaspoons finely grated Imported Parmigiano Reggiano cheese
Directions
Preheat the oven to 350° F. Lightly coat 16 muffin cups (preferably silicone) with cooking spray. Heat oil over medium in a large skillet. Add onion and cook until clear, about 8 minutes. Add cauliflower and cook about 4 minutes, until soft. Season with salt. Add quinoa and cook stirring frequently to heat through and incorporate.
In a large bowl, whisk eggs and stir in the cheddar cheese, quinoa mixture, and tomatoes, until well combined. Use a ¼-cup measuring cup to divide the mixture evenly into the prepared muffin cups. Sprinkle tops of each with ⅛ teaspoon parmesan cheese. Bake until the eggs are set, 18-20 minutes. Cool completely before transferring from molds to a freezer bag before freezing.