Jessica's Recipes Recipes
Gelson's Back to School Lunches with Jessica Siegel - Veggie Fried Rice
In today's Gelson's Back to School Lunches with Jessica Siegel video series, Jessica shares a tasty new Veggie Fried Rice recipe. She loves this easy method of making the fried rice since mixing the egg with the rice first eliminates an extra step and nicely incorporates the flavors into the dish. Be sure to cook and cool your rice ahead of time. Transfer the frozen rice to a microwavable glass dish with a couple of tablespoons of water at the bottom, cover it with a damp paper towel and microwave it for 3-4 minutes to cook to at least 165° Fahrenheit, then cool it in the refrigerator right away for several hours. The fried rice recipe needs to be made the night before you pack it so you can ensure there's enough time to cool it to below 41° Fahrenheit. Pack it in an insulated lunch box with an ice pack.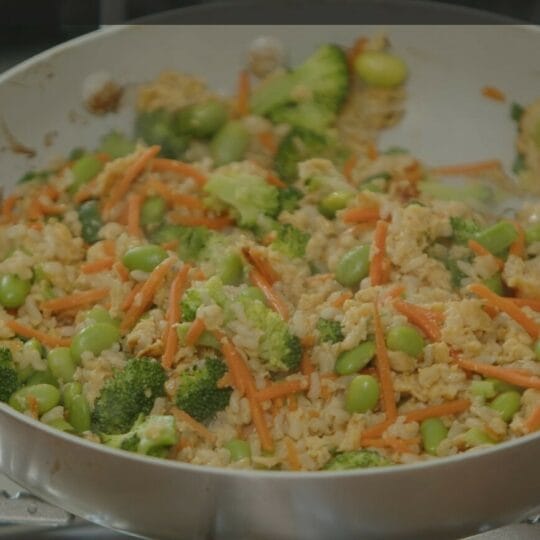 Jessica's Recipes
Gelson's Back to School Lunches with Jessica Siegel - Veggie Fried Rice
Serves: 3
Ingredients
3 Vital Farms organic eggs, beaten
2 tablespoons 3 Dragons sweet ginger teriyaki sauce
3 teaspoons Napa Valley organic olive oil, divided
1 pouch (2 cups) frozen Grain Trust brown rice, cooked and cooled overnight (see note in above introduction)
1 teaspoon Napa Valley organic sesame oil
3 green onions, thinly sliced, green parts separated from white parts rounded cup Ready Pac shredded carrots, chopped
3/4 cup leftover cooked broccoli, cut into small pieces (from our salad bar or your fridge)
1/2 cup cooked and shelled edamame (from our salad bar)
Directions
Directions:
1. Beat together eggs, teriyaki sauce, and 1 teaspoon olive oil in a bowl. Add cooled rice and mix well.
2. Heat a large, preferably non-stick, skillet over medium heat with 2 teaspoons olive oil and sesame oil. Add the white parts of the green onions and cook until fragrant, about 1 minute.
3. Raise heat to medium-high and add the egg and rice mixture, stirring continuously. After about 2 or 3 minutes, add remaining green onions, carrots, broccoli, and edamame. Cook until heated through. Transfer to the refrigerator to cool in a shallow layer before packing for lunch.