Recipes
Jessica's Sweet Potato Avocado Toast Recipe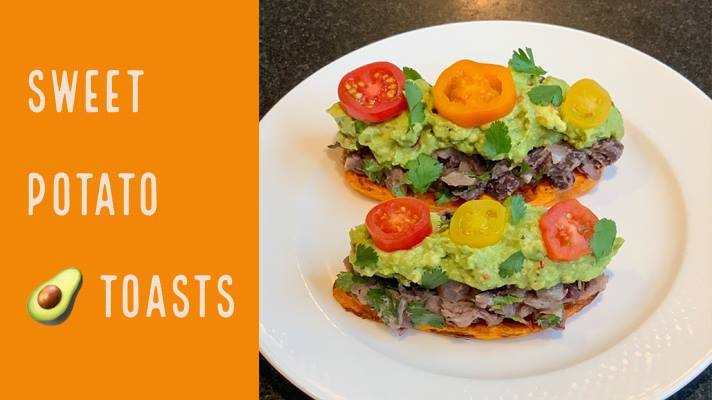 Sweet Potato Avocado Toasts
Serves 5

These black bean avocado sweet potato "toasts" are my new favorite version of avocado toast. Instead of bread I use frozen sweet potato slices to add a lovely sweetness and extra nutrients to this gluten free and vegan treat. This recipe is in heavy rotation for my family's Meatless Monday dinners.

Ingredients:
-1 tablespoon Napa Valley organic olive oil
-1 5.5-ounce package diced organic red onion, or 1 small red onion, diced
-2 cloves organic garlic, minced
-1 box Jack's Quality organic black beans, rinsed and drained
-2 teaspoons ground cumin
-½ generous teaspoon le Saunier de Camargue fleur de sel sea salt, divided
-1/4 cup hot water
-¼ cup chopped cilantro, plus more for garnish
-1 large, ripe avocado
-1 tablespoon lime juice
-¼ teaspoon crushed red pepper flakes
-¼ teaspoon black pepper
-1 bag Caulipower Sweet PotaTOASTS frozen original sweet potato slices
-10 del Cabo organic heirloom cherry tomatoes of various colors
Directions:
1. Heat olive oil over medium heat in a medium skillet that can be covered. Add onion and cook until it begins to soften, about 6 minutes. Add garlic and cook 30 more seconds. Pour in black beans; season with cumin and ¼ teaspoon salt. Mix well and add ¼ cup hot water. Cover and cook to heat through and soften, about 5 minutes. Remove from heat and coarsely mash beans with the back of a large spoon or fork to form a creamy paste. Set aside to cool slightly, then stir in cilantro.
2. Mash avocado with lime juice, red pepper flakes, black pepper, and remaining ¼ teaspoon salt.
3. Meanwhile, toast about 10 pieces of sweet potato in the toaster oven according to package directions. I toast mine through 2 cycles to make them a little crispier on the edges.
4. Trim tomato ends and slice into thin rings.
5. Assemble the toasts by spreading black beans in a thick, even layer on sweet potato slices, then spread a thinner layer of avocado on top. Layer sliced tomatoes on top and garnish with cilantro.
Each serving of 2 pieces contains:
Calories 240
Fat 8g
Saturated Fat 1g
Trans Fat 0g
Cholesterol 0mg
Sodium 240mg
Total Carbohydrate 35g
Dietary Fiber 11g
Sugars 7g
Protein 8g
Vitamin A 67% DV
Vitamin C 28% DV
Calcium 7% DV
Iron 17% DV