Jessica's Recipes Recipes
Ahi Tuna Lettuce Wrap Tacos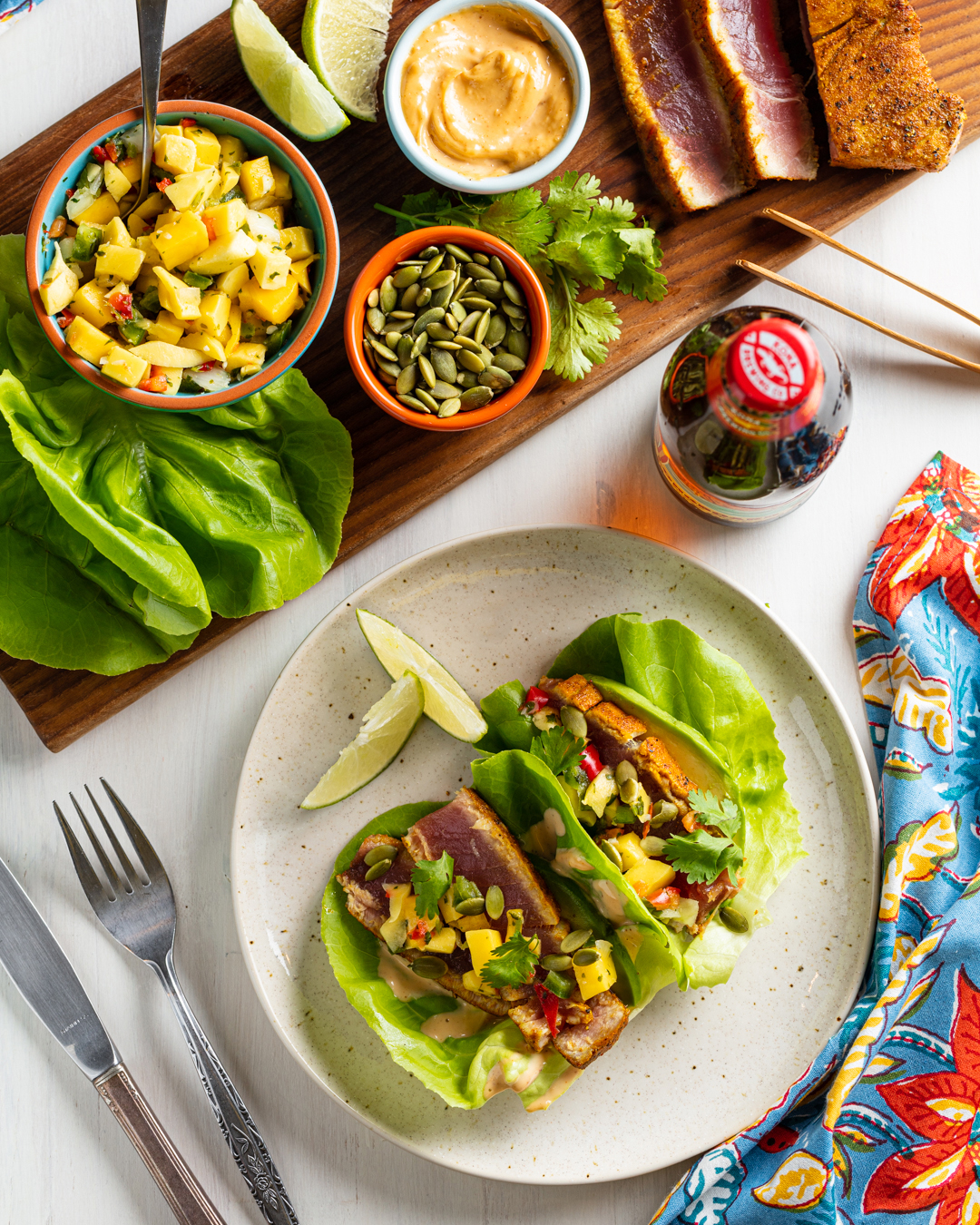 Jessica's Ahi Tuna Lettuce Wrap Tacos are perfect for a quick weeknight dinner. The ingredients are inspired by her July Nutrition Notes, Super Foods for Radiant Skin, available online and in stores.
Ingredients
¼ cup Flanigan Farms pepitas (pumpkin seeds)
16 ounces 1 ¼-1 ½-inch thick ahi tuna steaks (2 steaks)
2 tablespoon Napa Valley organic olive oil, divided
½ teaspoon ground cumin
½ teaspoon Le Saunier de Camargue fleur de sel sea salt
½ teaspoon black pepper
¼ teaspoon cayenne pepper
¼ teaspoon ground turmeric
1 head Organic Selects living green butter lettuce, large outer leaves washed and dried
8 teaspoons Primal Kitchen chipotle lime mayo
½ large ripe, but firm avocado sliced into 8 thin wedges
½ cup Field Fresh mango salsa
16 sprigs cilantro, stems snapped off
4 lime wedges
Directions
Toast the pumpkin seeds in a large nonstick pan over medium heat until puffed up, about three minutes. Set aside to cool.
Wipe out the cooled pan and add one tablespoon olive oil. Brush remaining tablespoon of olive oil on all sides of the tuna. In a small ramekin, mix together the cumin, salt, pepper, cayenne, and turmeric. Spread seasoning in a flat bottomed dish, like a rimmed soup bowl, and press both the tops and bottoms of the tuna steaks into the seasoning to coat well, press any remaining spices into the exposed sides of the steaks. Heat pan over medium-high heat; add the tuna and cook one to 1 1/2 minutes (depending on thickness); flip over with tongs and cook about one more minute. The tuna should still be red in the middle. Remove from pan and let rest for about three minutes. Slice tuna perpendicular to the striation lines into 1/2-inch thick slices for a total of 16 slices.
Place lettuce cups on a large platter. Spread one teaspoon of chipotle lime mayo from the center outwards on each leaf. Place two slices of tuna into each of eight lettuce cups. Top each with one slice avocado, one tablespoon mango salsa, a sprinkling of pumpkin seeds, two cilantro sprigs, and a squeeze of lime. Enjoy with your hands or with a knife and fork.
Two tacos contain:
Calories 330
Fat 19g
Saturated Fat 3g
Trans Fat 0g
Cholesterol 40mg
Sodium 270mg
Total Carbohydrate 8g
Dietary Fiber 3g
Sugars 3g
Protein 30g
Vitamin A 28% DV
Vitamin C 27% DV
Calcium 3% DV
Iron 15% DV