Dinner Recipes
Fire Roasted Corn Guacamole with California Avocados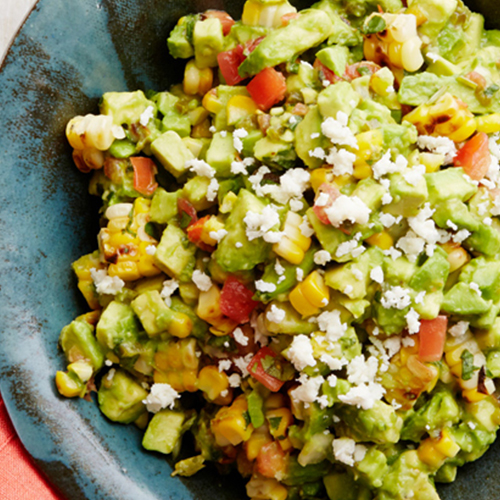 California Avocados yield world-class guacamole and fire-roasted corn makes it even tastier. It's a dip that's bursting with fresh flavor.
Ingredients:
1 ear fresh sweet corn
1 jalapeño
2 ripe, Fresh California Avocados, seeded and peeled
1/4 cup prepared pico de gallo (I just grabbed a fresh carton in the produce section)
2 Tbsp. lime juice
2 Tbsp. fresh cilantro, chopped
2 large cloves garlic, minced
1 tsp. kosher salt
As needed Black pepper, to taste
As needed Optional - Cotija cheese for garnish
Directions:
Roast the corn and jalapeño over fire (either on a gas stove or on a grill) until blistered and charred on all sides. (Not burned, please) After cooling for a few minutes, cut the corn off of the cob.
Chop the avocados then mix in the pico de gallo.
Seed and mince the roasted jalapeño. Add the jalapeño, fresh lime juice, cilantro, roasted corn, garlic, kosher salt and pepper to the avocado mixture. Adjust seasonings and serve. Serving Suggestion: Garnish with Cotija cheese if desired.
* Large avocados are recommended for this recipe. A large avocado averages about 8 ounces. If using smaller or larger size avocados adjust the quantity accordingly.