Breakfast Recipes
Spinach, Cheese and Mushroom Strata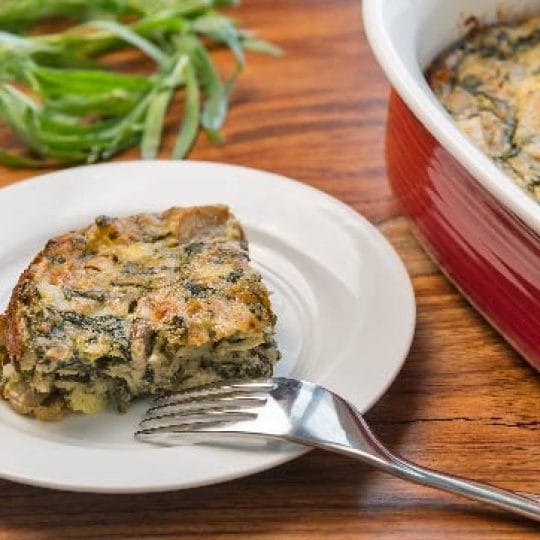 Breakfast
Spinach, Cheese and Mushroom Strata
Serves: 8
Ingredients
1 tablespoon Napa Valley organic olive oil
1 7 ounce package Gils Onions fresh organic diced yellow onions
5 medium shiitake mushrooms diced
1 1/2 10 ounce bags Stahlbush Island Farms frozen spinach defrosted on the counter or in the microwave or 1 pound organic baby spinach washed but not dried
12 slices Food for Life Ezekiel bread orange bag crusts cut off cut into 1 inch cubes
4 ounces Valbreso Feta Cheese crumbled
1/4 cup Imported grated Reggiano Parmesan cheese
6 Organic Valley large organic omega 3 eggs
10 Organic Valley egg whites 1 1/4 cups
2 1/2 cups Organic Valley fat free milk
2 teaspoons Grey Poupon Dijon mustard
1/2 teaspoon Le Saunier de Camargue fleur de sel sea salt
1/2 teaspoon black pepper
Directions
Heat olive oil over medium heat in a large pot. Add onion and cook four minutes, add mushrooms and cook two minutes. Add defrosted spinach or fresh spinach in batches and stir to wilt and cook about two or three minutes. Remove from heat and allow to cool. Squeeze most of the water from the vegetables using some paper towels.
Spray the bottom and sides of a 2 1/2 quart glass baking dish. Arrange half of the bread in a single layer in the bottom of the dish. Spread half the vegetables on top. Sprinkle with half of the feta cheese. Arrange a second layer of bread on top and spread the remaining half of the vegetables on top and sprinkle with remaining feta cheese and Reggiano Parmesan cheese.
Whisk together the eggs, egg whites, milk, mustard, salt, pepper and nutmeg. Pour it evenly over the other ingredients. Cover with plastic wrap or foil and refrigerate overnight, up to 24 hours.
Remove the strata from the refrigerator, uncover and let stand at room temperature for 15 to 30 minutes before baking. Preheat oven to 350 Fahrenheit. Bake for 45 to 60 minutes, until the top is golden brown and bubbly and eggs are set. Let stand for five minutes before cutting into eight pieces. Serve hot.