Appetizer Recipes
Jessica's Sweet Potato Latkes
Potato pancakes fried in oil are an essential part of the Hanukkah celebration. For my family, it wouldn't be Hanukkah without our crispy, flavorful latkes. Extra virgin olive oil has many health benefits, and I encourage people to go out of their way to cook with it throughout the year. Since cooking with oil is an important aspect of Hanukkah, this is an especially good time to use the healthiest oil available: antioxidant-rich extra virgin first cold press olive oil. To make these delicious latkes even more nutritious, I make half the potatoes orange flesh sweet potatoes, and I leave the skin on to retain more fiber and nutrients.
A few tips:
The more moisture you can remove before cooking, the crisper they will be. Draining the pancakes on paper bags is the key to removing excess fat and helping them crisp.
As written, this recipe is gluten-free. If that doesn't matter to your guests, you can substitute regular whole wheat flour for cornstarch and increase the amount of flour to 6 tablespoons.
Once the white potatoes are grated, you must work quickly to get the latkes in the frying pan so they don't oxidize.
The orange sweet potatoes can stain, so use a dark kitchen towel to wring out the extra moisture.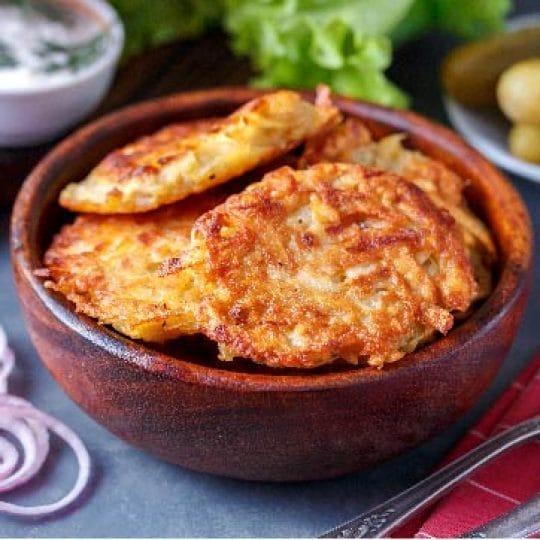 Appetizer
Jessica's Sweet Potato Latkes
Serves: 12
Calories Per Serving: Calories 130 (without toppings)
Ingredients
1 pound orange flesh sweet potatoes, unpeeled
1 pound russet potatoes, unpeeled
6 tablespoons extra virgin first cold pressed olive oil, divided
3 paper shopping bags (unused), handles removed, cut open, turned inside out cut to fit on a baking sheet
Greek yogurt or sour cream
Directions
Position the rack in the middle of the oven. Preheat oven to 500º Fahrenheit.
Grate the sweet potatoes first, then the white potatoes and onions using the grater attachment in the food processor or by hand. Remove as much moisture as possible from the potatoes and onions. Place the sweet potatoes in a clean kitchen towel and twist the towel to wring out the water. Repeat with white potatoes and onion.
Place the grated potatoes, sweet potatoes, and onion in a large mixing bowl and add eggs, cornstarch, salt, and pepper; mix well.
Heat two tablespoons of oil in a large, heavy skillet over medium heat. Scoop the mixture with a tablespoon or a soup spoon, thoroughly squeezing each spoonful with your fingertips to remove excess moisture. Slide the mixture into the pan, gently flattening each pancake with a spatula. Cook for about four minutes on each side or until brown. Remove and drain on paper bags. Repeat in two more batches, replacing olive oil with each new batch. Take care not to crowd them together in the pan.
You can flash freeze them on baking sheets (without the paper bags) at this point if you will serve them later. To serve right away or to cook from frozen, transfer all of the pancakes to two baking sheets lined with parchment paper. Finish cooking them one sheet at a time in the oven until crisp, about four minutes on each side. Serve immediately with applesauce and Greek yogurt or sour cream.