The Gelson's Legacy
Get to know more about the family and ideas that shaped this company from the ground up. Two brothers with a passion for groceries, quality and value that changed the supermarket landscape with the best customer service available. Read on and find out how this came to be and the events that shaped Gelson's Markets to what it is today.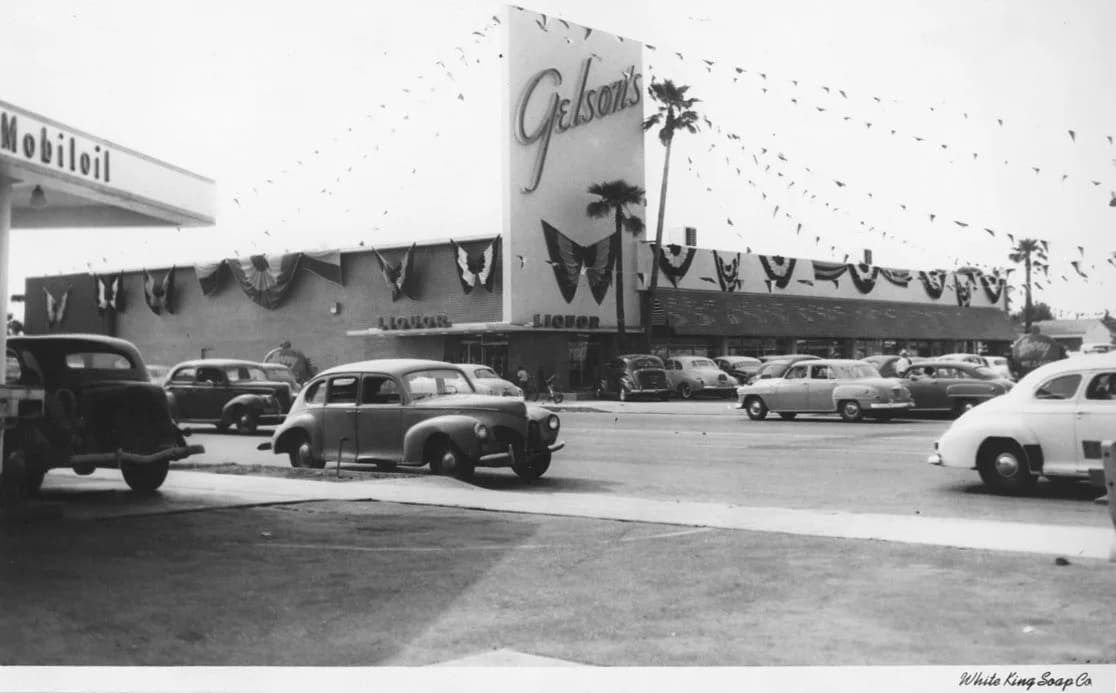 On a warm summer morning in July 1951, two boyishly enthusiastic young men wrote the stirring first paragraph of an ongoing and endlessly appetizing story, as they cut the ribbon on the very first Gelson's supermarket. The Burbank store may have been distant in miles but not in spirit from Eugene and Bernie Gelson's parents' Iowa grocery store, where the boys learned the importance of exemplary customer service — which to them meant giving every last person who walked in the door the very best in quality, selection, and value.
Of course, the brothers' success was not an overnight one. The Gelson brothers had moved to Los Angeles with Mom and Dad 14 years earlier and helped to run a store in Garvey, before purchasing a small market of their own in the San Fernando Valley. Unfortunately for their first "practice Gelson's," the 1200, 5000, and 8,000 square-foot spaces could not contain Eugene and Bernie's big dreams. Friends and family knew, it was only a matter of time before they would open their first bona fide supermarket: as it turned out, the 25,000 square foot marvel in Burbank.

Designed by Stiles Clements, the shiny new Gelson's Market was modernistic in design and had the air of a building set in a tropic land. Inside, from roof to floor, the market's front had a glassed instead of a cement front, an industry first. It was completely air-conditioned and heated. Huge circulating fans and giant heaters guaranteed a complete circulation of clean, fresh air of proper temperature every five minutes. Specially designed fixtures in all departments afforded ample display of the peerless selection of items which Gelson's handled.
Spacious aisles — which would become a Gelson's hallmark — and large shopping carts were available to make shoppers' selection of merchandise a pleasure. The first Gelson's also set the stage for what would become Gelson's tradition of exemplary meat and seafood. The store had an ultra-modern, self-service Meat Department, with stainless steel and enamel cases running the building's full length. Behind these cases, in full view of the customers — when you've got it, flaunt it! — was the meat cutting and wrapping room.
As it turned out, the bar Eugene and Bernie raised in 1951 would, by virtue of their vision, be raised again and again, store after store, for the next 60 years and beyond. To paraphrase Walt Disney, who boasted that his new theme park would continue to grow "as long as there is imagination left in the world," Gelson's will continue to replenish its aisles with the freshest advancements in the industry as long as there are customers who appreciate the best experience a supermarket has to offer.
When I started in 1960, there were only two Gelson's Markets, and times were certainly different. Our company has evolved from an upscale Grocery store to a competitively priced multi-departmental Supermarket. We initially were known for our high-quality Produce and Meat Departments. We have evolved through the years and added high-quality take-home foods prepared on our premises.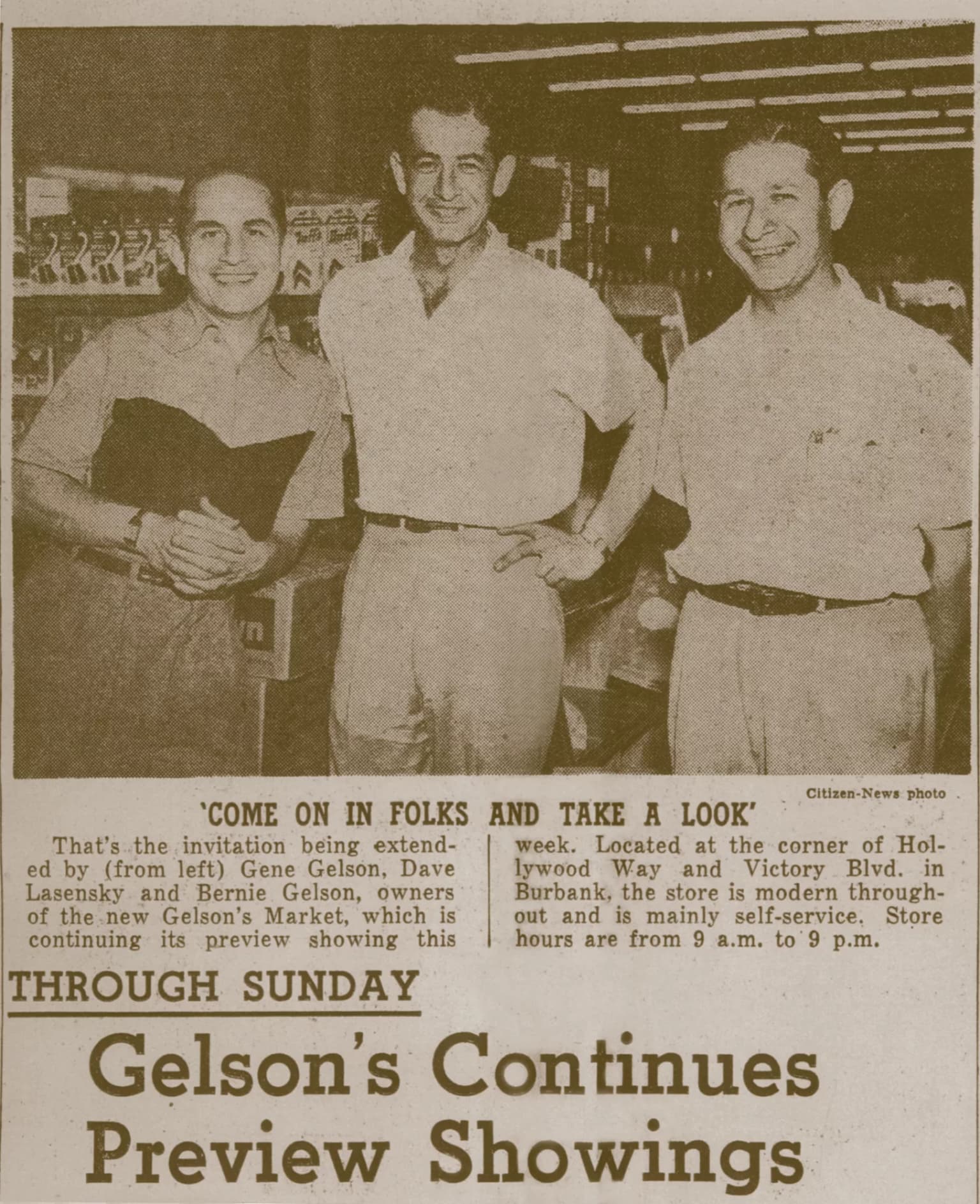 As we have grown to 28 stores stretching from Pacific Beach to Santa Barbara, we have lowered our pricing position on our regular Grocery, wall Deli, Wine, Liquor, and Beer Departments. We have changed our Marketing position in our newsletter to a more price-oriented format with extremely hot pricing on featured items.
It is not uncommon to see celebrities shopping regularly in our stores. When I worked at the store level, I remember seeing the likes of John Wayne, Michael Jackson, John & Bo Derek, Mickey Rooney, Julie London & Bobby Troup, Wilt Chamberlain, Kareem Abdul-Jabbar, John Wooden, and many others.
We like to say there's a little bit of Mayfair in every Gelson's — its gusto, its can-do spirit, its love for the customer — even though the last Mayfair Market recently became a Gelson's.
The Mayfair Connection actually began years before Gelson's did. Estimates put the genesis of the chain sometime around the stock market crash of 1929. In 1948, eight existing California stores run by the Mayfair Companies were merged with 43 California Van's Markets, both owned by Arden Farms Co., to create a new chain of stores: Mayfair Markets. At one point in the mid-1960's, there were also Mayfairs in Arizona, Utah, Oregon, Washington state, and Nevada, and over 250 stores in the chain. Though at one point they formed part of one of the largest grocery companies in the country, the majority of Mayfair stores were gradually sold off by Arden-Mayfair (which later became Arden Group) as larger supermarket formats became more popular. Gradually, the last of the more upscale Mayfairs were refashioned and relaunched under the Gelson's banner.
Often the folks that run the operations and management side of a company don't get the credit they deserve. You could make that case for Arden Group, whose tradition of excellence in these disciplines is one of the critical factors behind Gelson's continuing success.
Arden Group's history reaches back to 1904, where Arden Farms' dairy was founded in El Monte, California. Founder Edward Robbins raised dairy cows and started state-of-the-art facilities for bottling milk. The Arden Farms operation was merged in 1930 with California Dairies, Inc., which had been created by Western Dairy Products Co. of Seattle to operate their California properties. Western Dairy Products Co. ran ice cream outlets in the Pacific Northwest. On the retail side, Daley's Markets' predecessor Rock Bottom Store was started in Los Angeles in 1912, and was 160 stores strong when founder Joe Daley sold the chain to Arden Farms in 1929. Arden changed the name to Continental Markets and then to Van's Markets, and began to eliminate smaller, less profitable locations. In 1948, 43 Van's Markets joined forces with eight stores owned by the Mayfair Companies, and the name of the chain became Mayfair Markets. The merged company, Arden-Mayfair Inc., acquired the Gelson's stores in 1966 and continues as the parent company of Gelson's Markets today as Arden Group, Inc. (NASDAQ: ARDNA). Over the years, Arden-Mayfair Inc. and Arden Group, Inc. have run businesses as diverse as dairies, grocery stores, confections, printers, facsimile machine sales and swimming pool supplies. Perhaps the most inspirational part of Arden's history is, like Gelson's, the longevity of its key employees. A company can say whatever it wants about the corporate culture and its own desirability, but nothing speaks so eloquently as a roster of executives who work their way up the ladder and show their belief in the company over the long run.

In mid-2014, Gelson's announced that the company had been acquired by global private investment firm TPG. Gelson's significantly grew under the parentage of TPG, expanding its footprint from 17 to 27 stores from Santa Barbara to San Diego. During this time, Consumer Reports ranked Gelson's #1 in the West and #4 in the nation among 96 U.S. grocery brands. In February 2021, TPG Capital announced the sale of Gelson's to Japan-based global retail group Pan Pacific International Holdings. Since then, Gelson's remains ahead of the curve with store upgrades and remodels and will open a new store in West L.A. this fall, while continuing to expand its private-label products such as Gelson's Wines and Gelson's Ice Cream and receiving a coveted Great Place to Work Certification. After 15 years of leadership by Rob McDougall, in January 2023 Gelson's announced the promotion of industry veteran John Bagan to the role of President/CEO.