Apple Galette
October 03, 2018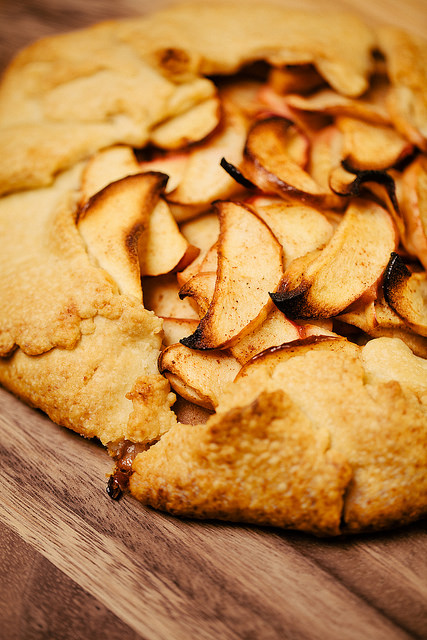 Galettes are one of our favorite pastries because the crust is very forgiving — its folded edges are meant to look rustic — and bakes up tender and buttery. And these galettes are pure Autumn: We love how they fill up the house with their toasty cinnamon apple scent. It's so warm and inviting! 
You can use any apple, really, but we use SweeTango apples in our galette because they stay nice and firm during baking, and their sweet, tangy flavor is just right with the cinnamon and sugar.
Our tip: Most of the time, galette dough is very easy to work. But if your dough does break, simply press it back together. Remember: Rustic is the name of the game. If the dough is truly unworkable, form it into a disk again, stick it back in the fridge to chill, and try again in an hour.
Servings: 8
Dough
Ingredients
1 ½ cups unbleached all-purpose flour, plus more for dusting
1 Tbsp white sugar
Pinch fine sea salt
¾ cup unsalted butter (scant), chilled and cubed
⅓ cup very cold ice water

Directions
In a food processor fitted with a large chopping blade, combine the flour, sugar, and salt, and pulse for 10 seconds to sift.
Add the butter and pulse, in short bursts, until the mixture has a sand-like texture (about 10 – 12 pulses).
With the food processor running, slowly add water through the feed tube until the dough forms.
Turn the dough onto a lightly floured work surface and form into a flat disk.
Wrap the disk in plastic and let it rest in the refrigerator for a minimum of 1 hour. The dough can also be frozen for future use.
Lightly flour a work surface and roll out dough to the desired thickness and width, keeping in mind that you'll need a 3-inch border to fold over the filling.
Filling
Ingredients
3 SweeTango apples, thinly sliced
2 Tbsp white sugar 
Ground cinnamon, to taste
1 Tbsp unsalted butter, chilled and cubed
Clover or wildflower honey, to taste
1-2 Tbsp raw granular sugar, optional 

Directions
Position the rack in the center of the oven, then preheat oven to 400°.
Place a pizza stone or large baking sheet in the oven to preheat.
Toss apples with sugar and cinnamon. Arrange them in the center of the dough, leaving a 3-inch border.
Working around the galette, fold the border over the apples and pinch the folds to seal them.
Using a pizza or pie peel, transfer the galette to the stone or the baking sheet in the oven.
Bake for 40 minutes or until the crust is golden brown and fully cooked, and drizzle with honey to finish.
Sprinkle raw sugar on top of honey (optional).
Recipe source: SweeTango.com.