Hatch Chile & Chicken Enchiladas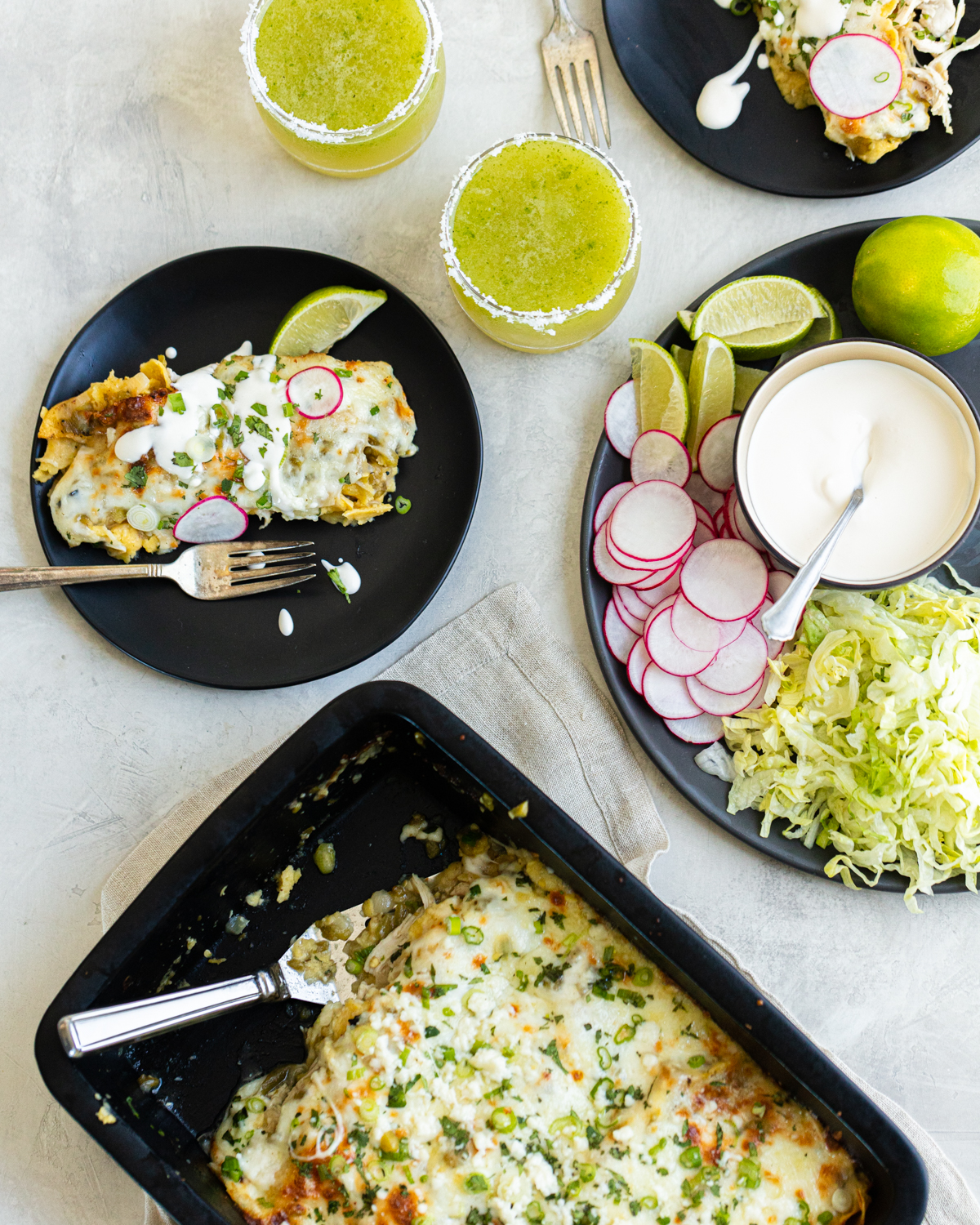 We love what enchilada sauce does for corn tortillas — warming them through, so they're soft and tender. For this recipe, we made a kind of salsa verde with roasted Hatch chiles, toasted cumin, and garlic. It has all the chile's mild heat and smoky, green pepper pungency. The tortillas absorb all that goodness, and it seems to bring out their sweet corn flavor, making them the perfect vehicle for the tender rotisserie chicken, melty cheese, and crema. 
For us, chicken enchiladas are pure comfort food. We like to make them for family dinners, when the agenda for the evening is nothing more or less than just being together. Because they are so rich, we'll often serve them with a light, juicy salad: think jicama and watercress, or some other peppery green, in a lime vinaigrette. 
Leftover enchiladas make an amazing breakfast. You can pile them high with fried eggs, more enchilada sauce, a dollop of crema, and if you're feeling fancy, a garnish of cilantro. Add a cup of coffee, and you're already having the best day ever.  
Our tip: if Hatch chiles are out of season, and you don't have a secret cache of them squirreled away in the freezer, you can use canned hatch chiles or fresh Anaheims or jalapeños.
Servings: 6
Ingredients 
For the sauce:
½ tsp cumin seeds
2 Tbsp unsalted butter
2 cups white onion, diced
4 cloves garlic, minced
2 Tbsp all-purpose flour
3 cups roasted Hatch chiles (fresh or canned)
¼ tsp dried oregano
Salt, to taste
Black pepper, to taste
8 cups chicken broth, divided 
For the enchiladas and garnish:
1 3 ½-lb Gelson's rotisserie chicken, including the neck, giblets removed
12 medium-size soft corn tortillas
2 ½ cups Oaxacan cheese, grated
2 cups queso fresco, crumbled
4 green onions, thinly sliced 
1 cup cilantro leaves and tender stems, coarsely chopped 
Crema
Lettuce, tomato, and radishes (optional garnishes)

Directions
To make the sauce: In a small, dry skillet over medium-high heat, toast the cumin, stirring or shaking the pan occasionally, until the cumin is fragrant, about 3 minutes. In a pestle, finely grind the cumin seeds.

In a large saucepan over medium-high heat, melt the butter. Once hot, add the onion and cook, stirring occasionally, until softened and barely colored, about 8 minutes. 

Stir in the minced garlic, let it cook for 1 minute, and then sprinkle the flour into the pan and stir to incorporate. 

Add the Hatch chiles, prepared cumin, and oregano, season with salt and black pepper to taste, and stir well. Gradually whisk in 6 cups of the chicken broth and bring it to a simmer for 10 minutes, or until the sauce thickens.  

Taste and adjust the seasoning as needed, then set aside. Note: the sauce can be prepared up to 1 day ahead if covered and refrigerated.

To make the enchiladas: Shred the rotisserie chicken and discard the bones and skin. You should have about 4 cups of meat. Set the meat aside. 

Preheat the oven to 400°. Ladle 1 ½ cups of the sauce into a glass dish measuring  9 x 13 inches. 

In a large pan, heat the remaining 2 cups of chicken broth. 

Soften a tortilla by dipping it into the hot broth very briefly. Distribute about 3 tablespoons of the shredded chicken down the center of the tortilla. Roll the tortilla into a loose cigar shape to cover the filling, then transfer the enchilada to the prepared baking dish, seam side down. 

Repeat step 9 with the remaining tortillas and chicken, placing the enchiladas side by side, fitting them snugly in the baking dish.

Ladle the remaining sauce over the enchiladas. Sprinkle them with the Oaxacan cheese and bake until they're heated through and the top is brown and bubbling, about 30 minutes.

Remove the enchiladas and sprinkle them with the queso fresco, green onions, and cilantro. Serve them immediately with the crema, lettuce, tomato, and radish slices for garnishes. 
Recipe adapted from: Saveur
Calculate nutrition information for this recipe.