Traditional Irish Colcannon Recipe for St. Patrick's Day
March 10, 2018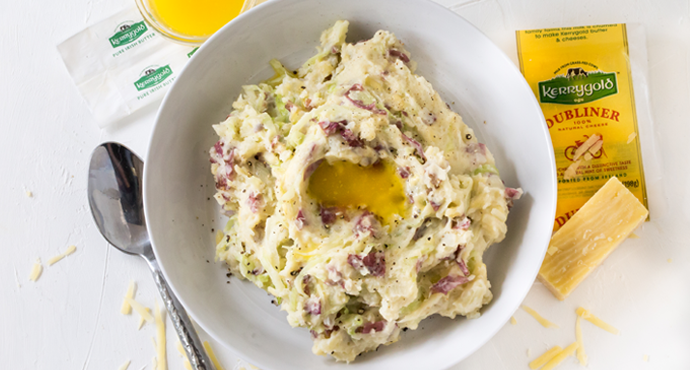 This hearty dish, headlined by (you guessed it!) potatoes, will bring a helping of scrumptious tradition to your shamrock shindig. And it's easy to make.
Ingredients:
2 pounds red potatoes, cut into large chunks
3/4 cup milk
3/4 teaspoon salt
6 tablespoons Kerrygold Salted Butter, plus additional melted butter if desired
1 cup chopped onion
6 cups finely shredded green cabbage (or one 10-ounce package)
1 cup (about 4 ounces) shredded Kerrygold Dubliner Cheese or Blarney Castle Cheese
Freshly ground pepper to taste
Directions:
Cook potatoes in boiling water about 20 minutes or until very tender; drain well and mash with skins on, adding milk and salt.
While potatoes are cooking, melt butter in a large skillet.
Add onion; cook 10 minutes, stirring occasionally, until very soft.
Add cabbage; cook and stir for 5 minutes more or until very soft.
Stir cabbage mixture and Kerrygold cheese into hot potatoes and season with pepper.
Mound onto serving plates and make a well in the center of each. Pour a little melted butter into each well, if desired.