Announcements
3 Scrumptious Ice Cream Boards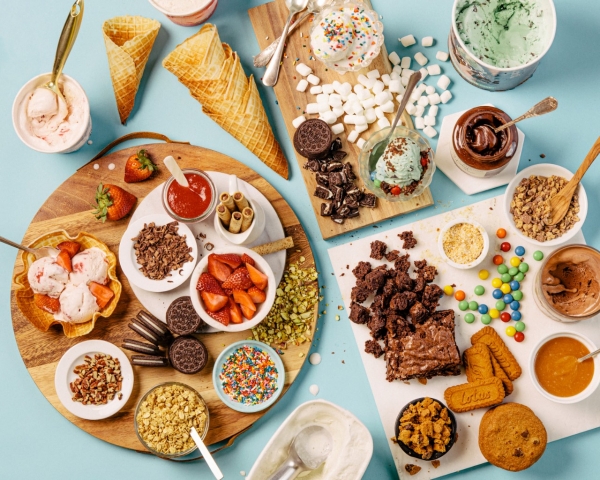 In honor of National Ice Cream Day, and our own love of sweets, here are three ice cream boards. Each one is chockablock with treats — crunchy, sweet, melty, nutty, gooey treats. It's almost too much fun, but that's kind of the point.
Here's what you do: Invite a bunch of friends over, put out the pints, and let everybody go at it. Big and little kids will be delighted. In the test kitchen, everyone who saw the boards giggled a little bit, and then dove in with gusto. Ice cream boards are a bit like a supper club buffet in that there's something for dessert lovers at every end of the spectrum. For the shy and demurring, there are cookies to nibble; for the health conscious, there are nuts, granola, and strawberries; and for the hedonist there is, well, everything.
The Sweet Tooth

This cheerful board goes out to the ones who like it sweet and colorful. With all the little candies, it lends itself well to a waffle cone — we'd suggest a layered approach. Everyone loves a treasure hunt!

If you like the interplay of cold, creamy ice cream and chewy, crispy cookies, this one's for you. Make a mini-Biscoff sandwich, or crumble a brownie over a waffle cup of chocolate ice cream, coconut, and peanut butter sauce. Overkill? Definitely, yes, please.