Announcements
/

/

A spanish themed cheese and charcuterie plate for thanksgiving
A Spanish-Themed Cheese and Charcuterie Plate for Thanksgiving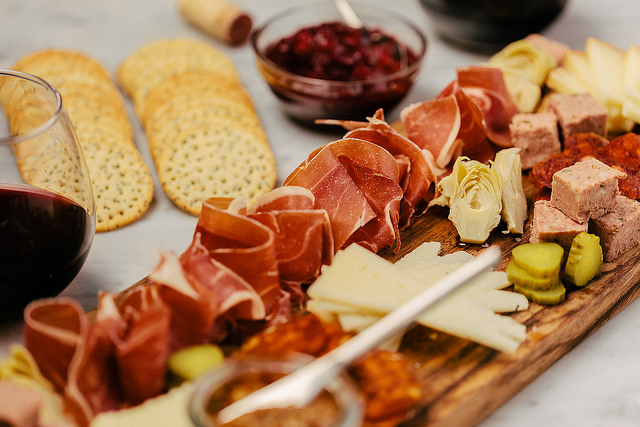 When it comes to holiday appetizers, quick and easy is the name of the game. After all, even if you're hosting an intimate family gathering, you've still got quite a bit to do in the kitchen. Our cheesemongers recommend putting together a cheese and charcuterie plate: it comes together with minimal effort and it crams a lot of tastes and textures onto one plate.
This one is themed with products either imported from or inspired by Spain:
Petite Trois Cochons - Organic Mousse Basque
Pâté is always a welcome texture on a charcuterie plate. This one is a velvety chicken-liver mousse full of smoke and mildly spicy Espelette peppers.

Fermín – Serrano Ham Cured 2 yrs (imported from Spain)
Jamón Serrano means "mountain ham" in Spanish, and Fermín ham is hung to dry in the cool, clean mountain air where it ages, giving it a full, complex flavor and a mild saltiness.

Fermín – Iberico de Bellota Chorizo (imported from Spain)
Bellota Chorizo is produced from Iberian pigs that feed on acorns, giving the meat incredible depth of flavor — it's wonderfully fragrant and full of smoky pimentín spice.

Haystack Mountain Creamery – Gold Hill
This Colorado cheese won "Best American Cheese" at the 30th annual World Cheese Awards at Tobacco Dock in London. Gold Hill is a very flavorful, pasteurized goat-milk cheese that's styled like a Spanish raw-milk cheese.

GarcÍa Baquero – Cinco Lanzas (Imported from Spain)
Made with a delicate blend of cow, goat, and sheep milk, this is a firm, flavorful cheese — we tasted roasted nuts, caramel, and a surprising finish of cinnamon.

Istara – P'tit Basque (Imported from France)
This is a semi-hard sheep milk cheese imported from the Basque region bordering France and Spain. It has sweet and nutty flavors and a smooth finish.


You can round out your charcuterie plate with crackers, sliced baguette, and a variety of fresh seasonal fruit — like pears, figs, and persimmons. Also great: spreads like mustard, membrillo, or a fig or chile pepper jam.
And what about wine? We'd suggest pairing your cheese and charcuterie plate with a nice Spanish wine, of course. Come on in and talk to us, we'll help you pick one out.