Announcements
/

/

Gelsons sausages 3 ways
Gelson's Sausages 3 Ways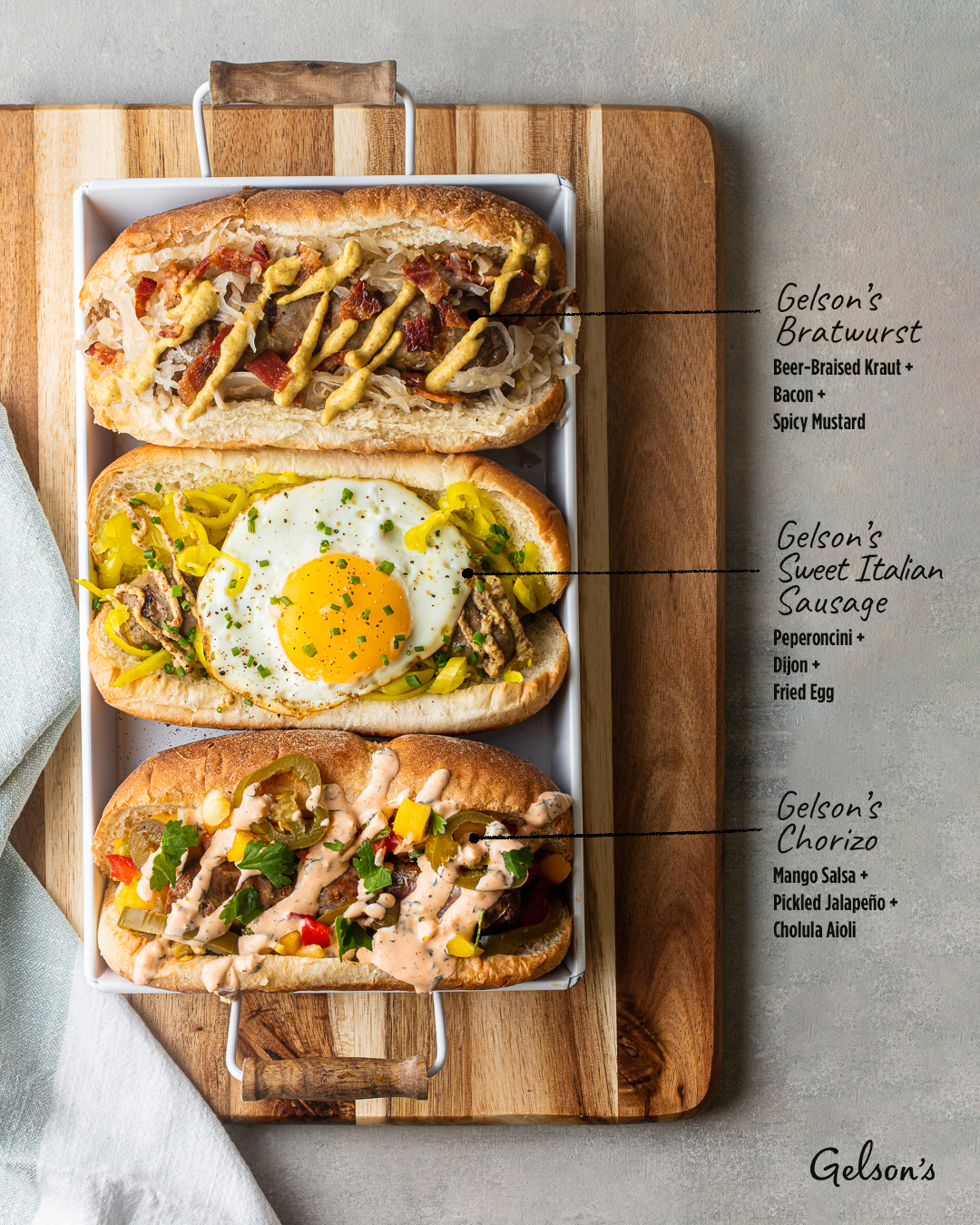 Summer is for sausages. Specifically, sausages cooked until they're bubbling hot and then tucked into a soft bun and loaded up with toppings galore. True, you can't go wrong with a bit of ketchup and mustard. (It's the best route if you need to get food in your mouth, stat.) But life is short, so we say: take a maximalist approach to the fixings!
In this wee guide, you'll find some of our favorite toppings for three different varieties of fresh Gelson's sausages: bratwurst, sweet Italian, and chorizo. We love how decidedly different they all are — the flavors and textures range from hot and crunchy to sweet and creamy — so you have plenty of options for all the potlucks, barbecues, and neighborhood block parties still to come this summer.

Bratwurst With Kraut & Bacon

Pair bratwurst with sauerkraut, and it'll never let you down. The sausage's deep, earthy coriander, caraway, and nutmeg are a match made in heaven with the kraut's funk and silky crunch. Here, we braise the sauerkraut in beer, just to make it a little more special. You get some hoppy, malty action amidst the naturally bright, sour-sweet flavors of fermentation — it's fantastic.
We also add crispy chopped bacon to the bratwurst (double the pork, double the fun!), and then finish it with a hearty drizzle of spicy brown mustard for a bit of heat. Altogether, you get a subtle spin on classic German flavors, tucked inside a soft, pillowy bun



Ingredients

5 Gelson's bratwursts
16 oz sauerkraut
½ cup lager beer
4 strips cooked, crispy bacon, chopped
5 soft hot dog buns
2 Tbsp spicy brown mustard


Directions


Cook the sausages according to package instructions, or until they reach 165º on an instant-read thermometer.

In a small saucepan, combine the sauerkraut and beer. Bring the mixture to a simmer over medium-low heat for 15 minutes, or until the beer has reduced by ¾, then remove it from the heat.

Add the crispy bacon to the sauerkraut and stir to combine.

Place the bratwurst on the buns, top with brown mustard and bacon sauerkraut, and serve hot.


Sweet Italian Sausages With Fried Eggs & Peperoncini

Herby sweet Italian sausage topped with crunchy peperoncini, punchy Dijon mustard, bright chives, and a fried egg … this is the sausage we wish we could sneak into Dodger Stadium! Can you imagine how thrilling watching those nine innings would be if you were also stuffing all that goodness into your face?

We especially love the fried egg on top: bite into it, and the yolk breaks over the savory sausage, spilling into the bun like gravy. Add a few dashes of Louisiana hot sauce, and the sunny yolk gets laced with a tangy heat that cuts through its richness.



Ingredients

5 Gelson's sweet Italian sausages
1 Tbsp Gelson's 100% California extra virgin olive oil
5 Gelson's large eggs
Kosher salt, to taste
Freshly ground Gelson's black pepper, to taste
5 hot dog buns
¾ cup sliced golden Greek peperoncini, divided
5 Tbsp country Dijon mustard, divided
¼ cup minced chives, divided
Louisiana-style hot sauce, for serving

Directions


Cook the sausages according to package instructions, or until they reach 165º on an instant-read thermometer.

In a medium nonstick skillet, heat the olive oil over medium-high heat. Crack the eggs into the skillet and cook, basting the egg whites with the hot oil, until they're set and the yolks are jammy, about 2 minutes.

Transfer the eggs to a plate and season with salt and black pepper.

Place the sausages in the buns and top each with about 2 tablespoons of peperoncini, 1 tablespoon of the Dijon, 1 fried egg, and a large pinch of chives.

Serve hot with Louisiana hot sauce.


Chorizo With Mango Salsa & Cholula Aioli


Heat is at the heart of this chorizo ditty: the warm, savory heat from the sausage hits the back of your throat, the bright heat of the Cholula aioli hits the front, and then the subtle, funky heat of pickled jalapeño rounds it all out. That's not to say the heat is overpowering — quite the opposite, in fact, thanks to a brightly sweet mango salsa and fresh cilantro.

These chorizo toppings create a near perfect balance of textures, too: you get crunchy, chewy, juicy, and creamy in a single, very delightful bite. It's summery, it's playful, it's a meal you'll undoubtedly crave again and again.


Ingredients
½ cup mayonnaise
1 garlic clove, grated
1 Tbsp freshly squeezed lemon juice
2 Tbsp finely chopped fresh cilantro
2 Tbsp Cholula hot sauce
Kosher salt, to taste
Freshly ground Gelson's black pepper, to taste
5 Gelson's chorizo sausages
5 hot dog buns
¾ cup Gelson's mango salsa
5 Tbsp jarred jalapeño slices
Cilantro leaves, roughly chopped, for garnish
Directions


In a small bowl, combine the mayonnaise, garlic, lemon juice, cilantro, and Cholula hot sauce. Season with salt and pepper, and set aside.

Cook the sausages according to package instructions, or until they reach 165º on an instant-read thermometer.

Place the sausages in the buns and top each sausage with 2 tablespoons mango salsa, 1 tablespoon jalapeño slices, a liberal drizzle of Cholula aioli, and a pinch of chopped cilantro leaves.