Announcements
/

/

Meet the expert keith miller
Meet the expert: Keith Miller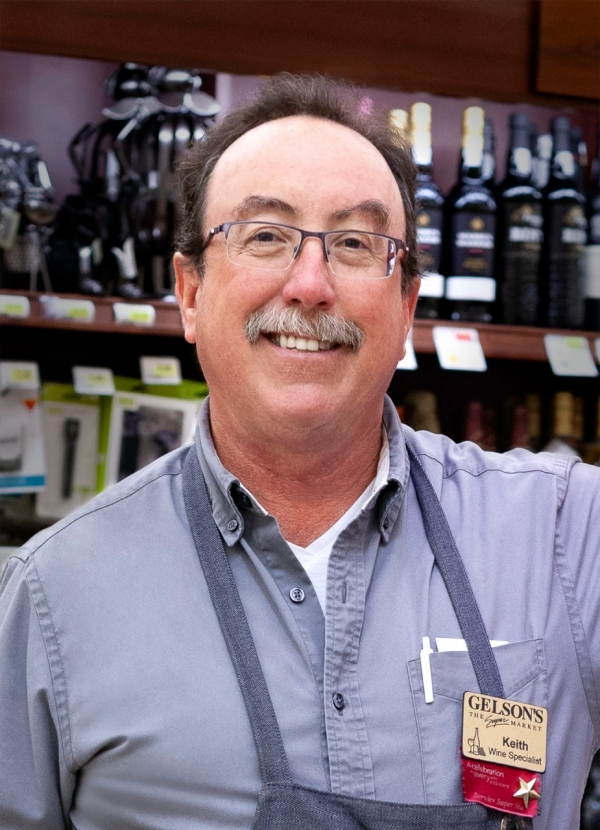 If you meet Certified Wine Specialist, Keith Miller, ask him what his favorite wine is — chances are, he'll tell you it's always the next glass. In part, that's because it can be hard to recreate the last glass. "A great wine is about the whole experience," he says. "It's about who you're drinking it with, where you are at the time, the food. Sometimes, you buy a bottle you loved, and it doesn't taste quite the same because you're not with those people, or the food pairing is off."
Keith has been in the wine and spirits business since he took his first job at a high-end Southern California liquor outlet as a 19-year-old. Almost from day one, he felt drawn to learn more about wine and to share it. "Of course, in the very beginning, I was too young to drink alcohol, but I could still sell it," he laughs. "But once I was old enough, I'd go to wine tastings and get together with a group of my co-workers to taste wine and pair it with food, so the idea of food and wine came together for me at a very young age."
He joined the Gelson's team in 1987. "I'm what you'd call a newbie around here," he says. "I've only been here for 32 years."
Surprisingly, he didn't start out in our wine and spirits department but in the Gelson's Kitchen, where he learned to cook restaurant-quality fare, from appetizers and entrées to desserts. During his time as a Foodservice Manager, he helped to open our Calabasas and Northridge stores, and eventually, he became the Foodservice Supervisor for the Gelson's Kitchen in all of our stores.
Even as he was honing his cooking chops, Keith stayed very interested in wine. "I worked closely with our wine and spirits buyer in my day-to-day work, and I'd go to some of the dinners our wine vendors sponsored — so, I always had a hand in it," he says. "And, of course, my wife and I planned a lot of our vacations around wine."

Keith and his wife, Kathy, a Cheesemonger at Gelson's, spend most of their vacations in Napa Valley, St. Ynez Valley, and Paso Robles golfing and visiting wineries. "One of the reasons wine is so intriguing is that it's always changing," he says. "Because of the seasons, what's growing, and the weather — all the terrible fires in Northern California, for example — the wine is always changing, so you can never get to the bottom of it."
That doesn't mean he's stopped trying to learn everything there is to know about wine.

About nine years ago, Keith moved to Gelson's wine and spirits department. "For me, it wasn't just about the wine," he says. "As a food services manager, I was spending less time talking with customers, and I really missed those interactions. I wanted to share my experiences, help people learn about wine — and help make their food and wine experiences better."
As part of that shift, Keith got his Wine Specialist Certificate. He and several other Gelson's team members took the Wine Education and Management Certificate Course at the University of California, Los Angeles. They spent eight weeks learning about how and where wine is made, how people enjoy wine all over the world, and the ins and outs of importing and exporting wine. "The course really made me step back and realize how much I had to learn," Keith says, "Even though I'd been in the industry for so long, it was the first time I had really dug in deep with European wines. I also realized that I'll probably never stop learning."
At the end of the course, Keith and his cohort had to take a comprehensive test for certification. "I studied all the time, over lunch, after work," he says, "and when I took the test, I was sure I hadn't passed, but I was actually number one. I think I had just really taken it to heart."
For home cooks, Keith recommends a more relaxed course of study: Have a bunch of friends over to taste wines. Each person can bring a bottle of the same varietal — wrapped in foil, so the winery and price are kept a secret. "Price will always interfere with how you feel about a wine," he says, "I can't tell you how often a $10 bottle of wine wins out over a $40 bottle, but if you knew, you might not have voted that way."
"Hosting a tasting is such a great way to get out of your comfort zone, try a new wine, and see how it tastes with food," he adds. "I love finding a new bottle of wine that I otherwise might not have tried, and it's always fun sharing wine and food with friends."
Keith also tells people not to be shy about asking their servers and wine sellers for advice or even for a taste of the wine, especially at the Gelson's Wine Bar. "They're specialists, they're pairing all the time, and they're passionate about their jobs or they wouldn't be there," he says. "They want to share their knowledge of wine just as much as you want to learn."
And while you're at the wine bar, he says, "Try something out of the norm. A glass of wine is a small commitment if you don't end up loving it, and that's really the only way to grow — by drinking a lot of different wines."
In all seriousness, Keith does have a few favorite wine varietals at the moment. When he and Kathy are hanging out in the kitchen cooking, they'll drink a glass of Chardonnay or rosé. "Lots of people love French rosé, which is great if you like it bone dry," he says, "but there are some more approachable rosés from Italy and California that range from slightly sweet to luscious and full."
With dinner, he likes a Pinot Noir. It's lighter in body and less tannic than other reds, but it also has an abundance of flavor: think warm baked stone fruit, cigars, chocolate, and dry leaves. "It pairs with just about everything," says Keith. "We'll have it with poultry, fish, pasta, and veggies. I'd probably draw the line at beef." In hot weather, a Pinot can be really nice lightly chilled.
Keith also really enjoys cooking with wine. When we asked him for a favorite recipe, he talked us through his famous Sweet Italian Sausage Sauce, which we've included here for your pleasure. It's a health-conscious recipe: He doesn't add any salt. Instead, he uses Italian seasoning and Gelson's Sangiovese to give it a rich, savory flavor. "We blend our Sangiovese with 5 percent Cabernet grapes," says Keith, "so it has a nice full body. It's wonderful in the sauce — and I'd drink a glass of it with dinner, too."

Keith Miller's Sweet Italian Sausage & Sangiovese Sauce
Servings: 4
Ingredients
1lb Gelson's Sweet Italian Sausage
1 medium yellow onion, diced
2 cloves garlic, minced
Olive oil
1 16-oz diced canned tomatoes
1 cup Gelson's Sangiovese wine
1 tsp Italian seasoning
Whole wheat pasta, for serving
Directions
With the tip of a small, sharp knife, slit open the sausage casings.
Crumble the meat into a large skillet and cook it over medium-low heat. As the meat begins to cook, it should render enough fat to coat the bottom of the pan. Sauté, breaking up any large chunks, until all the meat has turned opaque (do not let it brown), about 5 minutes.
Add the onion and garlic and stir. Drizzle a tablespoon of olive oil in the pan if it seems dry. Cook over very low heat, stirring often, until the vegetables and the meat are browned.
Add the wine and diced tomatoes, with their juices, bring the sauce to a simmer, and then add the Italian seasoning and continue to gently simmer, uncovered, until thickened, 20 to 25 minutes.
In the meantime, prepare the whole wheat pasta according to the instructions on the package.
Serve the sauce on top of the pasta. Enjoy with a glass of Sangiovese, or your favorite wine!