Announcements
/

/

5 minute recipe miracle noodle angel hair with veggies
5 Minute Recipe: Miracle Noodle Angel Hair with Veggies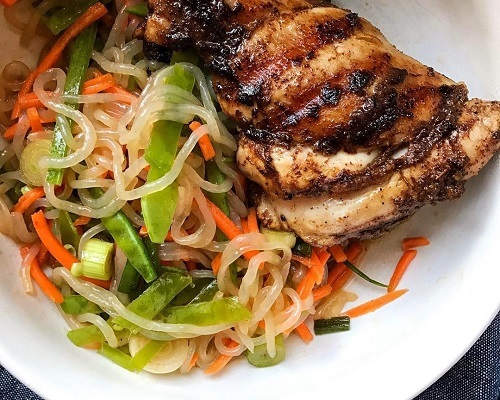 Have you tried Miracle Noodle? Take guilt and anxiety out of eating. Gain peace of mind by choosing delicious, healthful food from a company that adheres to strict health guidelines.
Check out this 5 minute Miracle Noodle recipe! This will be a great side to your protein of choice.
1) Make the dressing, a simple mix of savory, sour, sweet, and spicy:
1 teaspoon sesame oil
2 tablespoons soy sauce
1 tablespoon rice vinegar
1 teaspoon lime juice
A couple drops/pinch of stevia
Sriracha to taste
Simply Beyond Herbal Spray in Lemongrass
2) Prep Miracle Noodle Angel Hair - Drain them, put them in the microwave for a minute, rinse with water, then microwave for a second minute. That's it.
3) While the noodles are in the microwave, chop up any veggies you have on hand (carrots, celery, cucumbers, peppers, scallions, snow peas, cabbage, whatever you like). When the noodles are out, mix *everything* together, add a spritz or two of Lemongrass spray and you're good to go!

Miracle Noodles are approved for these special diets: Keto, Paleo, Certified Gluten-Free, Grain-Free, Soy-Free, Certified Vegan, Certified Kosher, Blood Sugar-Friendly.