Announcements
/

/

A home cooks guide to stone fruit
A Home Cook's Guide to Stone Fruit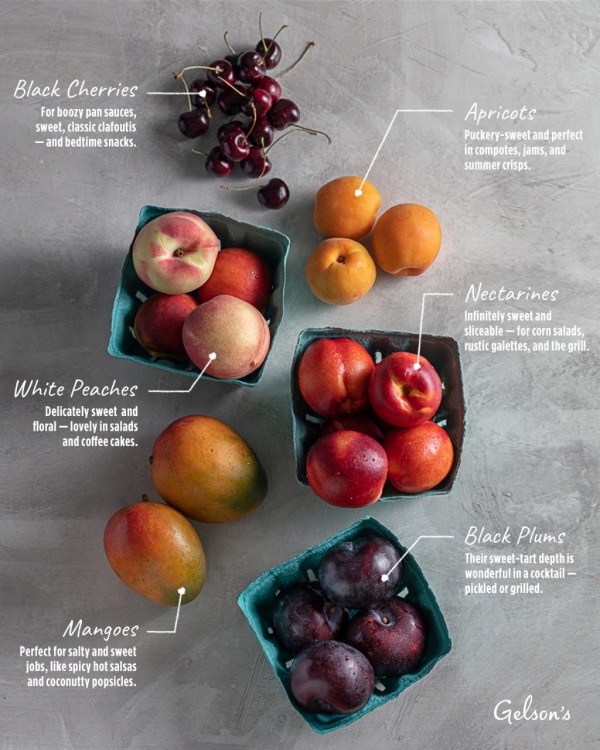 Here's an ephemeral summer pleasure for you: Standing outside on a sunny patch of the sidewalk, eating a perfectly ripe, intensely delicious peach, and just letting the juices run down your chin and hand. It could also be a handful of sweet cherries, an especially vivid plum or succulent nectarine — when the stone fruit season peaks, we're a little desperate to eat every bit of it and as much as possible, before it ends.
Is there such a thing as an unwholesome quantity of stone fruit? No way: A stone fruit is a terrible thing to waste. Three apricots a day or bust!
In that spirit, we've compiled a short list of the basic stone fruits — nectapies and peacotums need not apply — and some of our favorite ways to cook, bake, grill, and preserve them.

Black Cherries
All stone fruits have their superpowers, but cherries are among the superfoodiest — touted to help with everything from reducing heart disease to aiding in recovery from exercise to improving sleep. Bedtime is for a bowl of cherries!
Sweet cherries are lovely in a savory salad, and we especially like them paired with nuts and some kind of flavorsome green — like juliennes of pungent green onion or clumps of bitter frisée. They're also wonderful in a sweet pan sauce. Think: shallot, butter, port, and sweet cherries spooned over pork or duck. And, of course, they're great in sweets, like the famous clafoutis or cherry chocolate ice cream. Making a pie? For that, you'll want to use a sour cherry, for sure.
Nectarines
It's true that, scientifically speaking, nectarines are basically small peaches without their furry coats, but their flesh is a little firmer, full of lovely, fruity perfume — and, at their peak, infinitely sweeter.
Nectarines slice beautifully, like an apple, and you don't have to peel them. They're beautiful fanned out on the top of a tart or lightly charred on the grill and served with ice cream. Grilled nectarines and corn are a delightful pairing in a fresh salad — add crumbled feta and a lemony dressing and serve it with fish. Nectarines are also great prepped caprese-style: try them with fresh heirloom tomatoes and mozzarella or in a heavenly stack with fried mozzarella and a puckery-sweet balsamic glaze.
Mangoes
We don't always think of mangoes as a stone fruit, but they are — and lucky us, they're one of the few, if not the only, that's available all year round. And they're incredibly succulent and flavorful: as sweet as a peach with hints of vanilla and, sometimes, citrus.
Mango and coconut are a natural combination, and we've been known to freeze them into beautiful color-blocked popsicles and whirl them up in ultra hip goji berry and chia smoothies. On the savory side, a mango also loves a chile pepper, so it's great in a salsa, and we recently used it to make some dynamite mango habañero jam — which tastes ridiculously good on jerk chicken.
Our tip: Mango skins are not edible, and in fact, some folks are allergic to their sap. So, our advice is to peel mangoes completely before you eat them, rather than eating them out of the skin.
Black Plums
Black plums are a beautiful fruit — shiny, blue-black on the outside, deep beet red to purple or pale yellow inside. We love them for their complex flavors, too. The skin has a wonderful sweet-tart depth that almost upstages the sweet flesh.
There is almost nothing you can't do with a plum: They're the punchy note in a simple, vanilla-scented 123 cake, the jam on our hot buttered toast, and the salty-sweet pickle on our drinks cart. (Pickled plums + sparkling water = a refreshing shrub-like drink.) Grilled plums are the heart and soul of a lemony plum smash cocktail. Roasted plum coulis makes a devastatingly pretty companion for panna cotta, but if you're looking for something simpler, a bowl of stewed plums and vanilla ice cream is scrumptious.

White Peaches
White peaches have a pretty pink blush that perfectly suits their flavor — they're very low in acid, so they have delicate, almost floral sweetness. Their texture is not as firm as nectarines or even yellow peaches, so we like them best for eating out of hand, making fresh dishes, or baking, where it's okay if they fall apart.
We recently used white peaches in our peach, pea, and burrata salad, a minty affair that perfectly suited the peach's texture and light sweetness. It's also nice in a jalapeño peach salsa, which you can spoon over everything from swordfish steaks to brisket tacos. Looking for a sweet? They're delightful baked into a streusel coffee cake — the breakfast treat that transitions to dessert with all the ease of a scoop of ice cream.
Our tip: You can eat the skin of the white peach, but it's not as tasty as a yellow peach or nectarine skin, and may even mask the peach's lovely attributes. Go ahead and peel it off.
Apricots
Apricots have velvety skins that are the color of SoCal sunsets, ranging from a rosy blush to pale yellow to golden sunlight and a rich, burnt orange. Their flesh is softer than a plum, firmer than a peach, and tangy-sweet with a nice, tart finish.
That balance of puckery and sweet makes apricots terrific in desserts, and we've enjoyed them in everything from summer crisps to upside-down cakes and spice-laden compotes. Apricot jam is also delicious, and unbelievably useful on a cheese or charcuterie board, in between the layers of a cake — and melted, glaze-like, over a puff pastry. (Hey-oh, brie bites!) And, let us not forget apricot walnut foster, a nutty, caramelly must for your Sunday waffles!