Announcements
/

/

Gelsons wines uncorks three new world class bottlings 2
Gelson's Wines Uncorks Three New World-Class Bottlings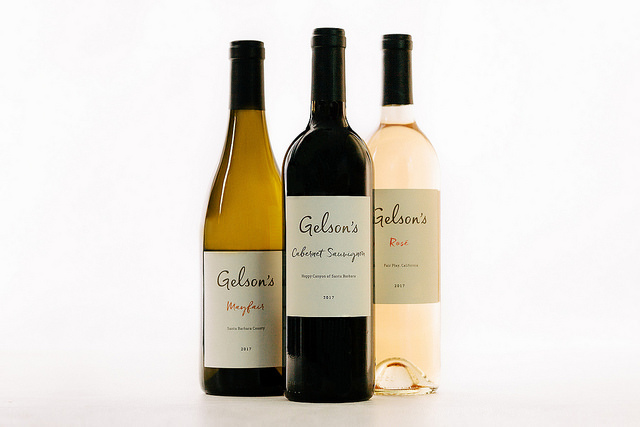 Celebrating the one-year anniversary of our first branded collection of fine wines, we are excited to announce three stellar additions, including the long-anticipated debut of our first Cabernet Sauvignon and a white Rhône "tribute" blend from celebrated vintner Doug Margerum, along with an opulent Rosé through a first-of-its-kind collaboration with Wine Spectrum's "Winemaker of the Year" Julien Fayard.
On Saturday, September 29, all stores across Southern California will offer free samples of the three newly curated Gelson's Wines. They include:
Gelson's 2017 Rosé: Produced and bottled by Azur Wines, the label of award-winning French winemaker Julien Fayard, this Provençal-style blend from Central California is made with 88% Syrah and 12% Grenache. It immediately stands out with its bright salmon hue, landing on the palate with notes of alpine strawberries and elegant soft red fruits. Fragrant and dry, with refreshing acidity, this outstanding Rosé is delicious, beautifully balanced and elegant, with a long finish. Regularly $29.99, on special through October 16 for $24.99.
Gelson's 2017 Cabernet Sauvignon: Produced and bottled by Margerum Wines – and just in time for International Cabernet Sauvignon Day (August 30) – comes this complex Cabernet from Happy Canyon of Santa Barbara County. Dark red velvet, with an aroma of black fruits, plum, spice and cranberry notes, this powerful wine offers intense structured tannins, balanced acidity and lush mouthfeel. Cold-cellar matured for ten months in neutral French oak barriques. Regularly $24.99, on special through October 16 for $19.99.
Gelson's 2017 Mayfair: A rich and complex wine from the Los Olivos District of Santa Barbara County, this is an exceptional white Rhône varietal blend from Margerum Wines handcrafted just for Gelson's. Comprised of 50% Marsanne, 25% Grenache Blanc and 25% Viognier, its straw color with golden hues shines in the bottle. Perfumed white florals with sweet honey, sweet pea, mint and tropical fruits are full-bodied in the mouth, with a balanced lingering acidity. Named in honor of Mayfair Markets, a nod to Gelson's parent company and a bygone era of Southern California.Regularly $16.99, on special through October 16 for $13.99.
Gelson's Wines debuted in September 2017 with five Santa Barbara County reds (Pinot Noir, Granche, Syrah, Sangiovese)and one white (Chardonnay), created exclusively for Gelson's by top winemaker and Wine Spectator Grand Award winner Doug Margerum. The three new wines extend this collaboration while celebrating a new relationship with Provence-cum-Napa winemaker Julien Fayard, named 2016 "Winemaker of the Year" by Wine Spectrum.
Marking his first such collaboration with a supermarket brand, Julien Fayard stated, "It is my mission to produce exceptional wines, and that striving for excellence in all areas resonates with the long history of Gelson's. With customers who appreciate the finest products, and with its broad retail footprint, this initial collaboration with Gelson's will help make superior quality Rosé available to thousands of people across Southern California."
"Julien's reputation is second to none, from his early work with Lafite Rothschild and Smith Haut Lafitte in his native France to the last dozen years earning respect across Napa Valley," said John Bagan, Chief Merchandising Officer for Gelson's. "Our team is always seeking out the best products from the best producers, and we are proud to augment our existing relationship with Doug Margerum with this new collaboration with Julien to add this elegant Rosé to our Gelson's Wines collection."
Wine tastes better at Gelson's!