Announcements
/

/

Meet brenda arevalo shes got a gift for gift baskets
Meet Brenda Arevalo — She's Got a Gift for Gift Baskets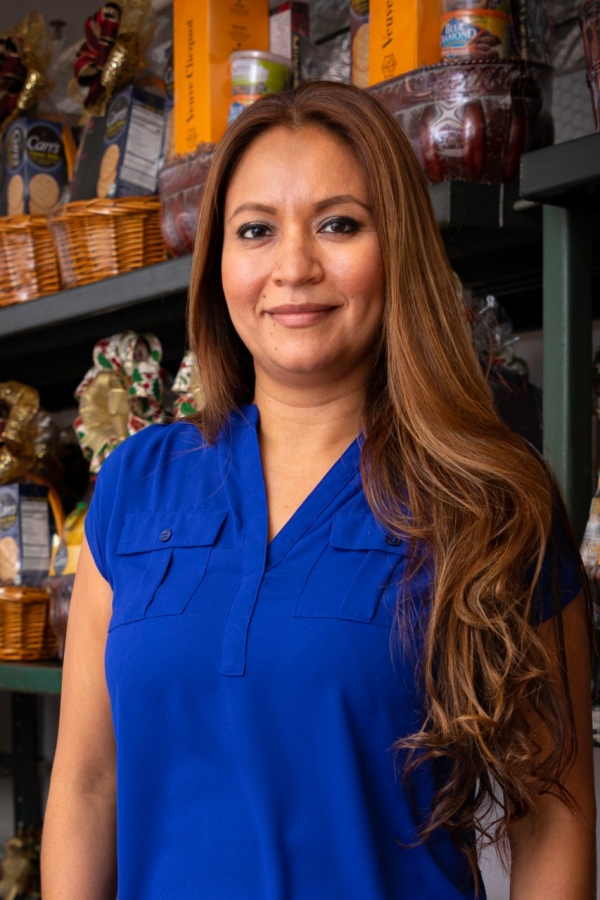 The gift basket conundrum: On the one hand, a well-curated gift basket is such a pleasure to receive, especially if it's full of food — treats you may not have tried before, or that somehow feel too indulgent to buy for yourself. On the other, it can be so hard to find just the right assortment of special goodies and put them all together in a pretty basket.
Enter Brenda Arevalo, our gift basket coordinator. She works in our Valley Village store, but she designs all of Gelson's gift baskets. "I've always had that extra touch, an artististic side," she says, "but I never would have thought that I'd end up making gift baskets, and when I first started designing them, it felt like something so different and new."

In fact, Brenda kind of fell into basket design. She's worked with Gelson's for 22 years, and like many folks in our stores, she started as a bagger, and then she moved on to other positions in the store — front desk, checker, and finally, helping our gift basket designer put the finishing bows on baskets. "And then, our gift basket coordinator had to take a leave of absence and there was nobody else who could fill in," Brenda says, "so they said, 'Hey, Brenda, you're it.' I was so nervous that I wouldn't do a good job."
Of course she did a great job, and when the gift basket designer decided to retire, Gelson's tapped Brenda to take her place, training her in all aspects of basket design. "One person really pushed me to step into that role," she says, "and that was Hee-Sook Nelson (our VP of team development). She was my biggest supporter and mentor, and she said, 'Brenda, you can do this because you're smart,' and I'm so glad she did — from the minute I picked it up, I just loved it."
Brenda develops about 20 new basket themes a year, including our holiday baskets, filling them with everything from wine to hot cocoa and fresh fruits to salty snacks. She's also in charge of ordering baskets and supplies for all the stores and creating design sheets — so that anyone can put together her beautiful baskets. "I think one of the things that customers like about our gift baskets is that we offer them at different price points," she says. "So, if a customer just wants to do a little something nice for someone, we have baskets that are perfect for that, and we have bigger, high-end baskets too."

In order to create all these baskets, Brenda relies on a strong working knowledge of our fresh fruits, wines and beverages, and all the goodies in our center aisle, like fine chocolates, cookies, crackers, and nuts. She has a great relationship with all the different departments in the store, and they help keep her up on what's new and on trend — all the products that our customers are really excited to try.
This product knowledge and expertise is especially important when it comes to customizing gift baskets — many of which she creates on the fly, walking the store aisles with our customers. "This is the part of my job I love the most, getting to meet the customers and work directly with them," she says. "A lot of the people who buy customized gift baskets are regulars, but they don't know everything that we have, and it's fun to introduce them to new products — I always start by asking questions about the person, what they want to put in the basket, and then I help them shop, so it's a chance to really engage with them."
Some of her recent favorites have been a pandemic gift basket full of scented and unscented hand sanitizer, wipes, and hand lotion. (Cleaning your hands all the time can be dry work!) She also had a customer who came in to order 100 cheese platters for a virtual event — and left having ordered 130 thrilling baskets full of cheese, fig spread, fresh and dried fruit, nuts, crackers, and cookies. Oh, and then there's the customer who came in looking for a Champagne basket. "We put one together with crackers, nuts, and fine chocolates," Brenda says. "He'd never tried the chocolates before, but he loved the way the basket looked — and later, he came back and told us, 'I can't stop eating those chocolates!'"
For Brenda, these moments of real delight are gratifying and, 10 years into her role, the thing that makes the job fun. "Once we put everything together, it makes such a big difference," she says. "You know, we go through the store together, and they grab the stuff, we put it all together in a basket, and then the final part is the bow — and they love it, they really love it, and that's the best part. It's so fun to see how happy people get when they see a nice, big gift basket with a bow."
"I like being creative, I like helping people out," she explains, "and when you like your job, when you really enjoy it, it inspires you."