Announcements
/

/

Meet bruce page our journeyman meat cutter
Meet Bruce Page: Our Journeyman Meat Cutter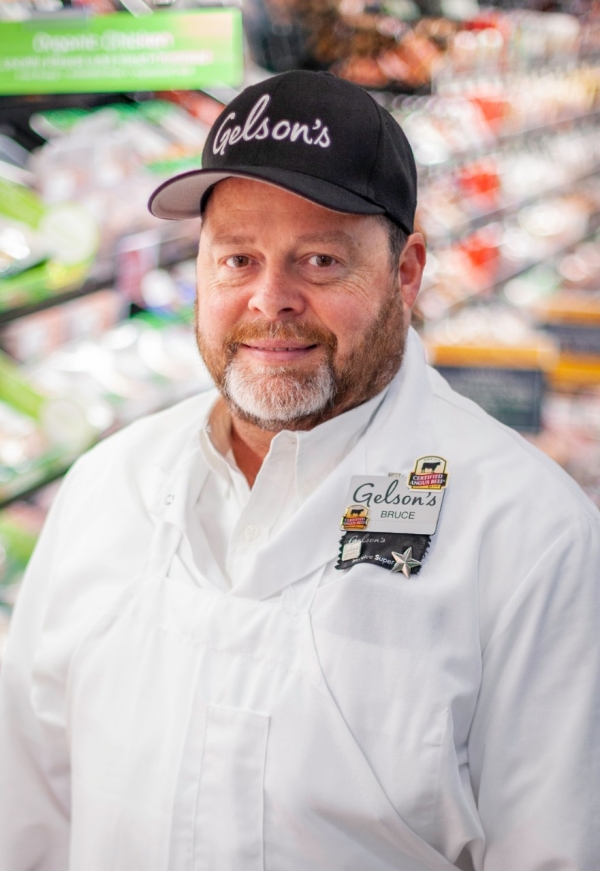 "What sets Gelson's very far apart from the chains," Bruce Page, our Journeyman Meat Cutter says, "is that we do all of our own meat production here, so it's truly a full-service meat shop. It's just like going to the little mom-and-pop shops, and that's why a lot of people refer to us as their neighborhood butcher."

Bruce knows something about mom-and-pop shops, because he earned his chops as a butcher at one much like Gelson's. (Pun intended!) When he was 13 years old, he took a job as cleanup boy at his neighborhood deli and butcher shop in Lomita. It was full-service delicatessen, offering everything from fresh meats to cold cuts and cooked entrées, like corned beef. "At first, I basically did everything they didn't want to do," he says. That did include some cleaning, but he also got to ring up customers, build sandwiches, slice meat, and make sausages and dog food. Of course, those were the fun parts.

The not so fun part? "Boning out the difficult cuts," he says, "like taking all the beef off a pile of neck bones and trimming good meat off of fat. It's the first job of an apprentice, and it's really tedious, but it teaches you how to handle the knife and do intricate stuff — and you can't really ruin it because it's all going to get ground into hamburger and sausages."

Young Bruce also spent a lot of time wrapping meat. "That's a great learning tool because, by the time you actually start cutting meat, you know all of the different cuts." At the shop, they'd get a whole hindquarter of beef delivered. It could weigh about 275 pounds, so they'd hang it on a great big meat hook and move it from the delivery door to the walk-in cooler on rails. "I feel fortunate that I had that experience," Bruce says. "I learned the whole meat-cutting process from beginning to end."

Flash forward 40 years, and Bruce is an expert on every aspect of the meat and fish department. In an average day, he'll do a little bit of everything. He orders meat, poultry, and fish. He keeps our cold storage and displays organized, and cooks entrées, like the pollo asado, shrimp, and meatloaf. "We do cut all our meat — chicken, beef, pork, lamb, and veal — in house, from whole bodies, so that's a big part of my day too," he says, "as well as making all of our ground beef, lamb, veal, and turkey."

Bruce's favorite part of the day is moving meat around and making it look pretty. "I like to get the coolers all set, the display trays in a certain spot, and everything in the case lined up just right, so there's no clutter," He explains. "I'm very fussy."

"I also like the social aspect of being up front, working on the displays," he adds. "I'm very outspoken, I talk to everyone who walks by, say hi, and ask if I can help them find something. That gives them the opportunity to say, 'Oh no, but I do have a question for you.'"

In an age when we've all gotten used to grabbing conveniently prepackaged meat, we wondered what people like to talk to Bruce about — how do they use their neighborhood butcher? Home cooks want to know what steaks to buy for the grill (his favorite is the Red Spencer, aka a boneless rib-eye steak), what cuts to use for pulled pork, or what meats and fish will be good for their raw diet. Personal chefs and caterers come in to get their meat portioned out and trimmed to their specifications, and for specialty cuts, like a very thinly sliced beef for rouladen. And though trends tend to vary from store to store and season to season, he's had a lot of people asking for bottom round cut for beef jerky.

"Honestly, we get a lot of people coming in for their dogs," Bruce says. "One of our customers comes in and gets meat for herself and her dog — they like filet mignon and New York strip steak. That's a special little dog."

Apparently, the dog feels just the same about him. She sent him a Frank Sinatra album for Christmas.