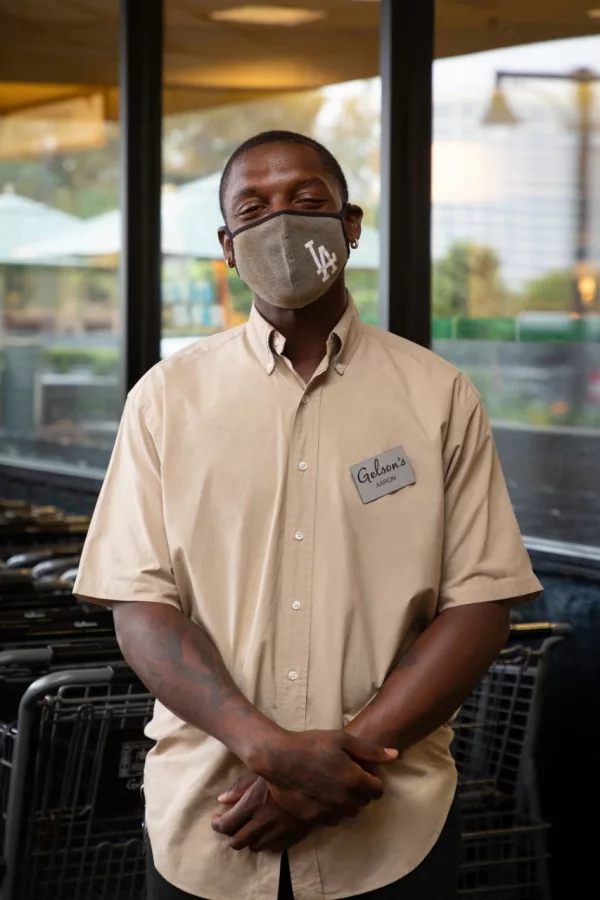 Meet the Expert: Aaron O'Neal, Apprentice Clerk
If you're a regular at our Newport Beach store, you've already met Aaron O'Neal. He's our apprentice clerk, the super friendly guy who greets you at the front door, keeps the line to get inside moving as folks leave with their groceries — and hands you a sparkling clean and sanitized grocery cart or basket when it's your turn to shop.
Grocery carts are central to the shopping experience: They hold all our wants and needs, our habits, our appetites. There's a reason every toddler wants their own cart — and it's not just because they're fun to zoom around the aisles. For kids they represent autonomy, and that was true for Aaron, too.
Aaron was always big for his age, so his mom turned over full-size cart duty early. "She'd walk in the store, point at the carts without even looking, and just keep walking," he says. "Now, kids come in with their moms, she'll tell me what size cart she wants, and by the time I'm done cleaning it, she's already in the store and there's a teenager standing in front of me — you're on cart duty for the rest of your life, my man, it just is what it is."
He pauses and throws out a memory: He was newly enlisted in the Army, posted out of state, and grocery shopping for the barracks. "I go into the supermarket and I just start grabbing stuff, I don't have a cart because no one told me to get one, so I have to walk back out and get one," he says. "I felt so old, but there I was with an armful of Twinkies, no cart, no real groceries, you know — what is life? I needed my mom."
Flash forward a bunch of years, and much to his own surprise, Aaron has taken cart duty to a whole new level. Well, maybe it's surprising everyone: none of us could have predicted we'd need a full-time apprentice clerk to manage our carts, and Aaron could not have predicted he'd play such a public-facing role in the pandemic. In fact, to hear him talk about it — it's almost out of character.
At the beginning of 2020, Aaron lost his job as a warehouse manager because of the Covid-19 pandemic. "Every year, warehouse work gets slow in February because it's Chinese New Year, people in China take a couple of weeks off, and shipments slow down," he explains, "but this year it just shut down, and I was out of a job."
A month later, when Governor Newsom issued the stay-at-home order, Gelson's needed extra help keeping our shelves stocked, our stores clean, and our doors open to the public, so we posted a call for paid volunteers. Aaron was one of the people who answered. He started out stocking shelves, but one day he went out to clean carts so that a coworker could take a break — and he never came back inside. "Getting paid volunteer work with Gelson's made a big difference for me, of course," he says, "and cleaning the carts has been fulfilling and fun, and it's taught me a lot about myself."
Aaron starts his day at 6:45 in the morning — in his car, listening to a little R&B in the parking lot. "I like to set the vibe for the day," he says. "And then I go inside and get a coffee and bagel, and I'm outside at 6:55. There's almost always someone there, waiting, so I get to greet them. At that time of the morning, people are mostly coming in for their coffee, and they don't want a cart, so that gives me time to get things situated for the people who do."
At this point, Aaron says, handing off carts has become very fluid: Find out if the customer wants a big cart, small cart, or basket, swipe a paper towel, spray it down, wipe it up, hand it off. It's part listening, part muscle memory. He says it helps to get to know the customers so he can anticipate if they want a cart and what size it will be. "For a lot of my customers, I know exactly what they're going to buy," he says. "Like my man Tommy comes in and gets a yogurt, another guy comes in for one carton of chocolate milk, and another guy gets two bananas. He might get frisky and get a water bottle, too, who can say, but knowing who you are dealing with makes a lot of difference."
So what has he learned about himself in the process? Quite a bit, and most of it centers on meeting a lot of people every day. "I went from doing the same thing day in, day out, with the same 10 guys in the same warehouse to meeting the masses," he says. "Everyday here is different, there's a lot to go home and tell the love."

"In the beginning, the customer response was overwhelming," he adds. "I just didn't know how important it was to people, and I didn't realize how it would affect them."
The pandemic has changed the way all of us interact with the supermarket. Some folks are comfortable wearing a mask and waiting in line to get a clean cart and come inside; others, understandably, find it frustrating. "I've had to learn how to treat each person based on their needs," Aaron says. "If you're able to look at the line and see it as people, then you can say, 'Hey folks, I'll take care of you one at a time,' it takes the pressure off everybody."
It takes a lot of patience to do that, and for Aaron it also takes a certain amount of bravado — he's never been one for standing in front of big crowds. "That had to do with not being sure of myself," he says, "but working at Gelson's has given me a new vision of myself: I'm not as insecure about my abilities, and it's taught me not to be afraid to conquer my fears. Two of my biggest fears were public speaking and dealing with big masses of people; now I do both on the daily, and that's groomed me for all my future endeavors."
In fact, juggling all the personalities he meets is the most rewarding part of his job. "The best thing is that while people aren't that different, they are very particular, and I love to get to know them and all their similarities and particular differences," Aaron says. "And if I've changed their perspective, made them look at life a little more positively, made their store experience a little better, their day a little easier, or even just given them the cleanest cart ever, you know, made some kind of positivity for people, that's super rewarding — that's what makes it easy for me to come back here and get it done every day."