Dinner Recipes
5-Step Ravioli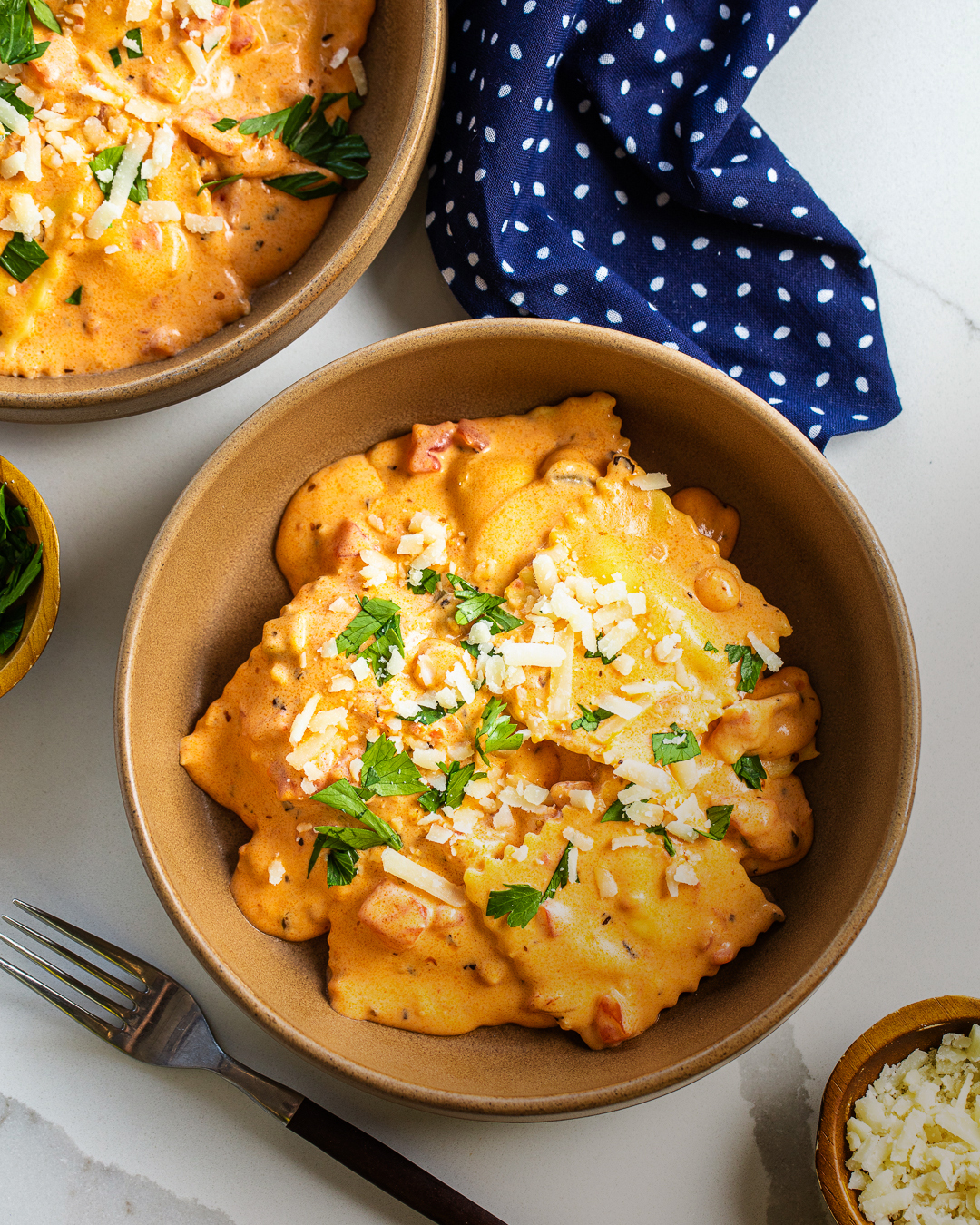 Here's a family-friendly idea for dinner with just enough ease for a weekday — and just enough cooking to feel homemade. We toss Gelson's three-cheese artisanal ravioli in a super simple red sauce made with ingredients you probably keep around the kitchen, like garlic, tomato paste, cream cheese, and dried herbs. It's got a creamy vibe the kids will love but enough tangy heat to be interesting for you grown-ups.

Here's the recipe:

1. In a large skillet, melt 3 Tbsp unsalted butter over medium heat. Add 3 minced garlic cloves and cook, stirring constantly, for 2 minutes. Whisk in 2 Tbsp Gelson's all-purpose flour and cook for 2 minutes more, or until golden brown and smooth.

2. Stir in 1 Tbsp tomato paste and ½ tsp each of Gelson's onion powder, Gelson's dried basil, Gelson's dried oregano, and ground mustard. Add ¾ cup chicken broth, a few tablespoons at a time, whisking between each addition. Stir in 1 ½ cups half and half, then bring to a simmer.

3. Drain a 10-oz can of diced tomatoes with chiles. Add the drained tomatoes to the skillet, then stir in 3 Tbsp cream cheese until fully incorporated. Continue to cook over low heat, stirring occasionally, while you complete step 4.

4. Cook your favorite flavor of Gelson's artisan ravioli according to the package instructions. Reserve ¼ cup of the pasta water, then strain the ravioli. Add the ravioli and pasta water to the skillet and stir gently until well combined.

5. Serve the ravioli and sauce in individual bowls and garnish with grated Gelson's Parmesan cheese, chopped fresh parsley, and Gelson's crushed red pepper flakes. Enjoy!