Recipes
Blueberry Muffins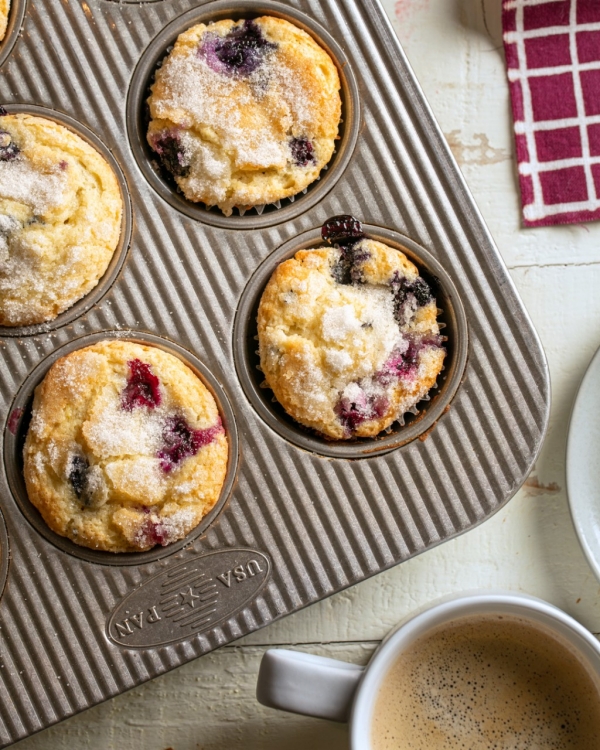 The recipe for these classic muffins, with their plump, fresh blueberries and golden, sugary crowns, is an approximation of one made famous by Jordan Marsh, an East Coast department store of bygone years. After a long day of crowding into dressing rooms and lines, weary shoppers would make their way to a restaurant at the top of the store for a warm muffin and a spot of tea — it sounds so snug and civilized.
We wouldn't say no to such an afternoon, but for us, these muffins are about Saturday morning. They fill the kitchen with the most wholesome, cozy smell. And what a lovely, slow start to the day! They have that luxe, overstuffed quality — one wants to peel the top off their muffin and enjoy it in parts. First we eat the moist, cake-y soft bottom, and then the slightly crispy, sugar-crunchy top.
If you make these muffins for brunch, your family will adore you! They're also the kind of fun project you can do with the kids while your partner or spouse is still snoozing.
Our tip: Go ahead and make a double batch so you'll have some leftovers for the work week — they might inspire you to carve out a little time for your own afternoon tea and muffin breaks.
Servings: 12
Ingredients
½ cup (8 Tbsp) butter, at room temperature
1 cup sugar
2 large eggs
2 tsp baking powder
½ tsp salt
1 tsp vanilla extract
2 cups King Arthur unbleached all-purpose flour
½ cup milk
2 ½ cups blueberries
¼ cup sugar, for topping
Directions
Preheat the oven to 375°F. Lightly grease a standard 12-cup muffin tin, or line the tin with papers and grease the papers.

In a medium-sized bowl, beat together the butter and sugar until well combined.

Add the eggs one at a time, scraping the sides and bottom of the bowl and beating well after each addition.

Beat in the baking powder, salt, and vanilla.

Add the flour alternately with the milk, beating gently just to combine. Scrape the bottom and sides of the bowl.

Mash ½ cup of the blueberries. Add the mashed and whole berries to the batter, stirring just to combine and distribute.

Scoop the batter by the heaping ¼-cupful into the prepared muffin pan; a muffin scoop works well here.

Sprinkle about 1 teaspoon granulated sugar atop each muffin, if desired. It's traditional — go for it!

Bake the muffins for about 30 minutes, until they're light golden brown on top, and a toothpick inserted into the middle of one of the center muffins comes out clean.

Remove the muffins from the oven, loosen their edges from the pan, and after about 5 minutes, transfer them to a rack to cool.

Recipe source: King Arthur Flour