Beverage Recipes
Boozy Eggnog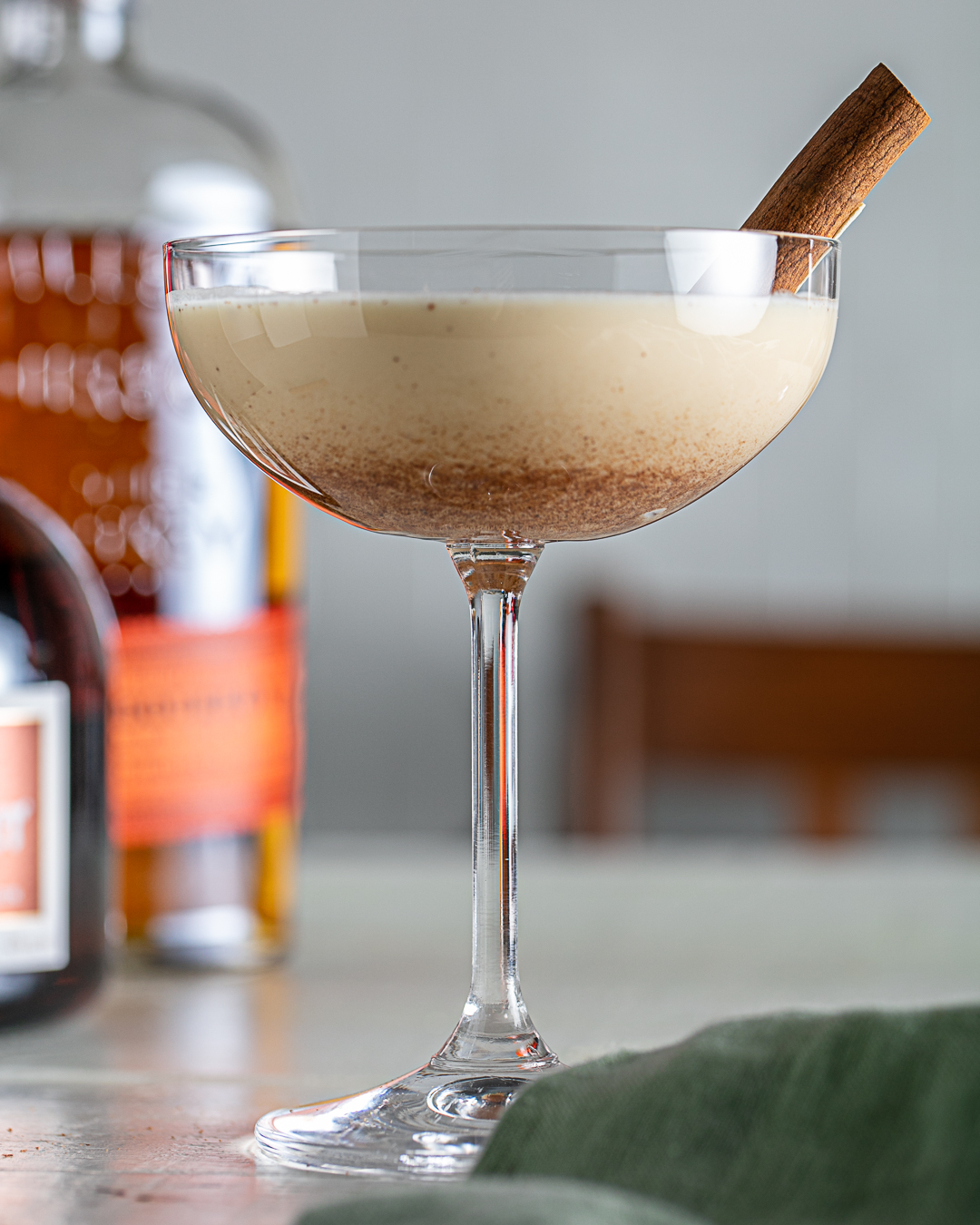 It's never truly the holidays until good ole eggnog shows up — rich and spicy and full of good cheer. Nowadays, there are plenty of very good, store-bought versions. Some of them are even locally made, in much too small, seasonal batches. (Broguiere's, we're looking at you!) But like all things cooking, nothing quite beats fresh, homemade nog, and this one is especially delightful.
To begin with, home cooks, it's basically a boozy holiday smoothie: you're just going to throw everything, eggs and all, in the blender. There's no separating the egg whites and yolks, no frenzied whisking, and no putzy custard. Some might call it dangerously easy. Eggnog at the drop of a hat — and, it's really tasty eggnog laced with plenty of spice and booze.
While many traditional recipes feature just nutmeg, this one is a quartet of spices with cinnamon, allspice, and cloves. This gives it a little more complexity and fa, la, la.
Similarly, rather than choose between bourbon and cognac, we've gone with both — and a jigger (or so) of Grand Marnier to boot. For the bourbon, we like something with a nice balance of spice and brown sugar, like Basil Hayden's. It's smooth, but it's got a nice rye kick and plenty of black pepper to round out the spices in our nog. The cognac is there to balance that, so aim for one that's fairly unfussy: Courvoisier V.S. is a nice choice because it's fruity and delicate, and it'll be nice to sip on throughout the holidays.
Whirled up in the blender with eggs, cream, and a modicum of sugar, the layers of baking spice and booze come together in a light, creamy cocktail that tastes like a very complex (and melty) seasonal ice cream. The cognac and bourbon give it some nice bass notes, complementing the sweetness and cream — and we love the wonderful, orangey Grand Marnier finish.
This drink really does bring the cheer! Make it for your family's holiday celebrations — or for a Friday night when the kids want to perch around the fire pit with hot cocoa, but you're craving something a little more grown-up. At just four servings, it's also perfect for a cozy night on the couch with your partner and a (guilty pleasure) Hallmark Christmas movie.
Servings: 4
Ingredients
4 pasteurized eggs
¾ cup plus 2 Tbsp granulated sugar
½ tsp ground nutmeg
¼ tsp cinnamon
⅛ tsp allspice
⅛ tsp ground cloves
4 oz bourbon
2 oz cognac
2 oz Grand Marnier
1 ½ cups whole milk
1 cup heavy cream
Freshly grated cinnamon, for garnish
Directions
Add the eggs to a blender and blend on low speed for 1 minute.

Add the sugar, nutmeg, cinnamon, allspice, and cloves. Blend on low speed for 30 seconds.

Continuing to blend, slowly drizzle in the bourbon, cognac, Grand Marnier, milk, and heavy cream. Blend for 1 minute more.

Transfer the eggnog to the refrigerator and cool overnight to allow the flavors to meld.

To serve, divide the eggnog between 4 glasses and garnish with freshly grated cinnamon. If desired, warm the eggnog in a saucepan over medium heat until steaming.
Recipe adapted from: The Spruce Eats
Calculate nutrition information for this recipe.