Lunch Recipes
Cardamom Lentil Soup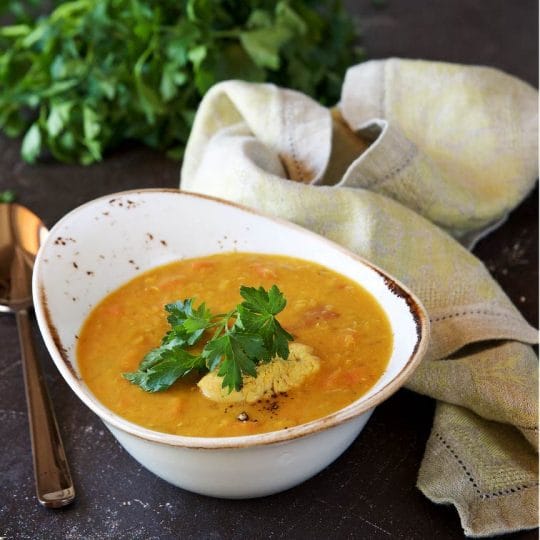 Lunch
Cardamom Lentil Soup
Serves: 8
Ingredients
1 tsp extra virgin olive oil
1 leek white part only chopped
1 medium onion stuck with four whole cloves
Bouquet garni fresh marjoram fresh parsley and a bay leaf tied in a cheesecloth bag
1 16 oz bag dried brown lentils rinsed under cold running water
1/4 teaspoon fresh ground pepper
Plain yogurt and chopped parsley for garnish
Directions
Heat oil in stockpot and saut the celery, carrot and leek until soft.
Add stock, onion, bouquet garni and lentils. Bring to a boil, lower heat and simmer, covered, until lentils soften and split, about 40 minutes.
–Discard onion and bouquet garni.
–Allow soup to cool slightly then pure soup in batches in a food processor or blender.
–Return to pan and season with pepper, cardamom, lemon juice and salt.
PRESENTATION NOTES:
Serve with a dollop of yogurt and a toss of fresh chopped parsley.