Dessert Recipes
Cherry Chocolate Chip Ice Cream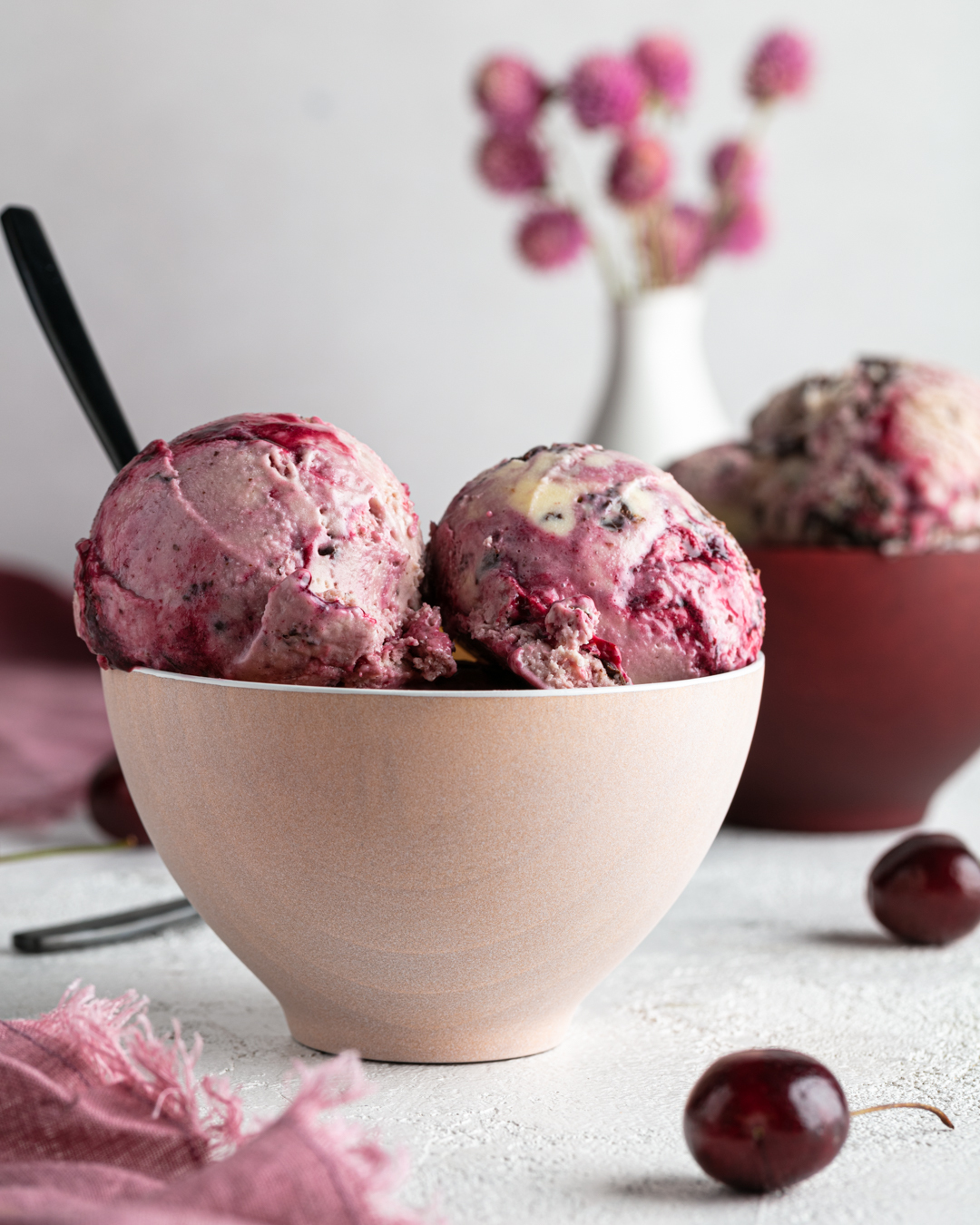 In the test kitchen, we are all tinkerers, especially when it comes to base recipes, like our vanilla custard ice cream. We developed it last summer for our strawberry lemon ice cream, and it was so thick and silky and ultra creamy that we knew it was a keeper. And when stone fruit season hit this year, our first thought was some kind of scrumptious cherries and chocolate ice cream fandango.
From the get-go, we wanted this recipe to feel really, really rich and special ... in a grown-up sort of way. So we stewed the cherries in bourbon, sugar, and lemon juice, and then whirled them into a lovely mash (all the cherries, none of the hard, frozen fruit chunks). The resulting sauce is sweet enough to be called dessert, but not so sugary or boozy that the cherries are overshadowed.
We love how the cherry sauce turns the custard into a swirl of color: purple, deep fuschia, pale pink, and wonderful pockets of dark, dark cherry. We stir the bittersweet chocolate through the custard separately, creating thin ribbons that freeze hard — and crackle when you scoop the ice cream. The final product is decadently creamy with just a hint of bourbon, loads of bold sweet-tart cherry flavor, and very thin, wonderfully brittle, chocolate chips in every bite.
Homemade, seasonal cherry chocolate chip ice cream makes a great gift. Churn some up for the S.O. or the BFF's birthday, and if they've been especially good, throw in some fresh waffle cones. Of course, you could also make a batch of both and tuck them away for you, sweet you. It's hot outside — treat yourself!

Yield: 1 quart ice cream
Ingredients
For the cherry sauce:
2 cups pitted, halved black cherries
½ cup sugar
¼ cup bourbon or water
1 Tbsp lemon juice
Pinch salt
For the ice cream:
2 cups heavy cream
¾ cup whole milk
¾ teaspoon vanilla extract
5 large Gelson's egg yolks
½ cup sugar
¼ teaspoon salt
2 oz bittersweet chocolate, chopped
1 tsp coconut oil
Directions
To make the cherry sauce: In a medium saucepan, combine all of the ingredients over medium heat and bring to a simmer for 20 minutes.

Mash the cherries with a potato masher and simmer for another 10 minutes.

Allow the sauce to cool for 10 minutes, and then transfer it to a blender and purée. Transfer the sauce to an airtight container and refrigerate for 2 hours, or up to 3 days.

To make the ice cream: In a medium saucepan, combine the heavy cream, whole milk, and vanilla over medium heat. Bring the mixture to a simmer, whisking intermittently. Note: This can take up to 20 minutes. Try not to rush this process, or you'll overheat the cream.

While the cream is heating, combine the egg yolks, sugar, and salt in a medium bowl and whisk vigorously until they have about doubled in size or become a little frothy and pale.

Once the cream is simmering, remove it from the heat and allow it to cool for about 10 minutes.

Pour the cream into the egg yolks in a slow, steady stream, whisking continuously, until they're fully incorporated.

Transfer the custard mixture back to the saucepan and warm it over medium-low heat, stirring gently, until the mixture thickens slightly and coats the back of a spoon.

Transfer the custard to a clean bowl to cool. Once it has cooled to room temperature, cover the bowl with plastic wrap and put it in the refrigerator to cool for 1 hour, or up to 3 days.

To make the ice cream: Combine the chopped chocolate and coconut oil in a double boiler over simmering water. Stir intermittently until the chocolate is melted. Set aside to cool.

Pour the cold custard mixture into an ice cream machine and churn until it begins to thicken, 10 to 12 minutes.

Drizzle in the melted chocolate and churn for an additional 2 minutes, or until the chocolate hardens.

Drizzle in the cherry sauce and churn just until the sauce is swirled through the ice cream, but not fully combined.

Serve directly from the ice cream machine for soft serve, or put it in the freezer to firm up for about 6 hours. Enjoy!