Recipes
Chewy Granola Bars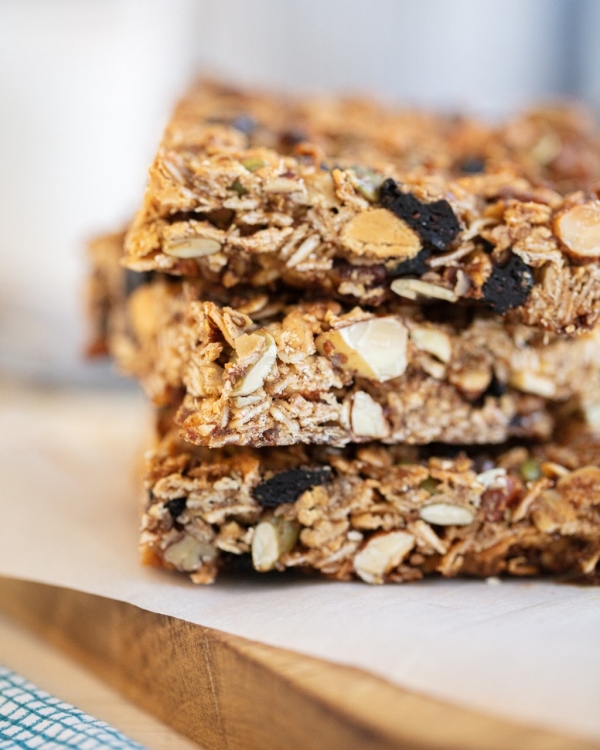 Now these are granola bars! They're rolled oats, pumpkin seeds, toasted tree nuts, dried blueberries, and mini white chocolate chips held together by maple syrup, vanilla, and honey. They taste naturally sweet, nutty, and lightly salty. There's a hint of heat, too, thanks to a pinch of cayenne pepper. And the texture is dynamite: something fun around every corner, but in perfect balance — not too crunchy, not too chewy, just right.
In the test kitchen, people were obsessed with these granola bars. They're healthy and hearty, but they're not an oat puck — they're something you really want to eat. As one taster said, "Every time I reach for a granola bar, I'm hoping it will taste like this one."
They'll make a wonderfully aromatic addition to your Sunday meal prep routine, and they're such a handy source of protein, you'll be thanking yourself all week. We find the 405 is much less gruesome after a granola bar and a milky latte. We've also been taking granola bars in our workout bags and fanny packs — they're the perfect post-pilates, mid-bike ride, or on-the-trail snack.
Our tip: If you've got kiddos in the house, make a double batch. It took our kids about five minutes to discover that these granola bars are a) yummy and b) even yummier with a glass of cold milk. They're good in a lunch bag, and they're pretty much after-school-snack magic.

Servings: 16 to 20 bars
Ingredients
3 Tbsp canola oil, plus more for greasing the pan
2 cups rolled oats
½ cup flaxseed meal
1 tsp cinnamon
⅛ tsp cayenne pepper
½ tsp salt
½ cup honey
¼ cup maple syrup
1 tsp vanilla
¼ cup toasted pecans, chopped
¼ cup toasted almonds, chopped
¼ cup toasted pepitas
½ cup dried blueberries
¼ cup white chocolate chips
Directions
Preheat the oven to 300º.

Grease a baking pan measuring 9 x 9 inches. Line the pan with parchment paper, leaving about a 1-inch overhang on two sides of the pan.

In a medium pot, heat the canola oil over medium heat, add the oats, and stir until they are golden and fragrant, about 6 to 7 minutes, being careful not to burn them. Transfer the oats to a bowl and let them cool.

Add the flaxseed meal, cinnamon, cayenne pepper, and salt and stir until combined.

In a small bowl, whisk together the honey, maple syrup, and vanilla. Pour the liquid mixture over the oat mixture and stir until it's evenly distributed.

Add the pecans, almonds, pepitas, dried blueberries, and white chocolate chips, and stir until evenly distributed.

Scrape the mixture into the prepared pan, spread it evenly, and bake for 30 to 35 minutes, or until golden brown.

Remove the bars from the oven and allow them to set and cool completely.

Cut the bars into 16 to 20 pieces, and store them in an airtight container for up to 5 days.