Recipes
Chinese Barbecued Pork Bao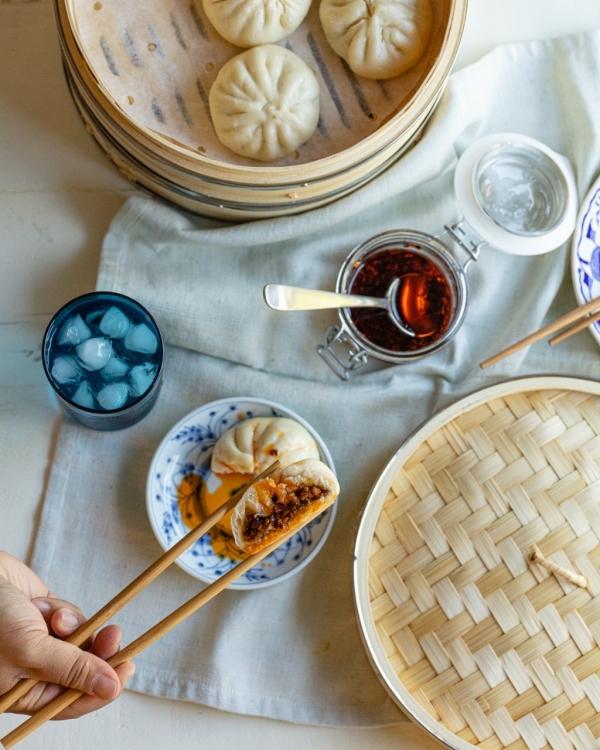 For lots of us, bao are the absolute best thing about dim sum: There's something both deeply comforting and delightful about the little steamed buns. Taking them out of the bamboo baskets is like getting a gift, and maybe it's that specialness that makes them seem out of range of the home cook. Little did we know, they're as straightforward and simple to make as an easy bread.
This recipe calls for leftover char siu (Chinese barbecued pork) — either from a meal at home or your favorite Chinese restaurant — but you can use any leftover pork, like pulled pork, roasted pork loin, or even the holiday ham. We mixed the meat up with a little bit of sugar and equal parts soy, hoisin, and oyster sauce, so that it's spicy-sweet and full of umami. It tastes fantastic in a lightly sweet and impossibly pillowy bao. Topped with a drizzle of homemade chile oil and a few slices of green onion, the whole thing is melt-in-your-mouth scrumptious. You'll want to eat 100.
But not before you take a million photos of them: seriously, hold one of these little bao in your hand and try to tell us they're not cute.

Like pizzas, tacos, and tamales, steamed bao are perfect for a cooking party. You can even throw a few different fillings in the mix. Think assembly line, think Chinese beer, think too full and happy to talk.
Tip: If by some weird miracle of culinary science, you make more bao than you can eat, they freeze really well. When you find yourself craving them, you can just pull a few out and pop them in the microwave for one minute.
Yield: 18 bao
Ingredients
For the filling:
2 ½ cups char siu, minced (substitute: pork loin, pulled pork, or ham)
¾ cup water
1 ½ Tbsp cornstarch
1 ½ Tbsp oyster sauce
1 ½ Tbsp hoisin sauce
1 ½ Tbsp light soy sauce
1 ½ Tbsp sugar
For the wrapper:
2 ½ cups all-purpose flour, plus more for dusting
3 Tbsp sugar
1 ½ tsp active dry yeast
¾ cup warm milk
1 Tbsp vegetable oil
A pinch of salt
Special equipment: 1 bamboo steamer basket and steamer liners
Directions
To make the filling: Mix the cornstarch with water and set it aside for a couple of minutes until the cornstarch dissolves.

In a small saucepan, combine the starch water, oyster sauce, hoisin sauce, light soy sauce, and sugar, and warm over low heat until big bubbles form.

Add the char siu, stirring it well, remove the saucepan from the heat, cover it, and let it chill in the fridge for 30 minutes.

To make the wrapper: In a stand mixer fitted with a dough hook, combine all of the dough ingredients and then knead for 7 to 9 minutes at slow speed. Cover the bowl with a tea towel and let the dough rest for 10 to 15 minutes.

Lightly re-knead the dough by hand for another 2 minutes until it becomes very smooth. Shape it into a long log, about 2-inches around, and then divide the log into 12 equal portions, about 1 oz each. Re-knead each wrapper dough until the surface is smooth again.

To make the bao: Using a rolling pin, roll one of the dough balls into a round wrapper, about 4 inches in diameter, with thin edges. Place about 1 tablespoon of the filling in the center of one wrapper and seal the bao completely. Repeat to finish all of the bao.

Place all of the bao on a basket liner and set them in the steamer. Cover the steamer with a lid, and let the bao rest for 20 minutes at room temperature.

Steam the buns over 2 inches of simmering water for 20 minutes, and then turn off the stove and let the bao stand for 5 minutes before enjoying.
Recipe adapted from: China Sichuan Food