Dinner Recipes
Classic Beef Chili
In many parts of the United States, the easiest way to get into an argument is to declare that you've got the best chili recipe in town. But it's time to "chillax" over this often-contentious American staple, with a recipe that provides a solid culinary foundation — and plenty of room for personal expression.
Want to add some super spicy peppers? Please do. Feel like serving it with an array of stir-ins like lime, cilantro, diced onion, shredded cheese, or hot sauce? Be our guest. Planning to go "full Cincinnati" and pile hot chili onto a plate of pasta? This chili will be happy to accommodate. We suggest serving bowlfuls with sides of warm cornbread — and perhaps some honey butter to cool the spiciness — but again, that's totally up to you.
Whatever you do to make it your own, this "bowl of red" recipe can hold its own among any group of chili connoisseurs. It's got savory meat, tender beans, flavorful tomatoes, and just the right amount of chili powder to pull it all together. Best of all, this quick-cook recipe, once assembled, simmers for just 20 minutes on the stovetop. To do a solid for your future self, assemble it the night before and start it in a slow cooker in the morning. On a cool autumn evening, coming home to chili for dinner is fantastic.
Our tip: it's a fact, universally acknowledged in culinary circles, that chili is always better the next day, so make enough for leftovers.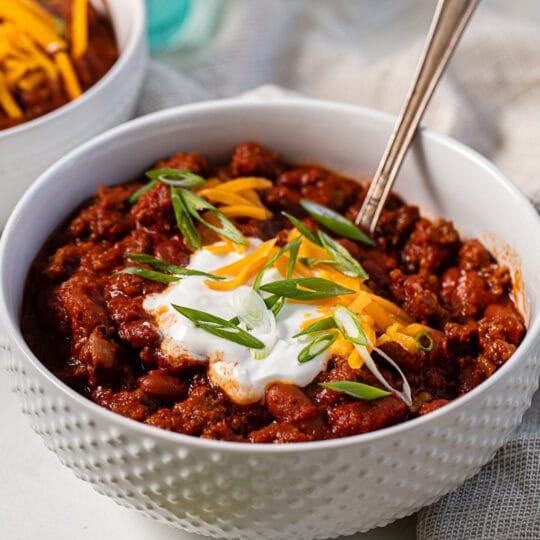 Dinner
Classic Beef Chili
Serves: 6
Ingredients
1 Tbsp extra-virgin olive oil
½ large white onion, chopped
1 15-oz can kidney beans, drained
1 28-oz can crushed tomatoes
Gelson's shredded sharp cheddar cheese, to serve
Green onions, thinly sliced, to serve
Directions
In a large pot, heat the oil over medium heat. Add the onions and cook until soft, about 5 minutes.
Stir in the garlic and cook until fragrant, about 1 minute more. Add the tomato paste and stir to combine.
Add the ground beef, generously season with salt and black pepper, and cook until the beef is no longer pink. Drain the fat and return the pot to the heat.
Stir in the chili powder, cumin, oregano, paprika, and cayenne. Add the kidney beans and crushed tomatoes, and bring the chili to a boil. Reduce the heat and simmer for 20 minutes. Season with more salt and black pepper, if desired.
Ladle the chili into bowls and top with cheddar cheese, sour cream, and green onions.
Recipe adapted from: Delish