Dinner Recipes
Creamy Artichoke & Spinach Linguine
Some nights you want it all: a super comforting meal that comes together quickly and tastes special — and yet not so "special" that your kids won't eat it. This dish is all that and a few handfuls of healthy spinach!

Essentially, all you're doing is tossing the greens in a skillet with succulent artichoke hearts, garlic, lemon juice, and ricotta, mascarpone, and Parmesan. The cheeses blend together to make a creamy, noodle-coating sauce that's light enough to let the dry sweetness of the artichokes and all that tart citrus shine. You can enjoy that grown-up subtlety — and the free-wheeling ease of a one-skillet meal — and your kids can bliss out on the cheesy noodles.

Our tips: Pair this with a vibrant Pine Ridge Chenin Blanc + Viognier blend. It's a crisp balance of sweet fruits and tart citrus, so it'll bring out even more of the artichoke and lemon. If you want to round out the meal, you could even cut up a tender rotisserie chicken from Gelson's Kitchen and toss that into the skillet too.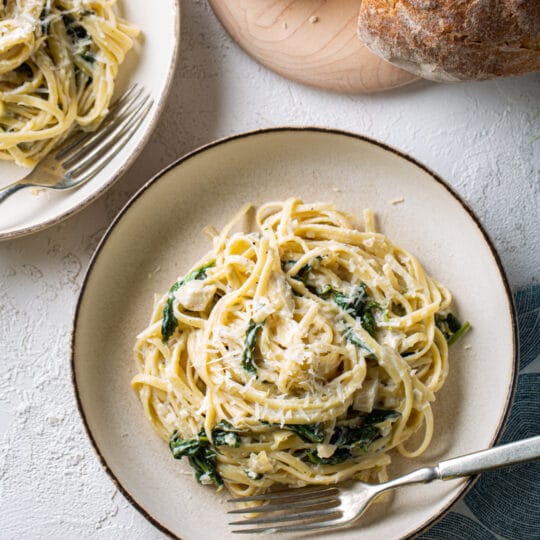 Dinner
Creamy Artichoke & Spinach Linguine
Serves: 4
Ingredients
2 Tbsp California Olive Ranch Extra Virgin Olive Oil
5 oz fresh (or frozen) spinach
1 12-oz jar of Reese Marinated Artichoke Hearts, drained and coarsely chopped
⅓ cup Parmesan cheese, freshly grated, plus more for topping
Directions
Cook pasta according to package.
In a large skillet, warm the butter and olive oil over medium-low heat.
Add the shallots and cook for about 5 minutes or until tender.
Mix in the spinach and stir until evenly coated and wilted.
Add the garlic and cook for 30 seconds.
Add the artichokes and cook for 5 minutes until warm, stirring occasionally.
Add the lemon juice and stir, and then season with salt and pepper.
Add the ricotta, mascarpone, and Parmesan cheese to skillet. Stir thoroughly.
Add the pasta to the skillet and toss until evenly coated in sauce. If the sauce is too thick, add a little cream or water to lighten it.
Remove from the heat and serve immediately.

Recipe source: DaVinci