Lunch Recipes
Creamy Tomato and Quinoa Soup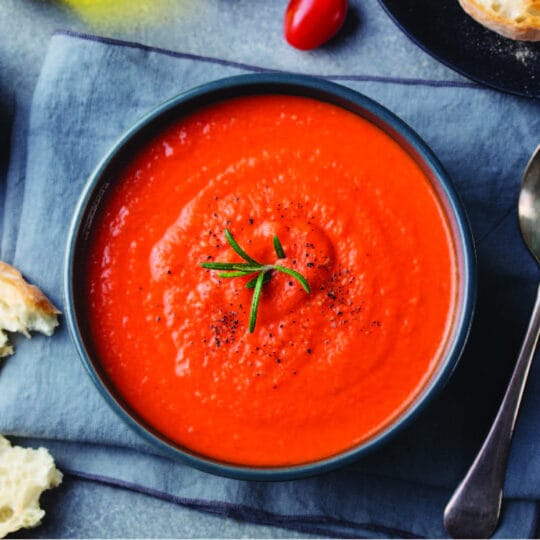 Lunch
Creamy Tomato and Quinoa Soup
Serves: 7
Ingredients
5 medium organic tomatoes about 2 pounds
1 12 ounce bag Nature Sweet cherry tomatoes on the vine
2 tablespoons Napa Valley organic olive oil
2 small organic onions diced
6 Sonoma dried tomatoes in oil chopped
2 cups Health Valley vegetable broth
cup Melissas quinoa spice packet discarded rinsed under running water in a mesh strainer
6 ounces Nasoya organic silken tofu generous 1/3 of block
1 teaspoon sugar optional
6 fresh basil leaves slivered
Directions
Fill a medium pot with about 2 inches of water and bring to a boil. While water is heating, cut a shallow X in the bottom of each of the organic tomatoes. When the water is boiling, drop the large tomatoes in for just 30 seconds, until the skin begins to split. Remove with a slotted spoon and repeat with the cherry tomatoes leaving them on the vine is easier. Slip the skin off of all the tomatoes and pull the cherry tomatoes off the vine. Cut the large tomatoes in half crosswise and use your fingers to pull out the seeds. Coarsely chop the large tomatoes. Discard the skin and seeds.
Heat olive oil over medium heat in a large pot, add onion and cook until clear, about 8 minutes. Add all the tomatoes, including the dried tomatoes, cover and cook about 15 minutes, stirring occasionally. Pour in the vegetable broth, cover and cook 10 minutes.
Meanwhile, bring 1 cup of fresh water to a boil in the medium saucepan. Add quinoa, cover, and reduce heat to a simmer. Cook for about 10 minutes until the liquid is absorbed, stirring occasionally. Set aside when done.
Transfer soup to a food processor or use a hand blender to puree. Add tofu and puree until smooth.
Return soup to heat and add pepper, sugar if soup is too tart, and cooked quinoa. Heat through and ladle into bowls. Garnish with slivered basil.