Dinner Recipes
DIY Crunchwrap Supreme
The year is 2005, and Taco Bell has added the Crunchwrap Supreme to its menu for a limited time. When you take your first bites of those grilled layers of beefy, cheesy, taco-y goodness (while listening to "Don't Phunk with My Heart" on your blue iPod Mini, of course), you think, "What a time to be alive!" Little did you know, Taco Bell would permanently add the Crunchwrap Supreme to its menu in 2006, thus cementing its place in the fast-food zeitgeist — and making you a very, very happy human being.
Now, imagine getting all that "good to go" Taco Bell flavor … without having to go anywhere (read: put on pants!!). With this DIY recipe, you get a Crunchwrap Supreme that tastes just like the real deal.
It's all about the order of operations: Start by layering warm, savory ground beef and melted nacho cheese on the flour tortilla. Then, add on the eponymous crunchy tostada, which acts as a sort of protective layer for the cool, fresh stuff — tangy sour cream, crisp shredded lettuce, juicy tomato, and sharp Mexican cheese blend. It creates the ideal contrast of temperature and chewy, crispy, creamy, and crunchy textures. A hexagonal feat of culinary engineering!
DIY Crunchwrap Supremes are a fun novelty food, and therefore, perfect for a party. Get all the goodies prepped, and then fold up the tortilla and toss it in a frying pan to order — your guests will be ecstatic. Or better yet, put on an early aughts Spotify playlist, set the table with a few bottles of hot sauce, and make one for you sweet you on a Tuesday night.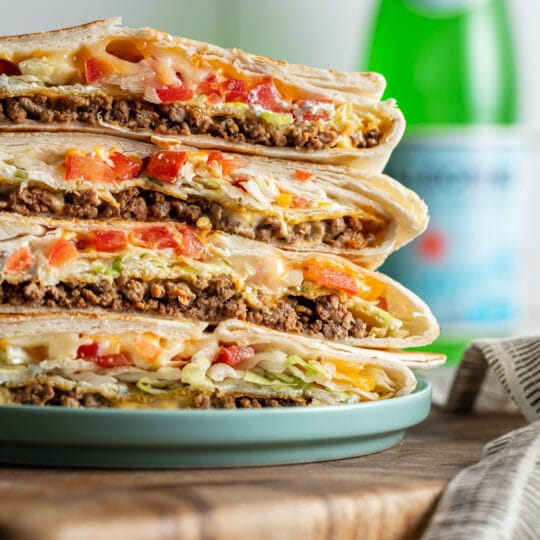 Dinner
DIY Crunchwrap Supreme
Serves: 6
Ingredients
½ tsp Gelson's ground paprika
1 tsp Gelson's ground cumin
Freshly ground Gelson's black pepper, to taste
6 12" Guerrero Burrito Grande Flour Tortillas
½ cup nacho cheese sauce, warmed
2 medium tomatoes, stemmed, seeded and chopped
2 cups shredded four-cheese Mexican cheese blend
1 Tbsp Gelson's 100% California extra virgin olive oil, divided
Directions
In a large nonstick skillet over medium heat, cook the ground beef, breaking it up with a wooden spoon, until it starts to brown on one side, 2 to 3 minutes.

Add the chili powder, paprika, and cumin, and season with salt and black pepper. Continue cooking until no longer pink, about 4 more minutes. Drain off the fat, transfer the beef to a bowl, and wipe the skillet clean.

To build the Crunchwraps: In the center of each flour tortilla, spread ¾ cup of ground beef and spread it in a 6" circle, leaving a generous border for folding. Drizzle 2 tablespoons of cheese sauce over the beef, and place a tostada shell on top. Spread 2 tablespoons of sour cream over each shell, and top with ⅓ cup lettuce, 2 tablespoons chopped tomatoes, and ⅓ cup of shredded cheese.

Tightly fold the edges of one flour tortilla toward the center of the wrap, creating pleats. Quickly invert the Crunchwrap, so the pleats are on the bottom and stay together, and place it on a rimmed baking sheet. Repeat with the remaining Crunchwraps.

In the same skillet over medium heat, heat ½ teaspoon oil until hot. Add 1 Crunchwrap seam-side down and cook until the tortilla is golden, 1 ½ to 2 minutes, rotating as you cook. Flip, and cook until golden, 1 ½ to 2 minutes more. Repeat, adding ½ teaspoon oil to the pan to fry each remaining Crunchwrap.

Serve hot with taco sauce.
Recipe adapted from: Delish