Recipes
Dutch Oven Pumpkin Bread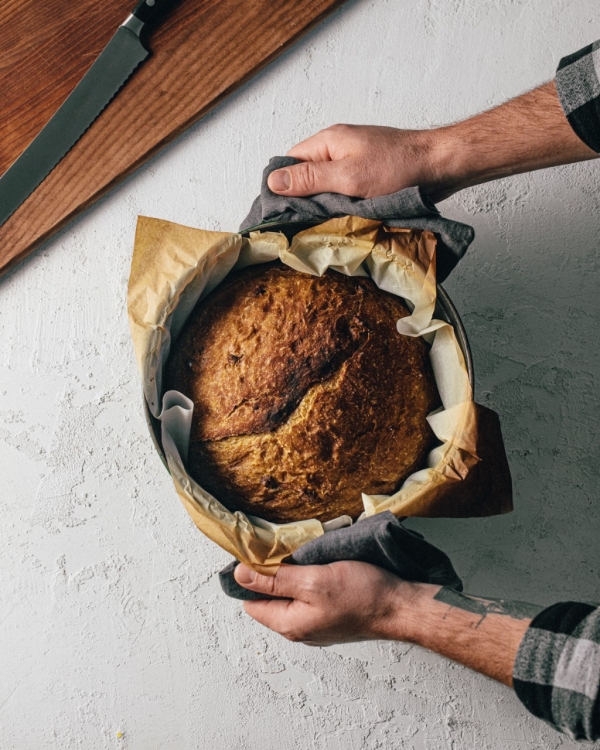 This no-knead bread is the perfect introduction to bread-making, but it yields a gorgeous, rustic loaf even the most experienced home baker will be proud to share. The dough is super easy to work with and low maintenance: basically, you mix it, let it rise twice — once overnight — give it a quick shape, and bake it in a hot Dutch oven. It's full of pumpkin, warm pie spices, and toasted pecans, so it smells truly amazing when it comes out of the oven, like hot cinnamon-raisin toast.
It's a crusty, artisanal-style bread, and when you slice it open, you'll find it has a bakery-quality crumb — just as tender as can be. It tastes nutty and spicy, and the pumpkin gives it a mild, fall sweetness. It's such a good-looking boule, we like to put it on the table whole with the bread knife, cutting slices as we go. It'll pair beautifully with an eggs-and-bacon brunch or a savory autumn lunch, like our aromatic celery soup. It's also the bread you want to bake off on Saturday morning, so you can eat it all weekend long. Think big slabs of toast coated in a rich, cultured butter and golden honey.

Yields: 1 large boule
Ingredients
3 cups, plus 2 Tbsp bread flour, and more for dusting
1 ½ tsp salt
½ tsp active dry yeast
½ tsp ground cinnamon
¼ tsp ground cloves
¼ tsp ground allspice
⅛ tsp nutmeg
⅔ cup chopped pecans, toasted
1 cup water
¾ cup pumpkin purée
¼ cup honey
Directions
In a 2-quart mixing bowl, combine the bread flour, salt, yeast, spices, and toasted pecans.

In a small mixing bowl, add the water, pumpkin purée, and honey. Stir until the mixture is smooth.

Fold the pumpkin mixture into the flour mixture, combining just until all of the flour is absorbed. Cover the bowl with plastic wrap and let the dough rise for 12 to 18 hours.

Pour the dough onto a heavily floured surface and shape it into a ball. Place the dough on a sheet of parchment paper. Put the dough back in the bowl, cover it with plastic wrap, and let it rise for 1 hour.

Preheat the oven to 450º. When the oven has reached temperature, place a Dutch oven with a lid in the oven for 30 minutes.

Remove the hot pot from the oven and use the parchment paper to lift the dough and gently place it in the pot.

Cover the pot and return it to the oven for 30 minutes.

Remove the bread from the oven and let it cool on a rack for 10 to 15 minutes before slicing — or until you can't wait another minute.
Recipe source: Simply So Good