Appetizer Recipes
Gluten Free Sweet Potato Latkes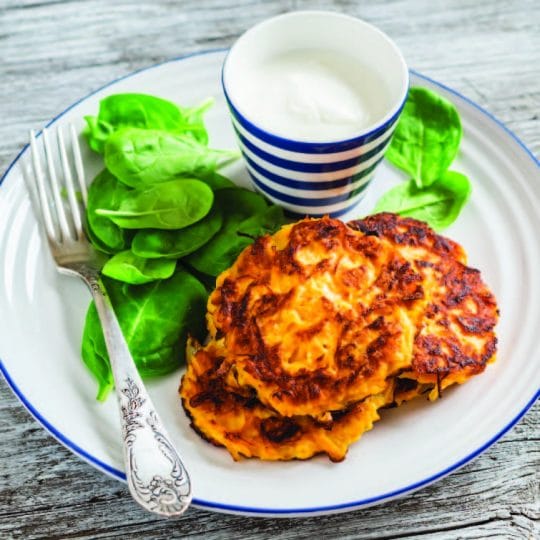 Appetizer
Gluten Free Sweet Potato Latkes
Serves: 12
Ingredients
1 pound orange flesh sweet potatoes unpeeled
1 pound russet potatoes unpeeled
2 Gelsons Finest organic omega 3 eggs lightly beaten
3 tablespoons Kingsford cornstarch
1 teaspoon Le Saunier de Camargue fleur de sel sea salt
1/2 teaspoon black pepper
4 tablespoons Napa Valley organic olive oil
3 Gelsons paper shopping bags cut open turned inside out cut to fit on a baking sheet
Horizon Organic low fat sour cream
Santa Cruz organic applesauce
Bonne Maman strawberry preserves
My Homemade Cranberry Sauce recipe
Directions
Position rack in the middle of the oven. Preheat oven to 500 Fahrenheit.
Grate the sweet potatoes first, then the white potatoes and onions in the food processor or by hand. Remove as much moisture as possible from the potatoes and onions. Place the sweet potatoes in a clean kitchen towel and twist the towel to wring out the water. Repeat with white potatoes and onion.
Place the grated potatoes, sweet potatoes and onion in a large mixing bowl, and add eggs, cornstarch, salt, and pepper, mix well.
Heat two tablespoons oil in a large, heavy skillet over medium heat. Scoop mixture with a tablespoon or a soup spoon, thoroughly squeezing each spoonful with your fingertips to remove excess moisture. Slide mixture into the pan, gently flattening each pancake with a spatula. Cook about four minutes on each side, or until brown. Remove and drain on paper bags. Repeat in two more batches, adding and heating one tablespoon of olive oil with each new batch. Take care not to crowd them together in the pan.
You can flash freeze them on baking sheets without the paper bags at this point if you will serve them later. To serve right away or to cook from frozen, transfer all of the pancakes to two baking sheets lined with paper bags. Finish cooking them one sheet at a time in the oven until crisp, about four minutes on each side. Serve immediately with sour cream, applesauce, strawberry preserves my personal favorite, or my Homemade Cranberry Sauce perfect for Thanksgivingukkah dinner.