Recipes
Lentils & Sausage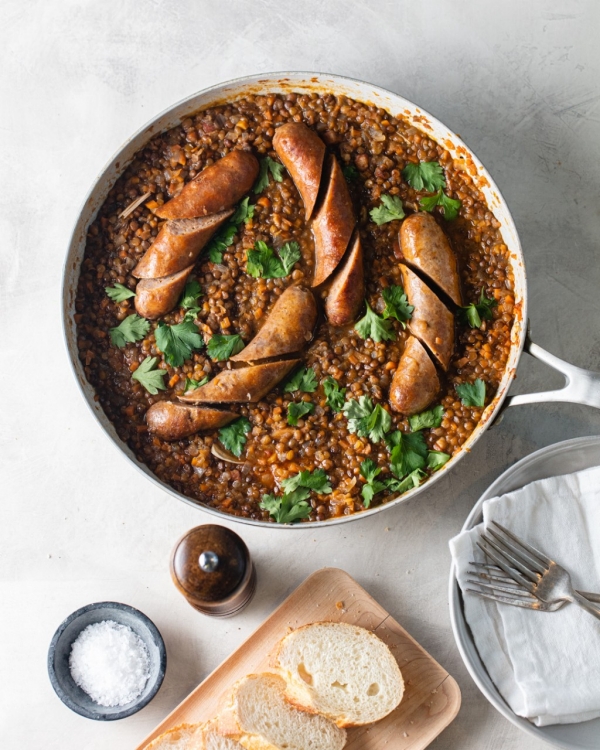 Brown lentils are one of winter's superfoods — hearty, satisfying, and incredibly warming. They're a thin-skinned bean, so they soften and split quickly and absorb just about any flavor you toss at them. In this recipe, we crisp up a little pancetta in a cast-iron skillet, and then sauté rosemary, garlic, and a handful of aromatics in its fat. To that we add chicken broth, sweet Italian sausage, and of course, the lentils. The little beans absorb all that meaty richness, creating a wonderfully savory stew.
It's the ideal easy bowl of comfort on a dark winter's evening. It's got a rustic vibe that makes it the perfect antidote to the fancy holiday food we've all been eating — and yet, it's flavorful enough to feel special. You may find yourself craving it. We like to serve it with slices of bread and something fresh and crunchy: think cucumbers and feta tossed in a bright, herby dressing.
Servings: 4
Ingredients
2 oz pancetta, cut into ½-inch pieces
1 small onion, chopped fine
2 carrots, peeled and chopped fine
3 garlic cloves, sliced thin
1 Tbsp minced Gelson's organic fresh rosemary
1 Tbsp tomato paste
3 cups chicken broth
1 cup dried brown lentils, picked over and rinsed
1 Gelson's organic bay leaf
1 lb Gelson's sweet Italian sausage links
½ cup fresh parsley leaves
Kosher salt, to taste
Black pepper, to taste
Directions
In a 12-inch skillet, cook the pancetta over medium heat until the fat is rendered and the pancetta is crispy, about 6 minutes.

Add the onion, carrots, garlic, and rosemary and continue to cook until the vegetables have softened, about 4 minutes. Stir in the tomato paste and cook for 30 seconds.

Stir in the broth, lentils, and bay leaf, scraping up any browned bits. Nestle the sausage links into the lentils and bring the broth to a boil. Reduce the heat to medium-low. Cover, and simmer until the lentils are tender and the sausage registers at least 160°, about 35 minutes.

Remove the skillet from the heat. Transfer the sausage to a carving board. Discard the bay leaf. Stir the parsley into the lentils, and season with salt and pepper to taste.

To serve, cut the sausages into 1-inch thick slices on the bias and scatter them on top of the lentils.
Recipe source: Cook's Country