Dinner Recipes
Mapo-Inspired Tofu Recipe with Ground Pork
For many folks, tofu acts as a substitute for meat — a way to get protein whether they're vegan, vegetarian, or just trying to eat more plant-based meals. But tofu is so much more than that: It's an excellent flavor sponge, perfect for soaking up sauces, seasonings, and marinades. And it plays well with a wide variety of ingredients, including other proteins, like ground pork. Here, we combine the two to make a meal inspired by mapo tofu, the spicy, fragrant dish from the Sichuan Province of China.
As Andrea Nguyen writes for the New York Times, mapo tofu originated in Chengdu, the capital of Sichuan — and its name roughly translates to "pockmarked old woman's bean curd." It supposedly refers to the smallpox-scarred skin of Mrs. Chen, who is said to have invented the dish at her family restaurant in the 1800s. Mapo tofu was an instant hit in Chengdu and continued to grow in popularity over time, eventually becoming the takeout-menu staple it is today.
There are two seasonings key to mapo tofu: huajiao, or tongue-numbing Sichuan peppercorn, and a fermented chile-bean paste known as doubanjiang. If you don't have these ingredients in your kitchen, you can do as we've done and mimic the tingly spice of the huajiao by infusing the cooking oil with black peppercorns and coriander. As for the punchy heat, saltiness, and ultra-savory depth of the doubanjiang? A combination of red miso, roasted chile oil, and sambal oelek creates a nice approximation.
The other aromatics in this saucy pork and tofu affair? Crushed red pepper, grated ginger and garlic, dry sherry, and soy sauce. With the other flavors in the dish, this combination creates a complexly flavorful dish with layers and layers of intoxicating heat. So tingly on the taste buds! Serving it over rice is a must; the little grains help soak up every last bit of flavor. To cut through all that heat and umami, and the lush fat of the ground pork, we sprinkle it with bright, punchy green onion.
A few tips from the test kitchen: The cooking happens quickly with this tofu, so make sure all of the ingredients are chopped and grated before you begin. The swift cookery is great for busy fall weeknights when we want meals that come together in a flash and deliver satisfying, warming flavors. Want a side dish? Go for garlicky string beans. Craving more heat? Add an extra drizzle of roasted chile oil on top.


Contact Us at Gelson's Supermarket Today to learn more about this recipe or other recipes on our site.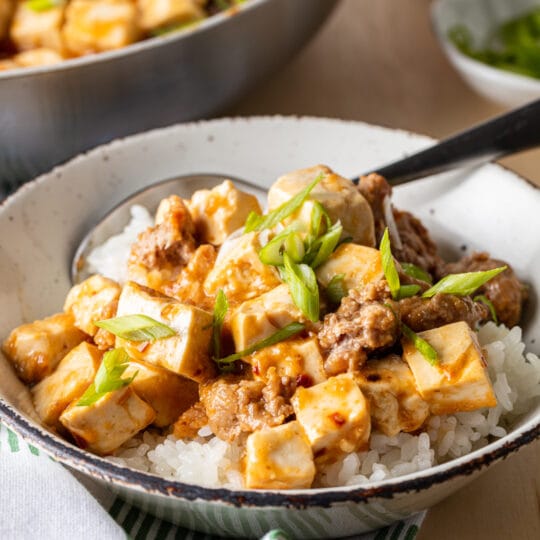 Dinner
Mapo-Inspired Tofu Recipe with Ground Pork
Serves: 4
Ingredients
3"-piece fresh ginger, peeled
2 pkg medium-firm silken tofu, cut into ½" cubes
1 tsp Gelson's black peppercorns
½ tsp Gelson's crushed red pepper
2 Tbsp roasted chile oil, plus more for garnish
4 green onions, thinly sliced, for garnish
Directions
In a small bowl, grate the garlic and ginger. Set aside.

In another small bowl, combine the cornstarch and cold water. Whisk until combined and set aside.

Bring a medium pot of water to a boil. Add the medium-firm silken tofu and cook for 2 minutes. Gently strain into a mesh strainer and set aside.

In a large nonstick skillet, heat the grapeseed oil over high heat. Add the black peppercorns and coriander seeds, and toast until the seeds are crackling and fragrant, about 1 minute. Using a spider strainer, remove and discard the seeds and peppercorns.

Add the ground pork and crushed red pepper to the seasoned oil, breaking up the meat with a wooden spoon, and cook for 1 minute. Add the grated ginger and garlic mixture. Cook until fragrant, about 30 seconds.

Stir in the red miso, sambal oelek, dry sherry, soy sauce, and chicken broth. Bring to a boil.

Swirl the cornstarch slurry to recombine it, and then stir it into the pork mixture. Simmer for 1 minute, or until thickened.

Reduce heat to medium-low, and add the tofu and roasted chile oil. Stir gently until combined and cook for 2 minutes.

Serve the mapo-inspired tofu over rice and garnish with green onions and additional chile oil.