Dinner Recipes
Miso Shiitake Sea Bass
We've long extolled the culinary majesty of Chilean sea bass — it has such a lush, melt-in-your-mouth texture and delicate, buttery flavor. Here, we sear it in a hot, hot pan, so you get an unbelievably crispy, golden brown crust on top of all that goodness.
We serve the fish with a silky mushroom ragout of sorts. A quick sauté of garlic, ginger, onion, and celery — and then we bring in meaty shiitakes, red miso, Chinese five spice, soy sauce, rice vinegar, and some beer. It's a flavor powerhouse, positively overflowing with umami richness.
But this ragout isn't just a tale of savory depth! There's a bright kick from green onion, nutty sweetness from the wee edamame, and grassy freshness from the cilantro sprigs. Take a bite with a few flakes of the mellow sea bass, and you'll find it's a beautifully balanced dish — a perfect symphony of high notes and low notes.
Miso shiitake sea bass may be complex flavor-wise, but it couldn't be simpler to throw together. It's basically a stir fry — the ideal weeknight seafood recipe. But make it for a dinner party, and everyone will gush and fawn over your incredible chef-ery…especially if you pair it with a really good bottle of wine. (Psst! We like a lighter pinot noir or a viognier with loads of creamy body.)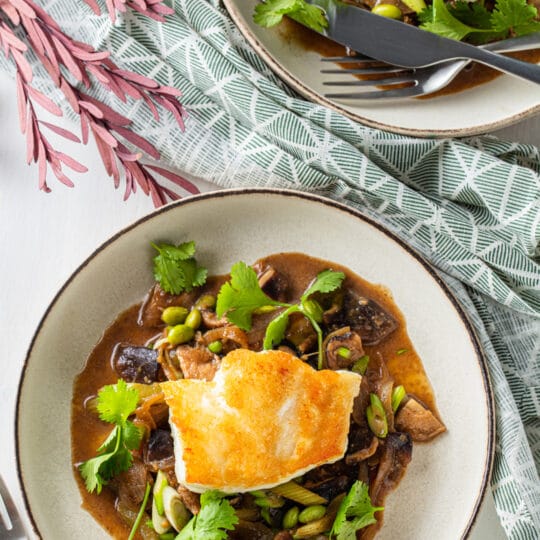 Dinner
Miso Shiitake Sea Bass
Serves: 4
Ingredients
24 oz Chilean sea bass, skin removed
Freshly ground Gelson's black pepper, to taste
3 Tbsp toasted sesame oil, divided
2 Tbsp grapeseed oil, divided
2 large cloves garlic, thinly sliced
1 Tbsp minced fresh ginger
1 cup sliced yellow onion
2 celery stalks, sliced ½" thick on the bias
8 oz shiitake mushrooms, stems discarded, caps quartered
½ cup cooked edamame, fresh or frozen
½ tsp Chinese 5-spice powder
4 scallions, trimmed, thinly sliced on the bias
Directions
Preheat the oven to 375º.

Cut the sea bass into 4 equal portions, and pat dry with a paper towel. Season with salt and pepper, and brush with 2 tablespoons of sesame oil. Set aside.

Heat a wok or large skillet over medium-high heat, and add 1 tablespoon grapeseed oil. Add the garlic, ginger, onion, and celery and stir-fry until the vegetables soften, about 2 to 3 minutes.

Add the mushrooms, lower heat to medium, and continue to cook until they soften, about 5 minutes. Stir in the edamame and 5-spice powder.

Add the soy sauce, vinegar, and beer and bring to a simmer. Stir in the miso and let it dissolve. Remove the wok from the heat and season the veggies with salt and pepper, if needed.

Heat a heavy ovenproof skillet, preferably cast iron, over high heat. Add the remaining tablespoon of grapeseed oil to the pan. Place the sea bass in the pan, skin-side up, and sear for about 3 to 5 minutes, until it browns. Turn the fish over and sear for an additional 30 seconds.

Place the skillet in the oven. Roast for 8 to 10 minutes, depending on the thickness of the fillets, until just cooked through. An instant-read thermometer should register about 140º. Remove from the oven.

Reheat the mushroom ragout. Add the scallions, cilantro, and remaining tablespoon of sesame oil to the ragout. Spoon the ragout onto a platter or four dinner plates. Top with the sea bass and serve hot.
Recipe source: New York Times Cooking
Calculate nutrition information for this recipe.